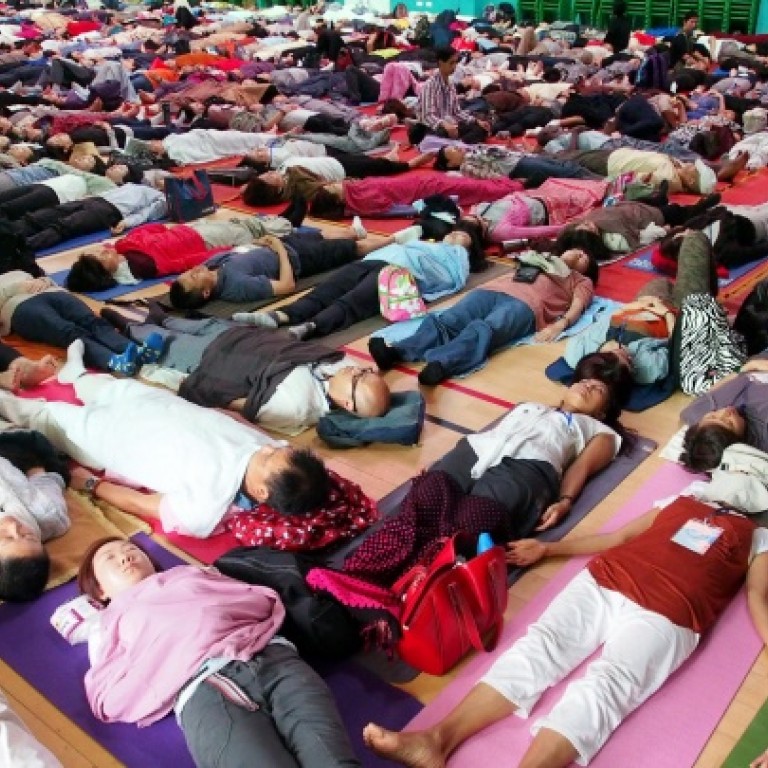 Zen master's way to happiness
Thich Nhat Hanh's retreat draws over a thousand people from diversity of backgrounds
About 1,200 Hong Kong practitioners of Zen Buddhism have gathered at a retreat in Ma On Shan to learn the way to happiness from acclaimed Vietnamese Zen master Thich Nhat Hanh.
Techniques taught at the four-day event that started yesterday include ways to reduce stress through breathing, meditation, chanting and smiling.
Participants, who have paid HK$1,500 each to attend the retreat at the Wu Kwai Sha Youth Village, are between six and 76 years old, with two-thirds aged more than 40. They include professionals, artists and business executives, with some members of Christian denominations.
Businesswoman Zheng Ming said the Zen teachings changed her approach to life. They also inspired her to switch to another mode of business when her 100 million yuan (HK$125 million) a month fire services technology company in Beijing was threatened with extinction.
After 20 years in business, central government policy changes and the acquisition of her Japanese business partner in 2007 slashed her company's profits by 90 per cent, Zheng said.
"I felt desperate … I used to think that all things would go well, but Buddhist teaching told us that all things are not constant and that our suffering comes from our expectations."
She switched from selling technology to advising companies on how to maintain their firefighting services and to remain in business.
Christine Cheung Sze-kuen, a Catholic, said there was no conflict between the Zen teachings and her religion. They could even help her be a better Christian.
"Master Thich has provided practical ways that can supplement the Christian religion," she said.
Thich, 87, who took vows at age 16, was nominated for the Nobel Peace Prize in 1967 for his promotion of peace during the Vietnam war. He now travels the world from his Plum Village meditation centre in southern France.
This article appeared in the South China Morning Post print edition as: Zen master's way to happiness