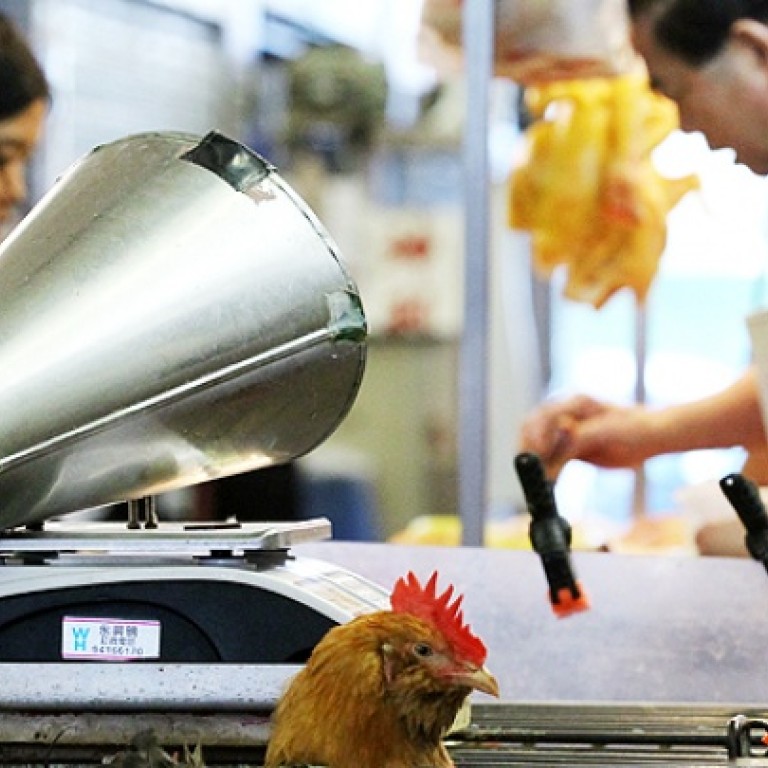 H7N9 bird flu found to spread through the air
Virus can also infect pigs, say HKU researchers, who warn officials to maintain tight scrutiny even though threat seems under control
The H7N9 bird flu virus can be transmitted not only through close contact but by airborne exposure, a team at the University of Hong Kong found after extensive laboratory experiments.
Though the virus appears to have been brought under control recently, the researchers urged the Hong Kong authorities to maintain strict surveillance, which should include not only poultry but humans and pigs.
"We also found that the virus can infect pigs, which was not previously known," said Dr Maria Zhu Huachen, a research assistant professor at HKU's School of Public Health.
There have been 131 confirmed human infections, with 36 deaths, the World Health Organisation said. All but one of the cases was on the mainland. The virus appears to have been brought under control largely due to restrictions at bird markets and there have been no new confirmed cases since May 8.
But Zhu said that although there was no evidence of sustained human-to-human transmission, their study provided evidence that H7N9 was infectious and transmissible in mammals.
In the study, to be published today in the journal , ferrets were used to evaluate the infectivity of H7N9. It was found the virus could spread through the air, from one cage to another, albeit less efficiently.
Inoculated ferrets were infected before the appearance of most clinical symptoms. This means there may be more cases than have been detected or reported.
"People may be transmitting the virus before they even know that they've got it," Zhu said.
Additional tests using pigs, a major host of influenza viruses, showed that they could also get infected with H7N9. Zhu warned that H7N9 may combine with pig viruses to generate new variants.
On a more positive note, it was found that the virus is relatively mild.
"Most of the fatal H7N9 cases had underlying medical conditions, so there are probably some other factors that contribute to this kind of fatality," Zhu said.
To avoid H7N9 becoming endemic in poultry populations, which would create a greater opportunity for human transmission, the researchers suggested a rethink on how live poultry markets are managed.
Zhu believed the Hong Kong government had "done a very good job" in this area and should continue to do so. The government implemented a surveillance programme on local and imported poultry in 1998. It includes monitoring the live poultry supply chain, pet shops, parks and the wild bird environment.
She said the government had collaborated with HKU on intensive surveillance of both birds and pigs. Zhu added that people who regularly had close contact with live poultry or pigs should take precautions, have routine body checks and report their case immediately if they feel unwell.
This article appeared in the South China Morning Post print edition as: H7N9 bird flu found to spread through the air