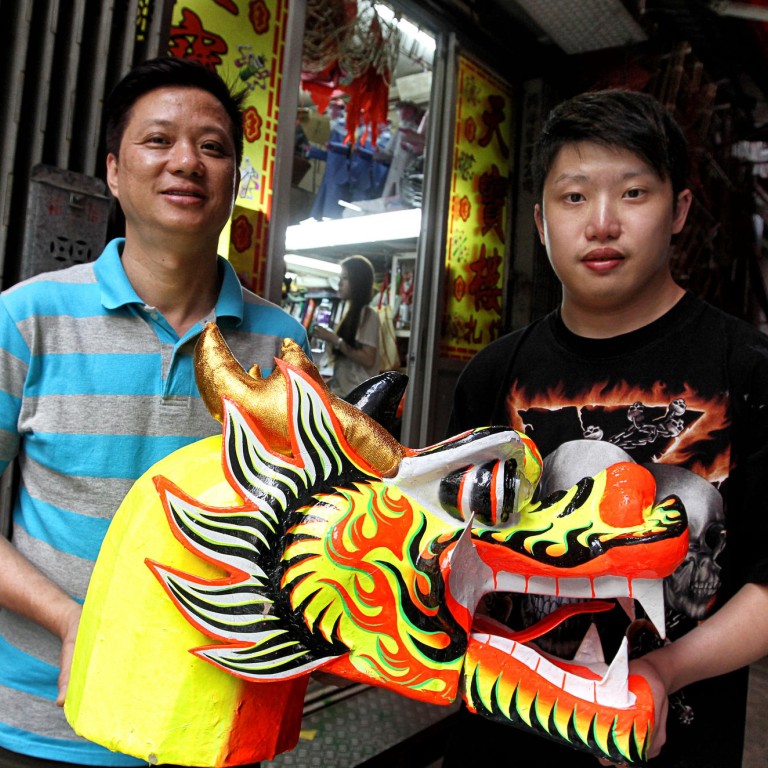 Father and son who keep Hong Kong's dragons alive
The number of craftsmen making paper sculptures and decorations for Taoist funerals and Chinese festivals may be dwindling but it doesn't mean the trade is about to come to an end, master artisan Ha Chung-kin says.
"Where there are Chinese people, there will always be a need for paper offerings," declared the 51-year-old at his shop in Second Street, Sai Ying Pun.
At its peak, there were about 300 such craftsmen in the city. Now there are barely 20, but Ha insisted the business just needed to "move with the times". His son, San Ha Ho-man, 26, is one of the few young people who have entered the profession. "I do want to do this for life," said the younger Ha, adding it was a passion as well as a livelihood.
From paper houses made for burning at Taoist funerals as offerings to the dead, to intricately designed dragon and lion heads for lanterns at mid-autumn festivals, to massive paper and bamboo decorations commissioned to adorn corporate buildings, the father and son have made them all.
Ha said: "The artisans used to be divided into two groups: one making paper sculptures for funerals, and the other making celebration decorations. But now, you have to do as much as possible to survive."
He has also expanded across the border. Most of the designing is done at his Hong Kong shop, which employs 10 people. The designs are then sent to the mainland, where graduates are employed to draw out structural plans, then trained workers produce the artefacts in bulk, he said.
Only 10 per cent of his company's output - mostly special, one-off designs - was still made in Hong Kong, said Ha.
Father and son are now working on a three-metre-long paper dragon sculpture for next month's Tuen Ng festival, when dragon boat races will be held across the city.
Hong Kong's indigenous "boat people" traditionally launch two-foot-long paper dragon boats into the sea before the races as offerings for a safe journey. However, this year, the Southern District Council has commissioned the extra-special offering as a way of asking for peace in a "distressed and turbulent Hong Kong".
Ha said: "In an industry that is shrinking, I feel it is also my duty to promote the importance of traditional handcraft professions like ours, and to show our people that it is alive today."
This article appeared in the South China Morning Post print edition as: Father and son who keep Hong Kong's dragons alive