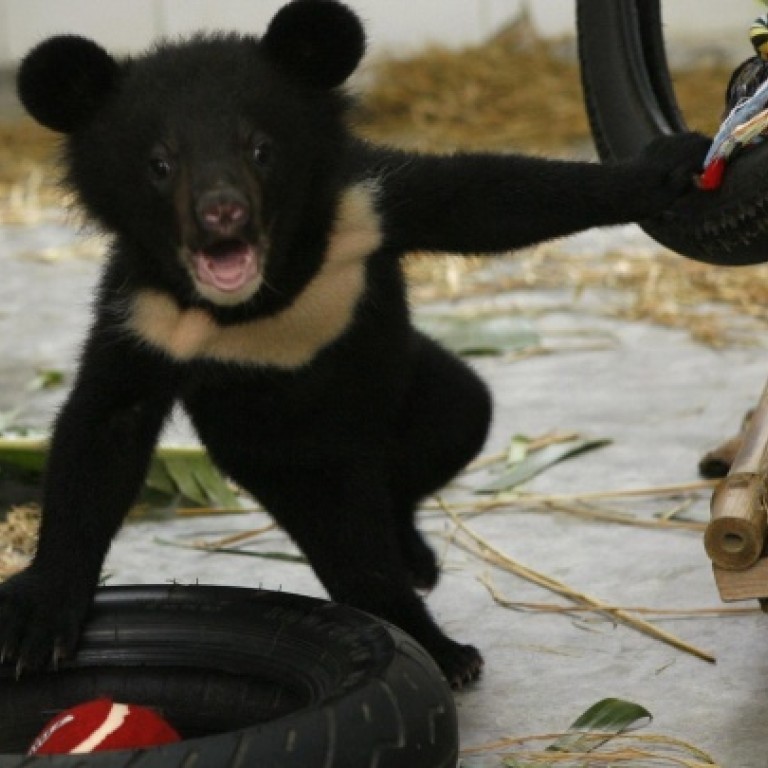 Vietnam fires foe of moon-bear sanctuary
Charity based in Hong Kong had sought to rescue animals from bile trade but park director wanted site for eco-tourism resort
A Vietnamese official who campaigned to shut down a moon-bear sanctuary run by Hong Kong charity Animals Asia has been fired after an investigation ordered by his country's prime minister.
reported last year that Do Dinh Tien was trying to evict the charity's Moon Bear Rescue Centre in Tam Dao National Park in northwestern Vietnam to make way for an ecotourism resort in which his family had a financial interest.
The eviction would have left more than 100 Asiatic black bears rescued from bile farms without a home and brought the loss of 77 jobs at the US$2 million centre, given to Animals Asia on a supposedly indefinite lease by the Vietnamese government in 2005.
last October revealed how Do Dinh Tien, director of the national park, at first wanted Animals Asia to hand over half its 12-hectare site for a tourism development part-owned by his daughter.
When the charity refused, he began a campaign to shut the sanctuary down, leading to an order by the Vietnamese Ministry of Defence in October for the rescue centre to close on the grounds that it occupied a site of "national-defence significance".
Foreign embassies and celebrity supporters appealed for the sanctuary to be saved, and Prime Minister Nguyen Tan Dung intervened, blocking the closure in January. The prime minister also ordered an investigation into the behaviour of park director Tien by the Ministry of Agriculture, which concluded that he had "repeatedly obstructed" the operation of the rescue centre.
The ministry found that Tien had attempted to turn over part of the sanctuary for an ecotourism venture planned by a company in which his daughter had a 10 per cent stake.
Tien was fired late last month, and his deputy, Ha Cong Khai, took over as director of the national park. State-run newspapers in Vietnam said the investigation had exposed a "corruption-ridden land dispute".
Animals Asia suspected the company wanted to evict it and use the costly infrastructure it had put in place in the remote and mountainous country park.
The park attracts a million visitors a year, and tourism within Vietnam is growing by 15 per cent a year, making the prospects for ecotourism resorts lucrative.
Animals Asia warned that shutting down the sanctuary and relocating the bears would have a devastating effect on the animals.
An estimated 2,000 bears are still being farmed for their bile in Vietnam, often kept in cramped cages and subjected to an agonising process of removing bile via a catheter. It is one of only three countries, along with China and South Korea, where the practice is still legal.
The charity's founder and chief executive, Jill Robinson, said yesterday: "We are very happy that we can put this behind us and move forward with our mission. Our goal is to stop bear farming, nothing less than that."
This article appeared in the South China Morning Post print edition as: Vietnam fires foe of bear sanctuary