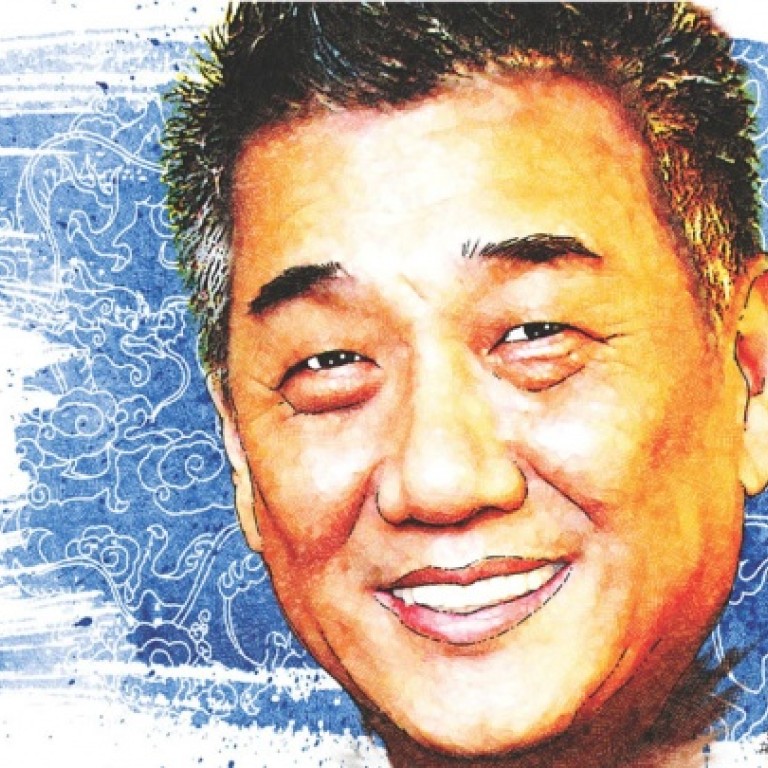 Dealer who can make or break a family's fortune: William Chak
William Chak draws an audience of 60 million every week. He can tell if grandma's vase really is worth a fortune. If it's a fake, it gets smashed
Hongkonger William Chak Kin-man, who last month set a world record when he paid HK$74 million for a porcelain bowl that dates back about 300 years, is a celebrity on the mainland.
Wherever he goes, people recognise him and pull out photos of their ceramics on their smartphones for him to appraise on the spot - which he always happily does for free.
Some 60 million viewers watch his weekly Beijing TV show (World Collection) in which people bring Chak their ceramics to value. If their goods turns out to be fake, they're destroyed with a sledgehammer.
"It's great fun. These women come in with gifts from their boyfriends, and when their gifts are smashed to pieces right in front of them, they're shocked," said Chak, chuckling as he sits in his antiques shop in Hollywood Road, Central. He is wearing jeans with Converse sneakers; a gold watch on his wrist; and is drinking tea out of a Qing dynasty (1644-1911) cup and using an antique bowl as an ashtray.
Chak was described by Sotheby's managing director for Asia, Henry Howard-Sneyd, as "one of the most important dealers in the world", after he bought a vase in 2005 that had belonged to 18th-century Emperor Qianlong for HK$115.4 million. The sale set a record for a work of art in Asia and a world record for Qing dynasty porcelain.
Last month's purchase set a world record for porcelain made in the reign of Qianlong's grandfather, Emperor Kangxi.
Chak, 56, says his success depends on his vigilance in staying on top of market trends.
His family is originally from Shandong province, but his parents fled to Macau during the Chinese civil war. Chak was born there, but the family moved to Hong Kong when he was just 10 years old.
His father's failing health meant that Chak, like many teenagers at the time, had to drop out of secondary school at 16 to support his family. His first job in 1972 saw him learn to speak English in order to sell Chinese embroidered tablecloths to Western tourists in Tsim Sha Tsui.
The next year, he became an apprentice under antiques dealer "Master Wong", cleaning, packaging and delivering goods in the day and sleeping in the shop at night to guard the merchandise.
After he married and needed to support a growing family, he left to work as a freelance ceramics dealer. He developed a reputation for expertise beyond his years and for being honest. He opened his first shop on Hollywood Road in 1988 and has been Hong Kong's preeminent dealer and collector ever since.
"When I was a kid and my family was struggling, I saw my mum take my father's collection of bowls and jars out of our house and then come back with money. I guess that made an impression on me," he said.
A decade ago, Chak became one of the first dealers to successfully adapt to the major shift in the antiques industry - the meteoric rise in demand from mainland investors.
Some 60 per cent of his clients used to be from Hong Kong and 40 per cent from Western countries, but now 70 per cent of his clients are from the mainland.
"Wealthier people on the mainland already have a house, a car, a watch; they don't trust stocks and can't buy that many houses. For a secondary investment, there's nothing better than antiques," he says.
"There's no such thing as an expensive antique. If it's real, it'll have a real price that will on average double in value in five years."
His firm, Chak's Company Limited, attends nearly 100 auctions around the world each year, and seven out of 10 times it is there on behalf of mainland clients who flock to him and other Hong Kong-based dealers for help because they don't trust mainland experts.
Chak said many mainland dealers cheat their customers or lack the expertise to detect fakes. Others work with criminals who steal antiques from heritage sites.
Chak said that every expert makes mistakes, and what matters is how frequently they mess up. Chak says he ends up buying about one fake every five years.
Even though China is one of the few countries to tax antiques, Chak says it is not often enforced and smuggling is a matter of course. "People make their purchases in Hong Kong then take them back to the mainland in their luggage. They're not going to declare them at customs, and the officials don't usually care.
"It's a grey area. The Chinese want their stuff back," he said.
William Chak
56
Appraises ceramics for free on Weibo.
More than 40,000.
At least 10.
Four
Six
Macau
Shandong
This article appeared in the South China Morning Post print edition as: Dealer who can make or break a family's fortune