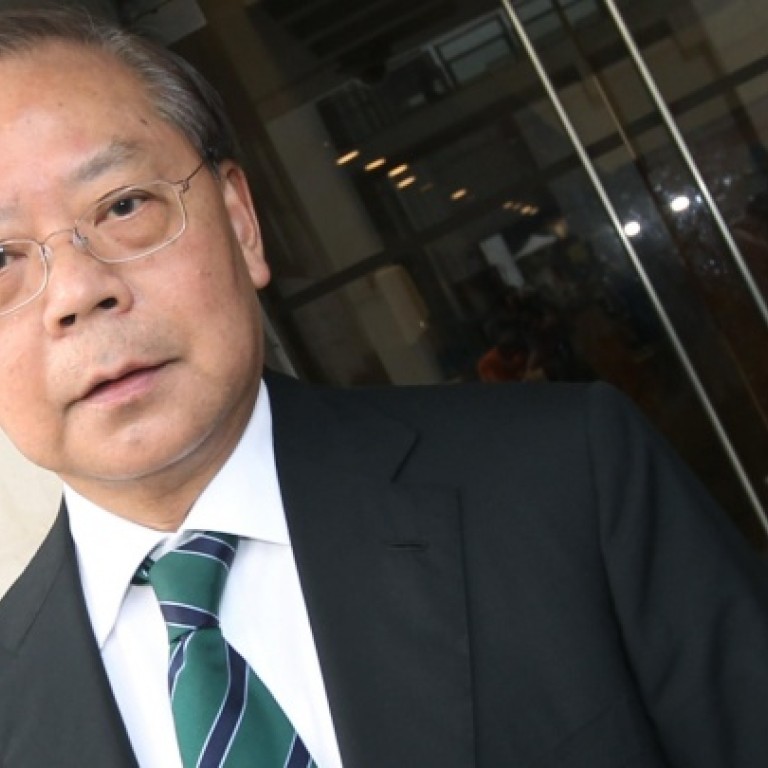 Nina Wang's adviser asked deities for help to find husband, forgery trial told
Disgraced former legislator tells trial how he and Chinachem tycoon put all their trust inthe fung shui guru accused of forging her will
A prosecution witness in the Peter Chan Chun-chuen will-forgery trial described yesterday how he, Chan and Nina Wang Kung Yu-sum went on boat trips seeking help from deities to find the dying tycoon's missing husband.
Chan had declared Sai Kung golfing island Kau Sai Chau as having the best fung shui and conducted religious ceremonies there, disgraced former legislator Gilbert Leung Kam-ho told the Court of First Instance.
Chan had told them that Teddy Wang Teh-huei, who was kidnapped in April 1990, was still alive and on a deserted island.
Leung said he and Wang had placed all their trust in Chan, a fung shui adviser to both, and simply followed his advice.
The former legislator was the first prosecution witness against Chan on charges of forgery and using a false instrument, which he has denied. Prosecutors allege Chan - to whom they refer by his former name, Tony - forged a will purporting to leave Wang's fortune to him.
"We travelled to two or three islands," Leung said yesterday.
He said Chan had alleged he could communicate with deities by using a planchette board.
"Chan said Kau Sai Chau had the best fung shui and the [Hung Shing Temple] on the island was most spiritual," said Leung.
Leung - who sought Chan's advice in the 1990s while facing bribery charges and later introduced him to Nina Wang - said the tycoon had moved from her home on The Peak to Chinachem headquarters in Tsim Sha Tsui on the advice of Chan.
The second prosecution witness Joseph Leung Wing-kong, a director of Chinachem companies since 1987, said the Wangs were very close. The kidnapping had been a "big blow" to Nina.
Joseph Leung said he had strongly disapproved of a payment of HK$688 million in December 2005 to Chan. "First the amount was enormous; second, I did not know who was to receive the money; and also in the past there had been investments which brought losses.
"I asked Mrs Wang the purpose of the transfer of the money, but she did not tell me. So I refused to transfer the money."
The money was borrowed from banks and a total of three payments were made to Chan.
The witness, a member of the Chinachem Charitable Foundation that has been judged Wang's true beneficiary, said she did want to use her assets for charity but had never specified leaving them to the foundation.
The trial continues.
This article appeared in the South China Morning Post print edition as: Peter Chan 'asked deities to find husband'