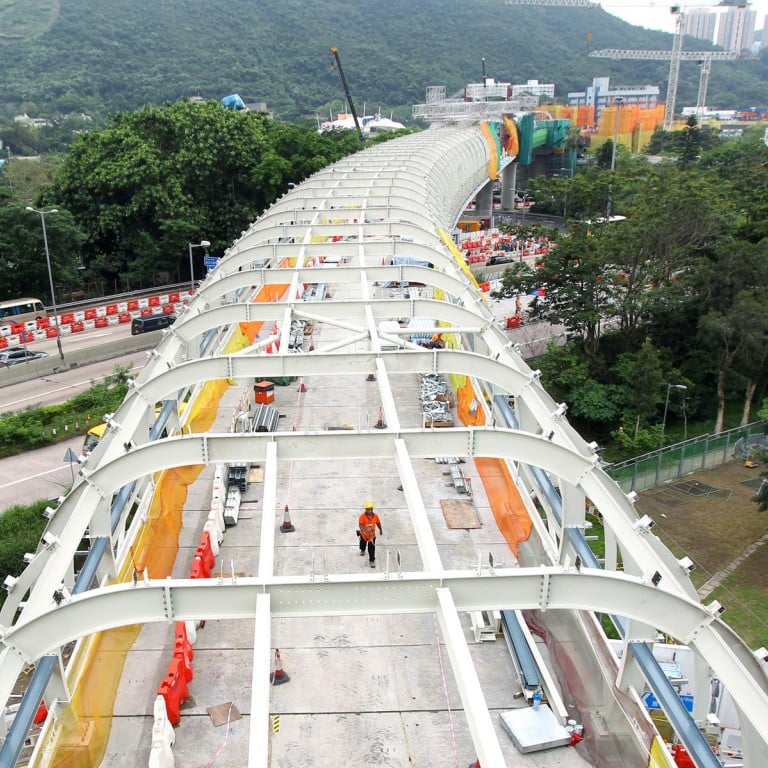 Technology keeps MTR line on track
New techniques mean 30pc of civil works on South Island east are done
More than a third of the civil works for the new South Island Line (east) have been completed, the MTR said - with some help from new technology.
The eastern section of the South Island Line which links Admiralty, Ocean Park, Wong Chuk Hang, Lei Tung Estate and South Horizons in Aberdeen, is due to open in 2015.
About two-thirds of the railway will be underground and the rest will be on a viaduct.
The MTR said 35 per cent of the project's civil works had been completed. Half of the viaduct construction and 45 per cent of the tunnel excavation was also finished.
Mark Cuzner, the project's lead manager, said the construction was on schedule.
Instead of using the traditional launching gantry in erecting the viaduct, Cuzner said a new technique - called the beam-and-winch method - was being used in the construction.
The machine was smaller, and required less time to set up. Roads would be closed for a shorter period as well, he said.
While a typical launching gantry needed about one month to set up, the new beam-and-winch equipment required only four to five days, he said, adding that road closure was only needed at night.
Cuzner said the machine was especially suitable for the site because traffic was busy due to the highway nearby.
It was the first time the technique had been used in Hong Kong.
Concrete segments, most of them pre-cast in the mainland, were sent to the site and two machines would fit two of them to the bridge structure every night.
The whole railway required 628 such segments.
Cuzner said the MTR would consider using the same technology in future projects.
The new machine had to be set up three times along the two-kilometre viaduct construction. To set up the older gantry method three times would have required nine more weeks, the MTR said.
Cuzner said the overall costs of the construction using the new equipment were similar to the traditional way, but traffic disturbance was minimised.
Building started in 2011 of the eastern section of the South Island Line, which is about seven kilometres long. It is a medium capacity railway operated with three-car trains, with a capacity of about 20,000 passengers.
When completed, it will take four minutes to reach Ocean Park from Admiralty.
The government has not decided whether to construct a western section, which would link Aberdeen and the University of Hong Kong via Wah Fu Estate and Pok Fu Lam. A consultation on future railway development ended last week.
This article appeared in the South China Morning Post print edition as: Technology keeps MTR line on track