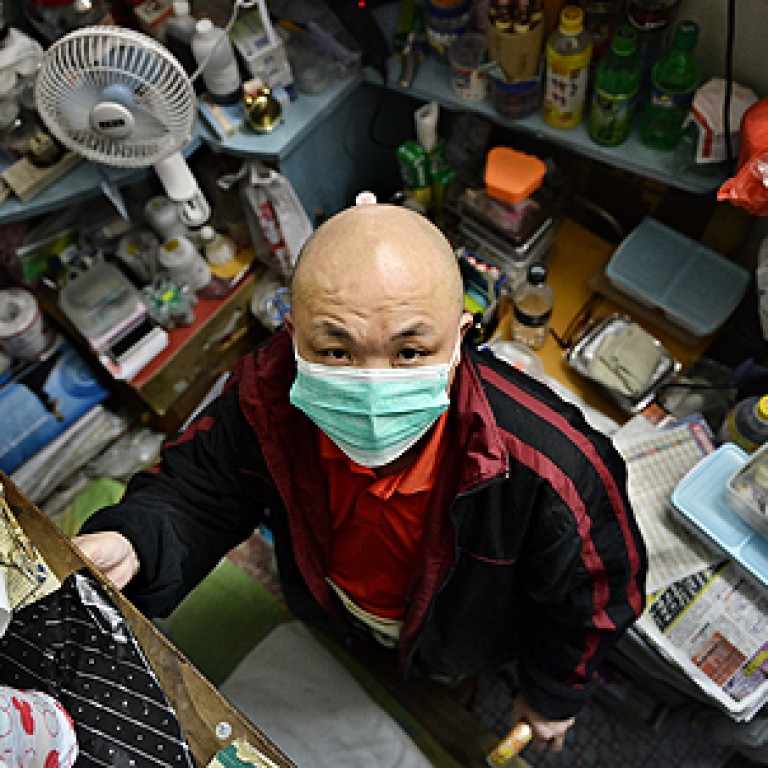 Hong Kong's subdivided flat dwellers pay more rent for smaller, substandard space
Study details cramped conditions that workers and even univesity-educated tenants endure
Residents of subdivided flats are squeezed into an average living space of just 68 square feet - half the space that people living in public housing have - and per square foot they pay a premium of almost 28 per cent to typical market rents, a study has found.
The figures from the government-commissioned research come a day after the housing minister said around 170,000 Hongkongers are living in such small, substandard homes.
The study also found that almost 9 per cent of sampled residents of subdivided flats were not low-wage workers but in fact had completed tertiary education.
Chief Executive Leung Chun-ying said yesterday the problem of subdivided flats was "serious".
"We have to continue our work in increasing housing and land supply," he said.
Subdivided homes, found in old buildings in high-density urban areas, are mostly inhabited by low-income workers and new immigrants because of their typically convenient locations and low rents. But poor workmanship means fire hazards are rife, alongside water leaks and excess loads on building structures.
The study, conducted by Policy 21, a company set up by University of Hong Kong academics, was handed to the government's Long Term Housing Strategy Steering Committee on Monday.
Researchers, having visited 10 per cent of the city's 18,600 housing blocks that are older than 25 years, estimated there were 66,900 subdivided homes housing 171,300 people. They estimated that half of these homes lacked their own kitchens, bathrooms or water supplies.
According to people familiar with the study, the living space per head in subdivided homes is about half the average 138 sq ft per person in public housing and less than half than the overall Hong Kong average of about 150 sq ft, as calculated by the university's department of urban planning and design. Singapore's average is 300 sq ft per person and Shanghai's is 180 sq ft .
The study found rents for such flats were low in nominal terms - typically just under HK$3,800 a month - but that residents pay an average of HK$29.10 per sq ft, much higher than the average HK$22.80 per sq ft in private housing in Kowloon reported by the Rating and Valuation Department in March.
Half of the residents interviewed for the study had applied for public housing, and one-third of them were new immigrants.
Lee Wing-tat, a former lawmaker now running concern group Land Watch, said the difficulty of finding land for new public housing meant the problem of subdivided flats would continue.
"The government cannot just say, 'We'll step up construction and ask those people to wait for public housing'," he said. "For those living in the worst conditions, some rental subsidies may be necessary to help them relocate to better places."
This article appeared in the South China Morning Post print edition as: Subdivided flat dwellers paying more for less space