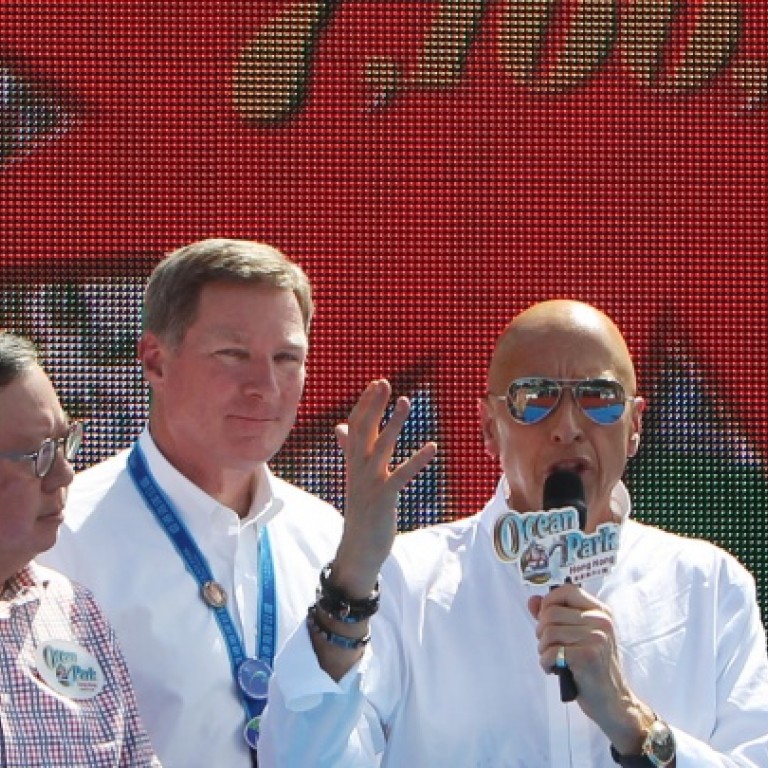 Dolphins too stupid for suicide, says Ocean Park vet
Ocean Park vet dismisses claim that Pinky the bottlenose tried to kill itself. Activist disagrees
Ocean Park yesterday countered claims that a dolphin had tried to kill itself by saying the species was not "intelligent enough" to commit suicide.
However, one marine conservationist said the remark was an insult to dolphins.
According to Nimal Fernando, senior veterinarian at the park: "Dolphins can't really commit suicide. The mental ability to make a decision to kill yourself is beyond a dolphin's reasoning capability."
But Samuel Hung Ka-yiu, chairman of the Hong Kong Dolphin Conservation Society, said: "We aren't intelligent enough to judge whether or not dolphins have enough intelligence to kill themselves.
"You can't use human standards to measure dolphin intelligence."
Claims that 14-year-old Indo-Pacific bottlenose Pinky had attempted suicide at the park's Marine Mammal Breeding and Research Centre were triggered by a video that went viral on Facebook last week showing the dolphin slamming herself against a pool wall.
It led to Civic Party lawmaker Claudia Mo Man-ching asking the police to investigate whether Pinky had been subjected to animal abuse.
Ocean Park responded to the video by explaining that Pinky, who was born at the park, is in the habit of leaping up close to the edge of the pool and occasionally her lower body touches the side.
Allan Zeman, chairman of Ocean Park, also weighed into the furore yesterday. "I'm very upset by a lot of people that believe that Ocean Park has done something wrong," he said. "We do everything we can to protect the animals."
He added that the park was alone in Southeast Asia in being accredited by the Association of Zoos and Aquariums; its operations were audited on a regular basis by the association; and it had a team of more than 60 qualified husbandry and veterinary staff to care for the marine mammals - with 29 solely dedicated to the dolphins.
Zeman said police had visited the place and taken pictures.
"The police are so busy with so many things," he said. "If you've done nothing wrong, you've got nothing to worry about. I just feel bad for the police because they have a hard enough job as it is."
Hung insisted that the park had to do more than say it worked hard to protect its animals. He wanted information about the health and mortality rate of its captive dolphins to prove it.
This article appeared in the South China Morning Post print edition as: Dolphins 'too stupid for suicide'