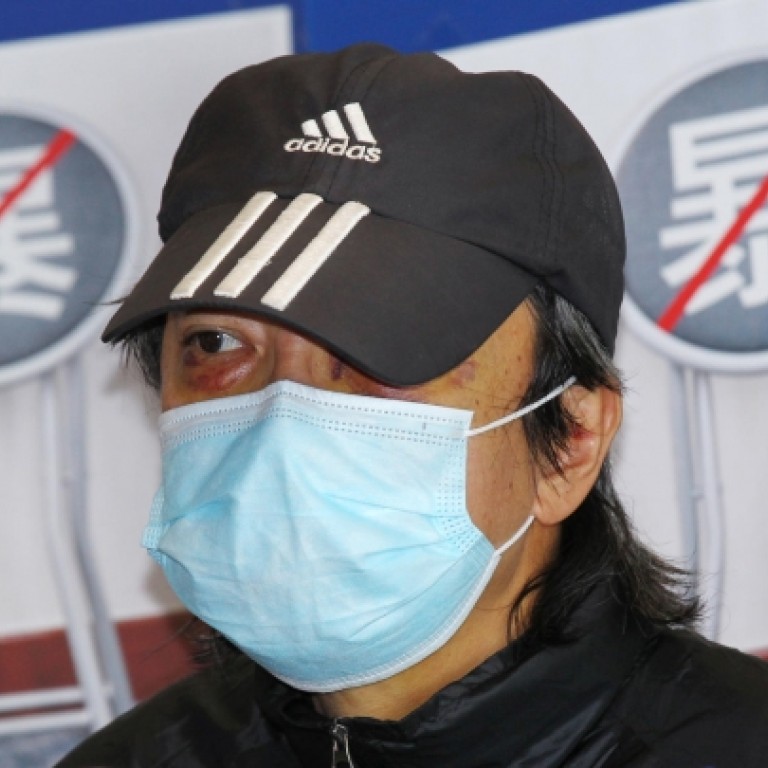 Man beaten for aiding Falun Gong
Four men attack person who tried to stop harassment of the movement's members
Political parties have asked the police to speed up an investigation into a violent attack on a man who says he was repeatedly bashed after an altercation with people believed to be supporters of a pro-establishment group.
The 50-year-old, who wanted to be known only by his surname Chan, said he was set upon by four men after he argued with some people who were holding up placards around a Falun Gong booth in Mong Kok on June 6. Chan believes they were from the Youth Care Association.
Chan, who still had stitches on his head and a swollen eye, spoke to the media yesterday, alleging that he was hit 20 times by the men and bashed in the head with a stool, leaving him with the injuries to his head, eye and shoulder.
He claims the assault was politically motivated. Groups including the Democratic Party and the League of Social Democrats have urged police to take action and curb "political violence".
Lee Cheuk-yan, chairman of the Hong Kong Alliance in Support of Patriotic Democratic Movements in China, criticised police, saying they were slow to act on the case and had been derelict in their duty.
Chan said that on the night of the attack, he was going to an event in Mong Kok to mark a year since the death of mainland dissident Li Wangyang . When he got to Sai Yeung Choi Street at 6pm, he saw people surrounding a Falun Gong booth. He argued with them and tried to make them lower their placards. He was headed for the Ladies' Market when he was set upon.
"I was smacked in the head with a stool - there was no warning," he said, adding that it would not deter him from taking part in future pro-democracy activities.
An association member would say only that the matter should be handled by the police.
A police spokesman said they tried unsuccessfully to find the attackers on the day it happened. No arrests have been made.
This article appeared in the South China Morning Post print edition as: Man beaten for aiding Falun Gong