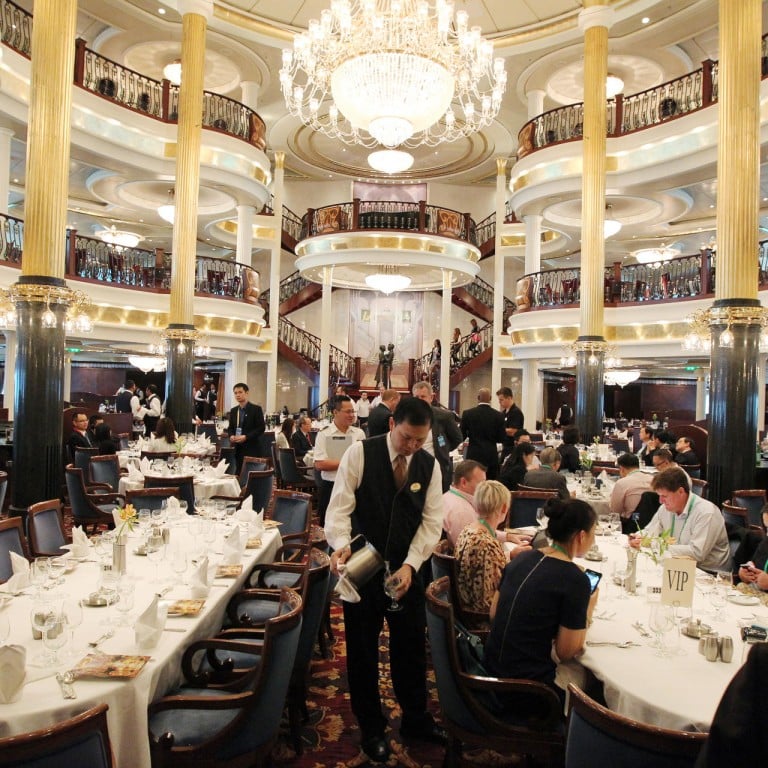 Cruise ship tourists let down by Hong Kong visit
Passengers aboard first ocean liner to berth at new Kai Tak terminal say time in the city too short and hampered by chaotic transportation
Tourists who arrived with the first cruise vessel to dock at the new Kai Tak terminal gave a mixed review of their experience in the city, with some complaining of transportation confusion, taxi overcharging and too little time to take in the attractions.
The one-day stay of Mariner of the Seas was expected to deliver a bump in retail revenue, but it turns out not all the visitors were big spenders.
The 3,000-passenger cruise ship docked at the Kai Tak cruise terminal on Wednesday night and left yesterday afternoon.
Aileen Webber, 62, from Australia, went to the Megabox mall on Wednesday night. "We were told it's a good one, but there wasn't much to see," said "There was not enough transportation information. We wasted a lot of time at The Peak looking for a bus back."
Her husband, Tony Webber, 61, who was also making his first Hong Kong visit, said: "One day is too short. You need at least a week to have a good time here."
Valerie Amos, 79, from Britain, said she was told on Wednesday night the Ladies' Market in Mong Kok was not open. She went to Stanley yesterday and mainly bought fridge stickers, souvenir pens and a plastic watch for her great-grandson.
Dirk Van Heeren, 73, from Australia, went to the APM mall in Kwun Tong on Wednesday night with his wife but did not buy anything. He looked at some tablet computers but the warranties were not valid in his home country.
However, representatives of several shopping malls in Diamond Hill and Kwun Tong reported an uptick in revenue over the past two days. One said it saw an average spending of HK$2,500 by each tourist from the cruise.
Some said they enjoyed a hop-on-hop-off tour bus they had signed up for with a local travel agency. It offered four routes - one to The Peak, to Stanley, around Kowloon and a Kowloon night tour, at HK$380 per person for the whole day.
Sandra Cooper, 62, from Britain said she had a good experience yesterday but Wednesday night "was chaos". She and her husband waited 30 minutes on Wednesday night for other passengers to board a shuttle bus leaving the cruise terminal. The bus was arranged by the terminal operator.
There were grumbles about the taxi service that night. Taxis were not allowed into the terminal at a point and a long queue formed.
Lai Ming-hung, chairman of the Taxi and Public Light Bus Concern Group, said he took a taxi and arrived at the terminal at 7.20pm, but security guards informed him taxis were not allowed inside. He made an enquiry with a Transport Department officer, and was told at 8.10pm that taxis could enter.
The terminal operator said many taxis were unwilling to enter the terminal with an empty car, but later admitted that the staff of one of the security companies wrongly thought taxis needed a permit to enter the terminal.
One British tourist said she was charged HK$400 by a taxi driver for a journey she later learned should cost around HK$70. "It's very, very disgusting," she said.
Lai suggested terminal staff could assist tourists taking taxis, as occurs at the airport. They would record taxi plate numbers and give tourists an idea how much their journey should cost.
This article appeared in the South China Morning Post print edition as: Cruise tourists let down by visit