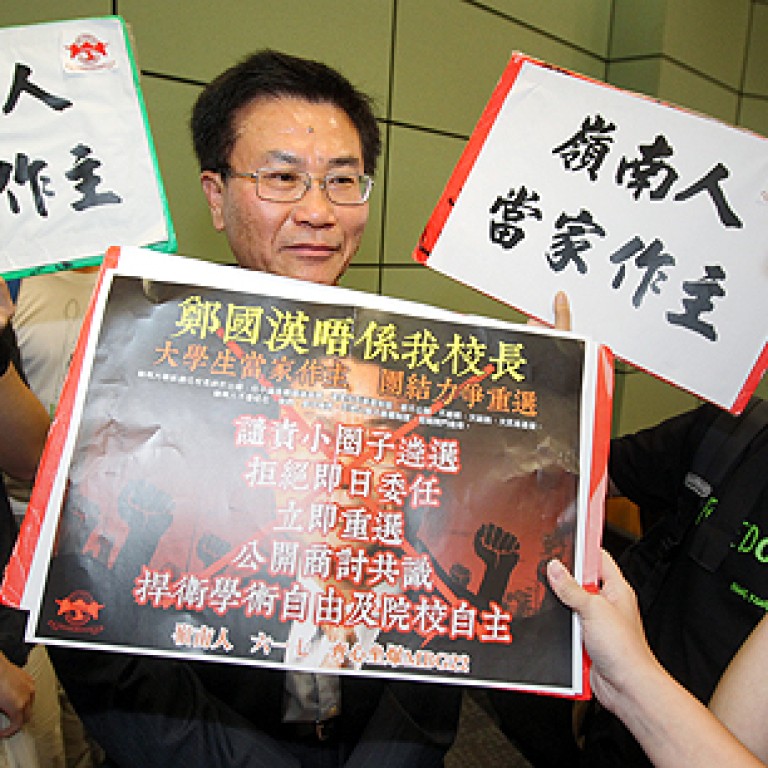 Students angered by appointment of ex-CY adviser as Lingnan University president
Rapid appointment of former adviser to chief executive stokes anger, calls for say in selection
Lingnan University students say they may boycott classes after a former adviser to Leung Chun-ying's election campaign was named as the university's new president without the students having a say in the selection.
Leonard Cheng Kwok-hon, dean of the University of Science and Technology's school of business and economics, and recognised front runner for the post, pledged to safeguard academic freedom and said he had not had any contact with Leung since the latter became chief executive.
But student union president Vivian Yip Wing-lam said the union would discuss what to do in response to the appointment and that it might vote on class boycotts.
Cheng said he hoped to communicate with students and that "there's no need to stage a class strike". His appointment was announced last night by university council chairman Bernard Chan after the council had voted 19 to 2 in favour, with two abstentions.
Earlier, Cheng told a consultation session with about 300 Lingnan staff and students: "I was one of Leung's economic advisers for his election campaign. But I didn't have further contact with him after [he] was elected."
Cheng rejected claims that he might have a political mission to discipline outspoken academics at the university, such as autonomy advocate Dr Horace Chin Wan-kan. "If anyone damages academic freedom, please tell me right away, as I'll be the guardian of academic freedom," he said.
He also denied reports that he had supported the Article 23 national security legislation in 2003 and the national education curriculum last year.
Commenting on students taking part in Occupy Central - the civil disobedience movement planned for next year to fight for universal suffrage - Cheng said: "If our students are arrested, our university will bail them out."
Answering media questions about vindication of the 1989 Tiananmen Square democracy movement, Cheng said the June 4 bloodshed would not be forgotten easily. "June 4 is a very important date for the fight for democracy for Chinese people," he said. "I believe … it should be vindicated at a suitable time."
Student leader Yip said students had not had any say in the selection process. "The whole process went for only four months, with many staff and students not able to join today's consultation," she said. "But the appointment was announced right after the so-called consultation."
But Cheng said: "I want to ask, globally, which university's president is elected by the students?"
Second-year cultural studies student Yoyo Tsang said that after listening to what Cheng said in the consultation, "I couldn't see how he would be able to lead the university as he knows nothing about it."
The university council decided in October last year to set up a nine-member committee to search for a new president to succeed Professor Chan Yuk-shee, who resigned last year amid accusations of excessive enrolments while denying that the row had anything to do with his decisions.
The committee - chaired by university council chairman and executive councillor Bernard Chan - included student union president Yip as an observer with no voting power. Yip called for change in the mechanism to allow students to vote.
Cheng is expected to move into his new office before the academic year starts in September.
This article appeared in the South China Morning Post print edition as: Students riled by president's CY ties