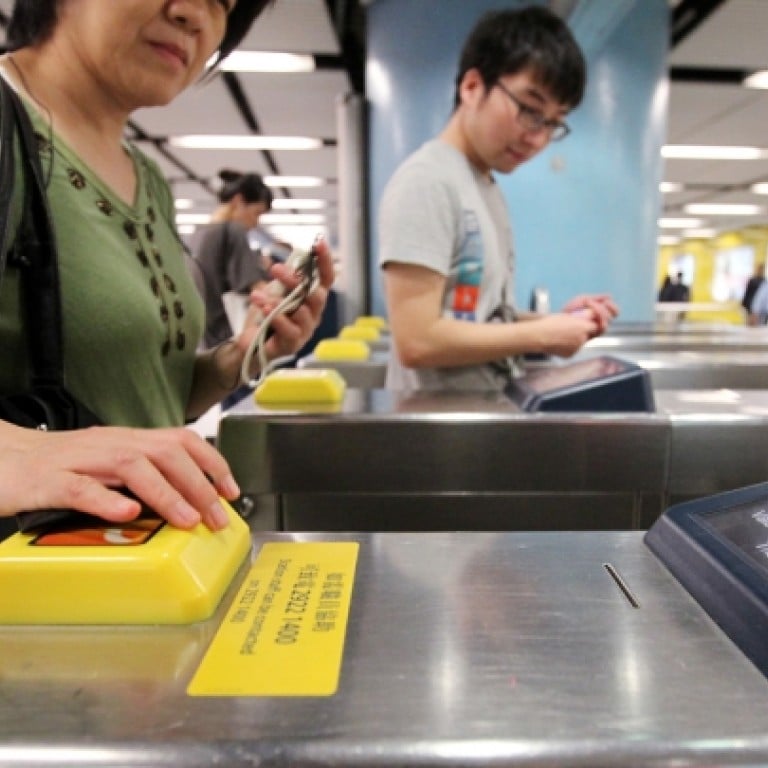 MTR to drop 10c Octopus levy for screen doors
The MTR next year will stop charging Octopus card users the extra 10 cents per trip to pay for platform screen doors.
Transport minister Professor Anthony Cheung Bing-leung said yesterday the levy had raised more than HK$1 billion over the past 14 years - almost half of the HK$2.3 billion it cost to fit the safety doors at stations built before 1998.
The MTR Corporation decided in 2000 that passengers on the Tsuen Wan, Kwun Tong and Island lines should share half of the cost. The doors were included in lines built after 1998.
Cheung said it had not been decided whether passengers would have to pay for retrofitting screen doors on the Ma On Shan and East Rail lines, which were the responsibility of the KCRC until 2007.
Lawmaker Paul Tse Wai-chun asked why only Octopus card users paid the levy. "This is discrimination against Octopus card users," he said.
NeoDemocrats lawmaker Gary Fan Kwok-wai asked why passengers had to pay the levy while the MTR Corp received income from display advertising on platform screen doors and automatic platform gates.
Cheung said such advertising raised just HK$1.5 million last year, while maintenance cost HK$17 million.
He said retrofitting screen doors at aboveground stations was "akin to station rebuilding" because of the complexity of installing massive air-conditioning and ventilation systems.
As for above-ground stations on the Ma On Shan and East Rail lines, the MTR had to consider the new link between Sha Tin and Central before installing doors.
Platforms on the Ma On Shan line would have to be extended to accommodate eight-compartment trains to link up with the new rail.
This article appeared in the South China Morning Post print edition as: MTR to drop 10c Octopus screen levy