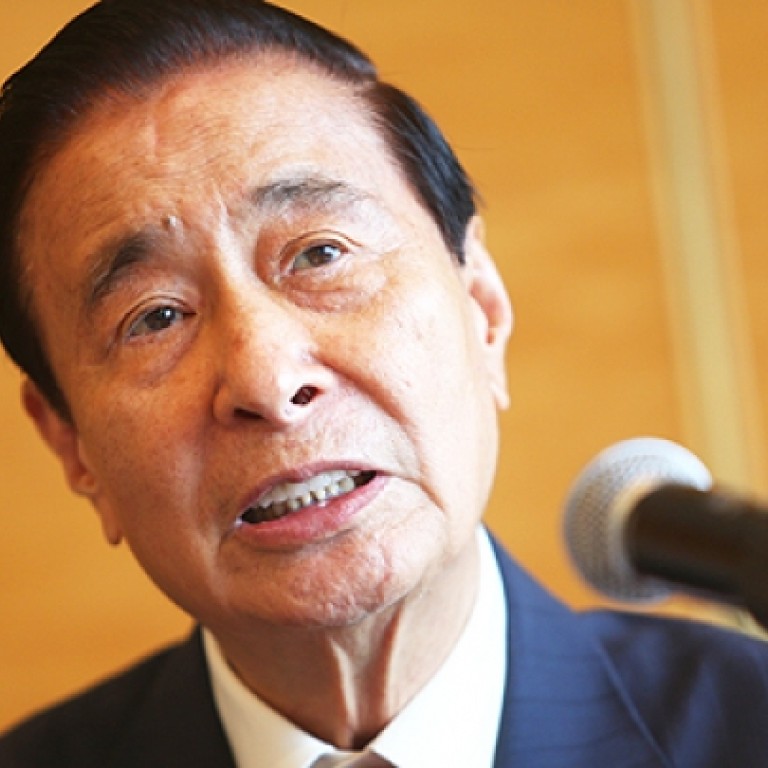 Property tycoon Lee Shau-kee lashes out at Occupy Central
Property billionaire attacks democracy protest as he praises C.Y. Leung and rubbishes idea that business and government work hand in glove
Property tycoon Lee Shau-kee has weighed in to condemn the Occupy Central movement for being "too radical", and warned it could have a negative impact on the city.
The Henderson Land Development chairman made the remarks in a speech at a meeting with the News Executives' Association yesterday, during which he took the rare step of speaking on a range of subjects, from social issues to personal matters.
Lee said the pan-democrat movement, which aims to mobilise 10,000 people to blockade Central and force the government to commit to universal suffrage, could have significant fallout.
"Central is the heart of Hong Kong," Lee said. "It should not be paralysed, or else there could be huge consequences. It could have a negative impact on Hong Kong.
"Hong Kong is a very precious place. People who live here should appreciate what they already have. They should comply with the law and behave themselves," he said.
Lee also advised young people not to take radical action during Occupy Central protests.
The tycoon extended his support to the government by praising chief executive Leung Chun-ying for being "diligent, persistent and hard-working", while dismissing the accusation that there was collusion between the administration and businesspeople.
He said earnings at property companies had fallen as the number of real estate transactions had declined following recent government property market cooling measures, such as higher property taxes and new rules on sales brochures.
"You can see for yourself - how could there be collusion?" he asked.
The tycoon shared with the assembled executives his personal view of success, and spoke of a philanthropic plan to donate HK$1 billion each year to charity if the Hang Sang Index rises to 30,000 points.
"I have learned in recent years that spending money is equally important as earning money in terms of being successful," he said. "Philosophically speaking, I cannot bring my money with me when I die, even though I am rich. While I am called a successful man, I have to spend in an equally successful way."
"My spending concept is to gain the highest reward for the cost, for example, training one million farmers to work on their own so that at least three people in a family gain help. In the end, three million people can benefit."
He also seized the chance to dismiss accusations against his company. He said land for the Grand Promenade residential development in Sai Wan Ho had been obtained through the proper channels, and he went on to deny allegations of market manipulation during the sale of a luxury apartment at 39 Conduit Road.
In a surprise move, Lee, who has three surrogate grandsons from his eldest son, Peter Lee, told Hongkongers to be more open-minded towards surrogate births.
He cited a Mencius saying - "There are three ways to be unfilial; having no sons is the worst" - to stress the importance he attached to having successors as a traditional Chinese value.
This article appeared in the South China Morning Post print edition as: Tycoon hits out at Occupy Central