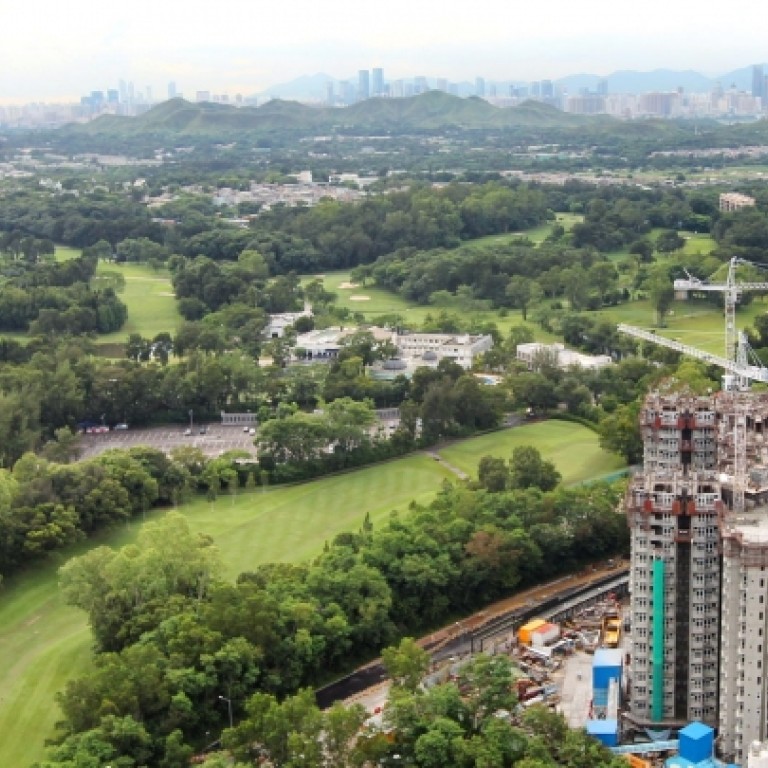 Call to make golf courses part of Hong Kong land reserves
Private clubs, whose land use is of a lower intensity, can be freed up for redevelopment when need be, in an idea drawn from Singapore
Hong Kong should follow Singapore's example in listing some private golf courses in a land reserve, an economist and government housing adviser says.
Dr Andy Kwan Cheuk-chiu's suggestion comes as the government faces pressure to redevelop a Fanling golf club instead of undertaking a dual-town project that will displace thousands of villagers living nearby in Fanling North and Kwu Tung North.
While the Fanling golf course could not replace the dual-town project, which had been planned for years, the 170-hectare site, together with a few other golf courses in the city, should be studied for future development possibilities, Kwan said.
"Some private golf clubs pay nominal rents to the government while running the site like an exclusive club for the rich," Kwan, a member of the Long Term Housing Strategy Steering Committee, said. "This is blatant exploitation. The government should return the land to the people."
He referred to a land use plan issued by the Singaporean government earlier this year, which says it needs to recycle land with uses of lower intensity, such as golf courses, to support a larger population.
Hong Kong has six private golf courses - in Fanling, Deep Water Bay, Clear Water Bay, Discovery Bay, Shek O and the airport. The first three operate under private recreational leases that charge nominal rents, but the government can take back the sites when the leases expire.
Secretary for Development Paul Chan Mo-po said yesterday that the government had the right to recycle the Fanling site if it was in the public interest with one year's notice - without the need to compensate the lessee.
Kwan said that not all three 18-hole courses in Fanling should be redeveloped, noting that the site hosted a professional international tournament, the Hong Kong Open, each year.
He said the 120-hectare Clearwater Bay Golf and Country Club had a higher potential for redevelopment.
Its lease was renewed last year for another 15 years.
Lee Wing-tat, a former lawmaker who runs the Land Watch concern group, agreed some golf courses should be converted for other uses, but noted that not all were suitable for housing.
The Clearwater Bay site, which was surrounded by a country park, should be used to house private recreational clubs to be relocated from the city centre. This would in turn release more urban land, he said.
The government should strike a balance between securing housing land and developing sports, Lobo Louie Hung-tak, a Baptist University physical education professor, said.
He noted that the city had about 400,000 golfers. The Fanling facility had a century-long history and was the "only suitable" course for international competitions, and so it should be kept, he said.
Another housing adviser, Lau Ping-cheung, said the land use of golf courses should be reviewed together with all other private recreational clubs. "But we need to discuss and understand the possible social impact, because Hong Kong is an open city with lots of rich people and foreigners who might be interested in golf."
This article appeared in the South China Morning Post print edition as: Call to make golf courses part of land reserves