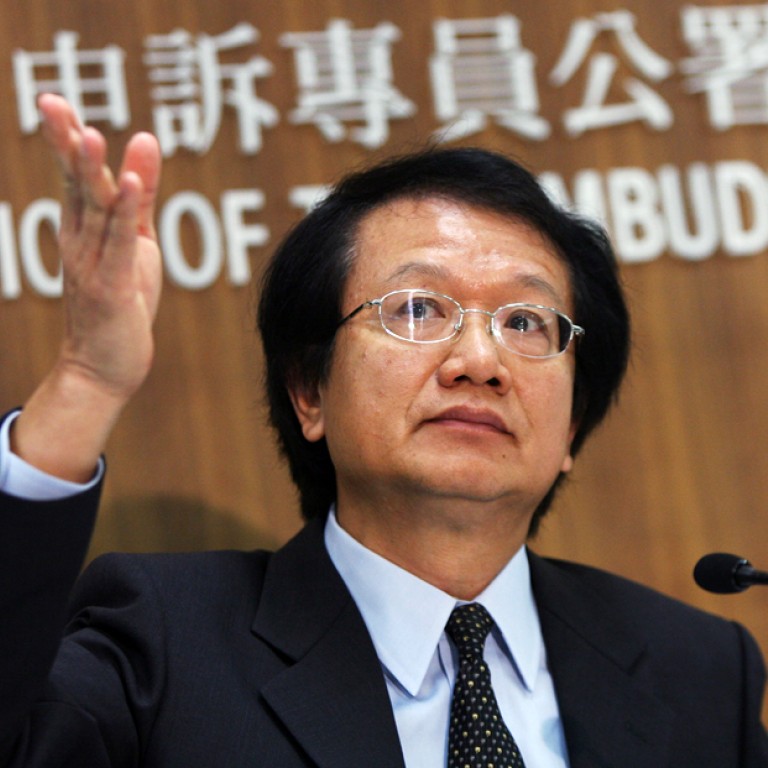 Plan to make it easier to say sorry
It may seem the hardest word to say for some officials, but government reveals it is looking at how to apologise without fear of being sued
The government may introduce a new law enabling public agencies to apologise without fear of legal liability.
The Department of Justice said last night that a steering committee, chaired by Secretary for Justice Rimsky Yuen Kwok-keung, had been formed last year to study the need for such legislation.
The department was responding to a suggestion yesterday by Ombudsman Alan Lai Nin that a law might be required to overcome official reluctance to say sorry.
"Government officials may not apologise lightly to avoid losing face and out of fear of the legal responsibility that may follow," Lai said.
"When key officials refuse to apologise, their junior staff are likely to follow suit. But sometimes a heartfelt apology could give a victim comfort."
Director of Marine Francis Liu Hon-por came under fire for not apologising for the Lamma ferry disaster that claimed 39 lives on October 1 last year until nearly eight months later - in late May.
Liu said he had needed to seek legal advice first to avoid "possible problems" that could be raised by an official apology.
In a statement, the Department of Justice said a subcommittee of its panel established to study the issue would decide whether to recommend the introduction of relevant legislation, and whether it should be part of the Mediation Ordinance, which came into effect this year, or separate legislation.
A report would be released for consultation as soon as the study was complete.
Similar laws have been in force in many jurisdictions such as the United States, Canada and Australia for about 10 years, according to the chairman of the Joint Mediation Helpline Office, Chan Bing-woon.
He said a law would prevent an apology from being regarded as an admission of legal liability, which would put people at risk of legal action through the civil courts.
"Such legislation would help boost the success of mediation if a party is willing to make an apology to another side without the fear of being treated as admitting liability if the case is eventually heard in court," Chan said.
Former Medical Association president Dr Choi Kin said the new law could change the culture within the medical world, where doctors and consultants can be reluctant to apologise over "unhappy incidents".
"Refusing to say sorry is an old convention, and such an outdated notion should not be retained in society," Choi said.
"Doctors are taught to feel for their patients and should be able to express sorrow over unhappy incidents," he said.
"The gesture could lessen the pain suffered by the patients and relatives - but it should not be seen as accepting blame over the matter."
Speaking at a joint press conference with RTHK yesterday to launch the drama series Lai said the government had apologised in only about 300 out of 2,200 cases of complaints against different departments.
More than 80 per cent of the apologies had come only after intervention by the watchdog, he added.
This article appeared in the South China Morning Post print edition as: Plan to make it easier to say sorry