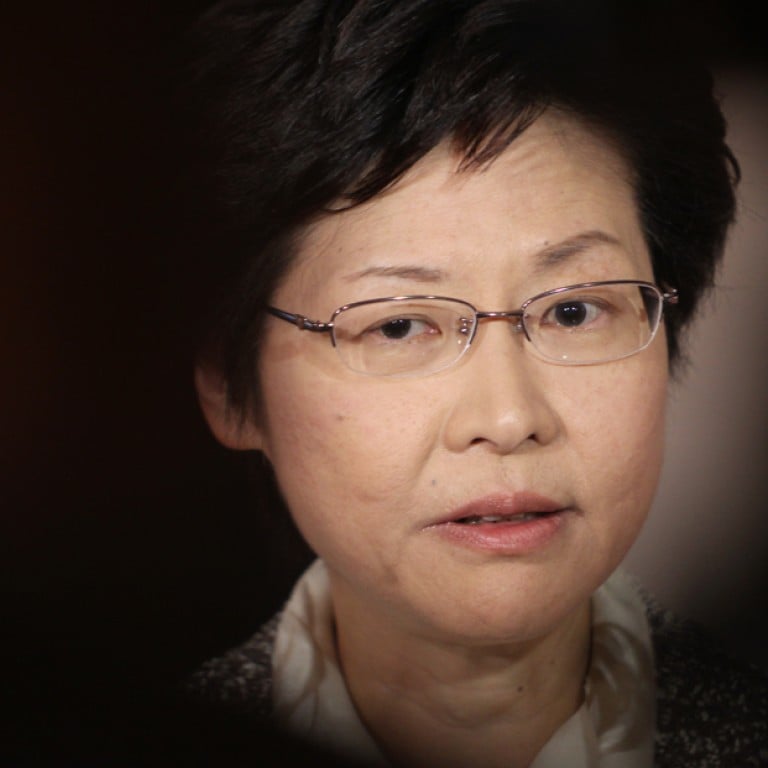 Community Care Fund expands poverty giveaways
Inadequately housed residents may benefit, but the government insists money cannot be given to those in subdivided industrial buildings
Up to 150,000 more people who are "inadequately housed" will qualify for cash subsidies from the Community Care Fund under a scheme that had previously helped only people living in subsidised flats.
But the fund will not help people living in subdivided industrial buildings as these are "definitely illegal", Chief Secretary Carrie Lam Cheng Yuet-ngor said.
The expanded subsidy scheme was one of four new measures announced yesterday by Lam in her capacity as chairwoman of the Commission on Poverty.
People in squatter housing and other premises deemed inadequate will now qualify for lump sums of between HK$3,500 and HK$10,000 depending on family size. About 59,000 people in 26,000 families have been helped by the scheme so far.
Lam said the commission was very sympathetic to those living in industrial buildings, but the law had to be enforced as their living places were "definitely illegal".
"There are major differences in terms of policy [between subdivided flats in residential buildings and industrial buildings], and the government does not tolerate residential uses in industrial buildings."
But commission member Michael Tien Puk-sun, a New People's Party lawmaker, said it was an "outrageous idea" to exclude industrial-building tenants and urged the government to set up policies to help these families.
The Society for Community Organisation accused the government of operating a double standard because some of the divided flats occupied by people now eligible for the subsidies were also illegal.
It said the "bureaucratic act" of excluding families in industrial buildings might violate the principles of the Community Care Fund.
Lam said that the Poverty Commission would call a special meeting soon to study ways of solving the "contradictory situation".
Applicants must not be receiving Comprehensive Social Security Assistance, be a public housing tenant or have income above the limits for obtaining a public flat.
Among other measures announced yesterday, the fund will provide up to HK$2,000 a month for low-income patients who need items to fight respiratory diseases.
It will also provide additional lump sums of HK$1,000 and HK$500 for students who are eligible for full-cost and half-cost textbook subsidies. Students in courses below associate degree level will get all or half their fees paid, depending on their financial situation.
The four measures will cost the fund HK$1 billion and benefit 560,000 people.
The fund will still have about HK$6 billion available for other programmes.
This article appeared in the South China Morning Post print edition as: 150,000 more get housing subsidy