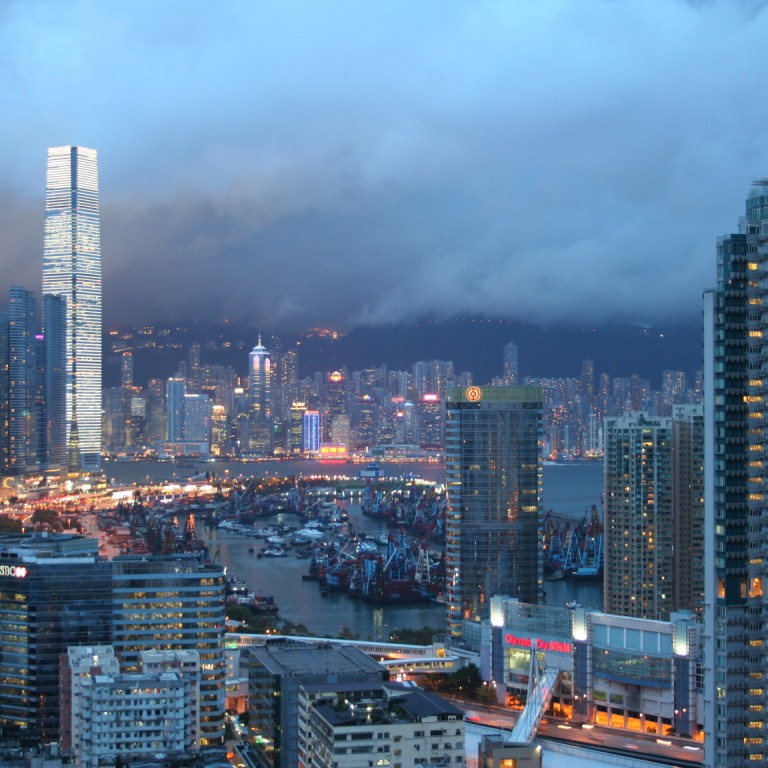 Hong Kong groans as Typhoon Utor hits
Typhoon signal No 8 shut schools, businesses and transport but medical staff, rescuers – and burglars – were among those hard at work
Typhoon Utor brushed past the city, bringing winds of up to 100km/h yesterday, disrupting air, land and sea traffic and forcing most businesses to close for half the day.
The typhoon left Hong Kong with minor damage before making landfall in Guangdong in the afternoon. Outside Hong Kong, a Guangdong-bound cargo vessel sank in international waters, forcing its 21 crew members to abandon ship.
In the city, six people sought treatment in public hospitals for typhoon-related injuries and 54 sought refuge at the city's 20 government shelters.
There were 21 reports of fallen trees and six of minor flooding at To Kwa Wan, Mong Kok, Kwai Chung, Kwun Tong, Wong Tai Sin and Tseung Kwan O.
The Airport Authority said 117 flights - 56 arrivals and 61 departures - were cancelled, while 401 - 217 arrivals and 184 departures - were delayed.
While most people were taking shelter, the crooks braved the bad weather to steal more than HK$200,000 in cash and valuables. In the 12 hours that the No 8 typhoon signal was in force, police received six reports of burglaries. The thieves hit three shops, a three-storey house, a flat and a monastery. No one has been arrested yet.
Worst hit was the house in Aquamarine Garden at the Tsing Yan Street waterfront in Tuen Mun, where the occupants lost HK$160,000 in cash and valuables. Police believe the burglars entered the master bedroom through a window as the owner, a 49-year-old businessman, slept. The intruders took HK$20,000 cash from a bookshelf as well as a safe containing HK$40,000 in cash and jewellery, a HK$100,000 watch and some documents.
A veteran police officer said the burglars took advantage of the typhoon warning to carry out their raids because they knew it would be quiet on the streets with fewer officers on patrol.
Air and sea traffic was disrupted, stranding hundreds of travellers at the airport and the Macau ferry terminal.
Video: Hong Kong battens down for Severe Typhoon Utor
"We spent last night at the airport without any food or blankets," said Tan Qinhua, who was visiting Hong Kong with her family from Shanghai.
An unhappy Tan said they arrived at the airport at 4pm on Tuesday hoping to get their seats on a China Eastern Airlines flight, but the airline was the only one which had yet to resume its flights to Shanghai by yesterday afternoon.
At the China Ferry Terminal in Tsim Sha Tsui, hundreds of Macau-bound travellers were left high and dry. A mainland visitor said his tour guide had left the tourists at the terminal and they did not know what to do.
A 190-metre cargo vessel, the Trans Summer, went down about 80 kilometres southwest of the city at about 10am. The Hong Kong-registered ship was travelling from Indonesia to Yangjiang in Guangdong. Its 21 crew members had to abandon ship and were pulled out of the water by rescuers.
Four of them, wearing life vests, were in the rough sea for more than an hour before they were picked up by a Government Flying Services helicopter. Five others, without life vests, stayed afloat by hanging on to two inflated life rafts carrying the remaining 12 crew members.
Helicopter pilot Samuel Yip Wai-hung said the poor weather conditions hampered the rescue.
"The wind was very strong … up to 90km/h, and the waves were between 10 and 15 metres tall," he said.
"The life rafts, which were being battered by the waves, were unstable, and the winch hook, which was hit by strong wind, swung badly during the rescue," Yip said.
It took rescuers about 1-1/2 hours to pick up 19 crew members with two helicopters, Yip said. A mainland rescue boat plucked the remaining two sailors out of the sea. None of them were injured.
Meanwhile, a Hong Kong woman dived into Victoria Harbour to save a drowning mainland visitor. Diving instructor Louise Chow Kei-yin, 39, was jogging along the Salisbury Road waterfront in Tsim Sha Tsui when the 24-year-old mainland man, who holds a two-way permit, jumped into the sea from the Star Ferry Pier at about 1pm.
The man's actions drew the attention of about 40 to 50 onlookers, who quickly gathered at the pier. The onlookers threw him two life buoys, but took no further action, Chow said.
"So I took off my shoes and socks and jumped into the water," she said. "I caught hold of a life buoy and then grabbed the man before dragging him to shore." Chow was unhurt, and the man was taken conscious to Queen Elizabeth Hospital.
The No 8 signal, which was hoisted at 1.40am, was downgraded to No 3 at 1.40pm and likely to be lowered to No 1 today.
Schools remained closed, as did the stock exchange and most businesses, but many shops and restaurants reopened in the afternoon.
This article appeared in the South China Morning Post print edition as: City feels the power of Utor