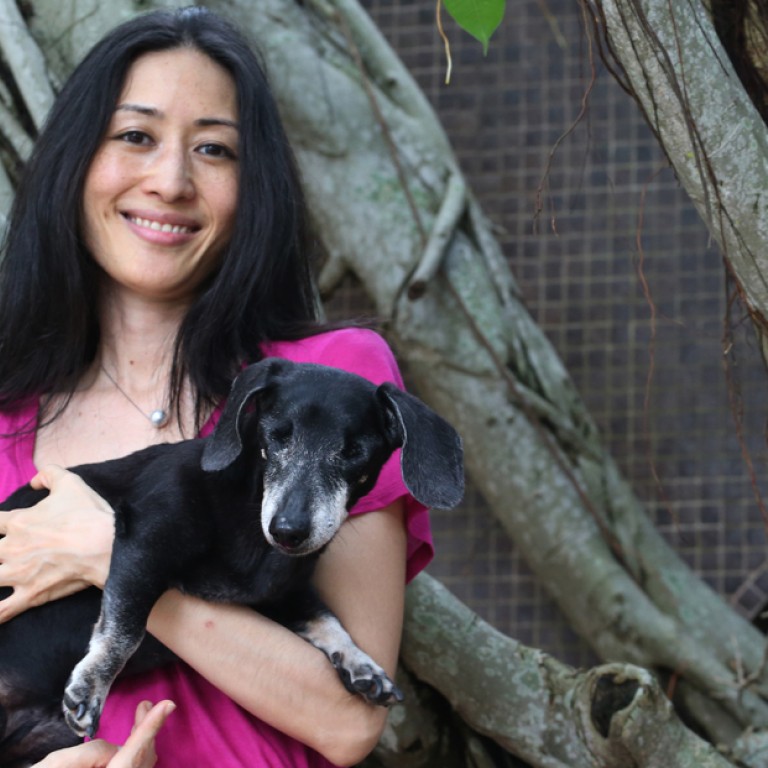 Pet Fudgie, 20, claims Hong Kong's 'oldest miniature dachshund' title
At 20 years of age, prized pet dog believed by owners to be oldest of his breed in Hong Kong
Fudgie the miniature dachshund celebrates his 20th birthday today, and although they may be barking up the wrong tree, his owners' claim that he is the oldest dachshund in Hong Kong has been backed up by a local expert.
Mari Hinden, 39, has owned the dog since she was a 19-year-old. The normal life expectancy for a miniature dachshund is 14 years, and the rule of thumb for working out a dog's human age is to multiply it by seven, which makes Fudgie 140 years old in human terms.
Adam West, the senior veterinary surgeon at the Society for the Prevention of Cruelty to Animals, said that a female dachshund in New York state named Chanel recently held the Guinness World Record for the oldest dog, aged 21.
"The Hong Kong dachshund has not far to go to be the officially longest living purebred dachshund," he said. "Chanel was 21 years and 114 days old at  death.
"20 years old is certainly a fine age for a dachshund. I don't recall seeing one of that age in my 12 years in Hong Kong. It really is rare for any breed to reach that." 
Mari bought Fudgie while she was living in the American city of Boston and since then he's lived with her in New York, in the US state of Texas and in San Diego and Los Angeles, California, before she moved back to Hong Kong 11 years ago.
In that time Fudgie   saw various boyfriends woo Mari  before  she met her husband Derek in Hong Kong through mutual friends in 2002, and they've been married since 2006. But he's still not sure if he's the man of the house.
"If it came down to me and Fudgie, I'm not sure I'd be the last man standing," Derek said.
The couple live in Happy Valley and run a property investment consultancy company and, although age is steadily catching up with him, their prized pet  still has a few miles left on the clock.
"He's lost his sight and he's gone a bit deaf, but otherwise he can walk around fine and is in good health," Mari said. "Every time we take him to the vet they can't believe how healthy he is.
"Now he sleeps most of the day, but he's always very affectionate and protective."
This article appeared in the South China Morning Post print edition as: Fudgie claims 'oldest dachshund' title