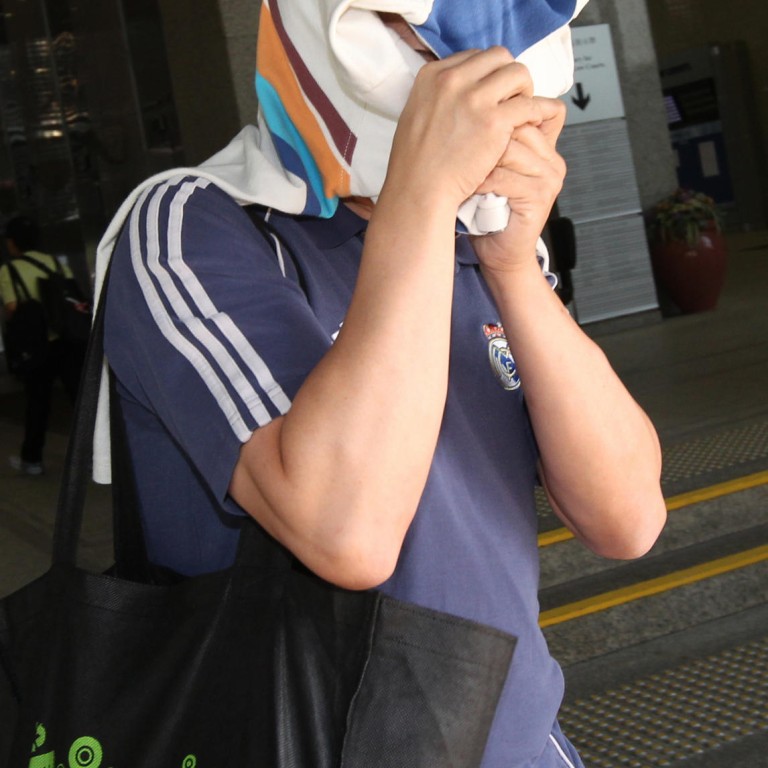 Indonesian maid's injuries 'may have been self-inflicted'
Lawyer also suggests sadomasochism, not employers, may be cause of scars, but doctor says they were most likely caused by others
An Indonesian maid who says she was subjected to horrendous abuse by her employers could have caused the injuries herself, a court was told yesterday.
Defence lawyer Alan So also suggested it might be possible that Kartika Puspitasari's injuries could have been the result of sadomasochism.
But Dr Poon Wai-ming told the District Court the scars he had found on Kartika's body were most likely inflicted by others.
Poon said the scars on the maid's upper back were in a horizontal pattern and therefore unlikely to be self-inflicted. He also found there were old and new scars, some perhaps six months old and others just a week old.
The doctor said multiple linear scars on Kartika's legs and wrists indicated she had been bound with cable.
"People with self-destructive tendencies usually use knives to cut themselves in certain areas such as the wrists or on the neck or abdomen. They seldom inflict injuries over the whole body," Poon said.
As for possible sadomasochism, Poon said it was unlikely because such activities always involved mutual agreement and the dominant player had no intention to cause actual injury. Both parties only enjoyed the excitement of the act, not harming the other person.
Tai Chi-wai, 42, and Catherine Au Yuk-shan, 41, have denied eight counts of assault and one count of false imprisonment.
Kartika, 30, claims the couple subjected her to two years of horrific abuse, including putting a nappy on her, tying her to a chair and leaving her for five days without food or water while they went on holiday in Thailand.
Asked if someone could survive for five days without food or water, Dr Poon said it depended on the environment.
If a person was left in a desert he or she might die very soon. But if they were left inside without any exertion they could survive.
He gave as an example people pulled out of the rubble days after an earthquake.
Tai and Au have chosen not to take the stand and summoned only two witness to testify for them.
Kwong Wan-fung, who has run a laundry in Tai Po since 2010, said the couple had sometimes come to his shop with Kartika.
The maid had also come once or twice by herself in 2011.
Kwong said he had not noticed anything wrong with Kartika, nor any injuries on her body.
A neighbour of the couple, Man Kim-wah, said he first saw Kartika when the family moved into the Tai Hang Garden flat in Tai Po in September last year.
Man said that when he had seen her cleaning in the flat she had been wearing normal clothes.
This evidence was to counter Kartika's claims that she sometimes had been forced to wear just see-through plastic bags and that Au once forced her to wear the couple's three-year-old daughter's clothes, which tore, exposing her body.
Kartika has accused Au of cutting off all her hair and threatening to kill her if she did not cut it again when it grew back.
Both witnesses said the maid's hair was "very short".
The trial continues before Deputy Judge So Wai-tak today.
This article appeared in the South China Morning Post print edition as: Maid's injuries 'may have been self-inflicted'