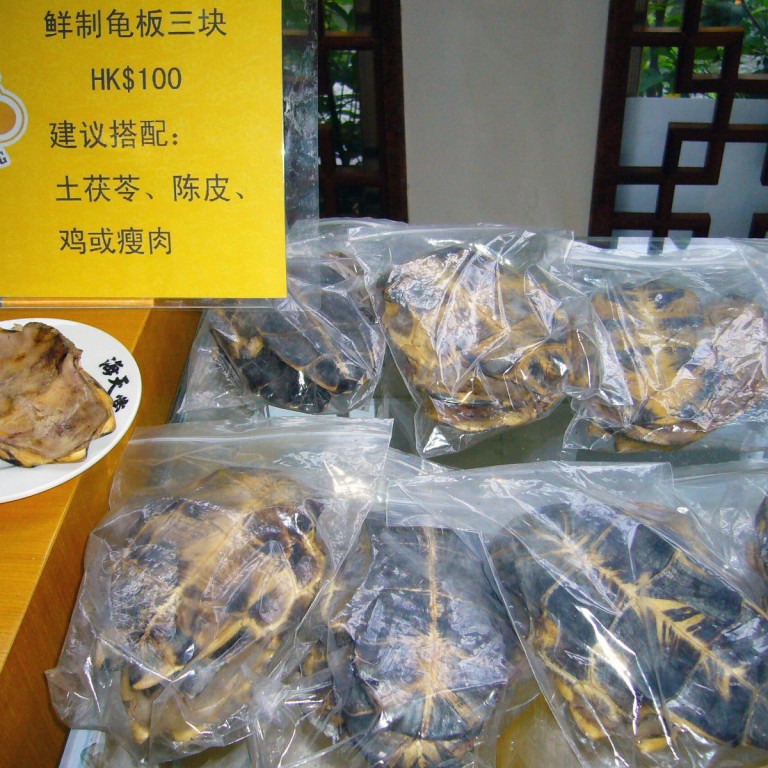 First, mouldy jelly. Now it's turtle jelly - minus the turtle
Herbal chain Hoi Tin Tong in more trouble as study suggests it has left out a vital ingredient
A local herbal chain store sank deeper into controversy, with a university study finding that its turtle herbal jelly contained almost no turtle shell.
The health minister has now referred Hoi Tin Tong to customs officials to see whether it has breached the trade description ordinance.
It follows allegations that workers at its stores were cleaning off mould-covered jelly before selling it as fresh.
The Centre for Food Safety said it inspected all Hoi Tin Tong's shops in the city yesterday - there are 81 branches - and found no visible hygiene problems. They took two turtle jelly samples for testing.
"Consuming food with excessive bacteria levels would affect health, so we are very concerned," said Secretary for Food and Health Dr Ko Wing-man.
The ongoing City University study has compared different brands of turtle jelly and found that Hoi Tin Tong was the only one which had very little or no turtle shell.
Cheung Hon-yeung, associate professor in the Department of Biology and Chemistry, said three out of four Hoi Tin Tong samples bought two months ago - on the mainland and in the city - contained no turtle-shell collagen.
He estimated the amount of turtle-shell collagen in the positive sample was 1,000 times less than the amount in other brands.
"We used amino acid fingerprinting which can identify the presence of unique components. We concentrated them and repeated the tests, but still found no turtle shell in the three samples," he said.
Li Cihou, production manager at Hoi Tin Tong's plant in Huizhou , said the firm killed enough turtles to harvest 300kg of shell and meat every day to make more than 20,000 cups of jelly. "We slaughter fresh turtles day in, day out; it's impossible for us to throw away the butchered ingredients. We certainly make use of them," Li said.
Li Lin, an inspector at the plant, said authorities conducted quality audits every quarter and had found no problems so far.
On Wednesday, law enforcement officers visited the factory in response to recent allegations.
The factory's general manager, Tommy Tsui Ho-yin, said customers who had bought Hoi Tin Tong vouchers could get a refund if they had reasonable concerns.
He welcomed the investigations, saying that they would prove the products' quality.
Video: Controversial clip allegedly showing mould-covered jelly being prepared for sale.
This article appeared in the South China Morning Post print edition as: First, mouldy jelly. Now it's turtle jelly - minus the turtle