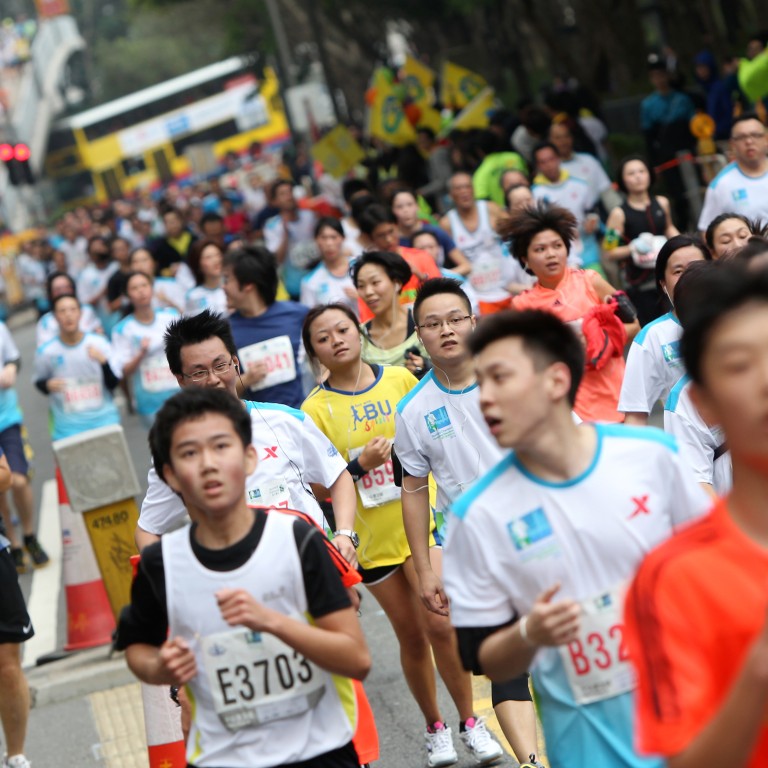 Hong Kong Marathon may ban mobile phones after 'selfies' caused accidents
Mobile phones could be banned from next February's Standard Chartered Hong Kong Marathon after runners were accused of causing pandemonium at this year's event by stopping to take pictures of themselves.
The bank's chief executive, Benjamin Hung Pi-cheng, yesterday called on organisers to try to stop the practice and blamed it for causing accidents during the race, which saw many competitors cross the finish line bloodied and bruised.
The injured included Hong Kong triathlete Joyce Cheung Ting-yan, who survived a nasty fall to go on to win the women's 10-kilometre race.
Hung said: "The problem was that a number of runners were trying to take self-portrait pictures using their smartphones. What we are trying to do is to encourage people not to do that.
"It not only endangers themselves but endangers a lot of people running behind them.
"We want people to apply a little bit of common sense and discipline. At the end of the day we want this to be run safely."
Hung said he did not discount the possibility of banning competitors from carrying mobile phones. "That is something organisers will have to deal with," he said.
Next year will see 1,000 more people taking part, with the number of runners setting off on February 16 reaching 73,000.
"This year we haven't gone up significantly on numbers but we have added extra races in both the full marathon and half-marathon to encourage people to upgrade themselves from the 10-kilometre event to the longer race," Hung said.
The Hong Kong Amateur Athletic Association yesterday announced the registration process for next year's event.
People can sign up for the marathon from October 15; the half-marathon from October 22; the 10-kilometre races from October 29; and the wheelchair races from November 5.
In a bid to attract leading runners from overseas, prize money for the marathon has been increased to US$300,000 (HK$2.3 million) from US$258,400.
The association said numbers had now reached saturation point.
William Ko Wai-lam, chairman of the organising committee, said: "There is a huge demand but we have to take into consideration the road capacity, with the route remaining the same as this year."
This article appeared in the South China Morning Post print edition as: Blood, sweat and selfies: marathon photo warning