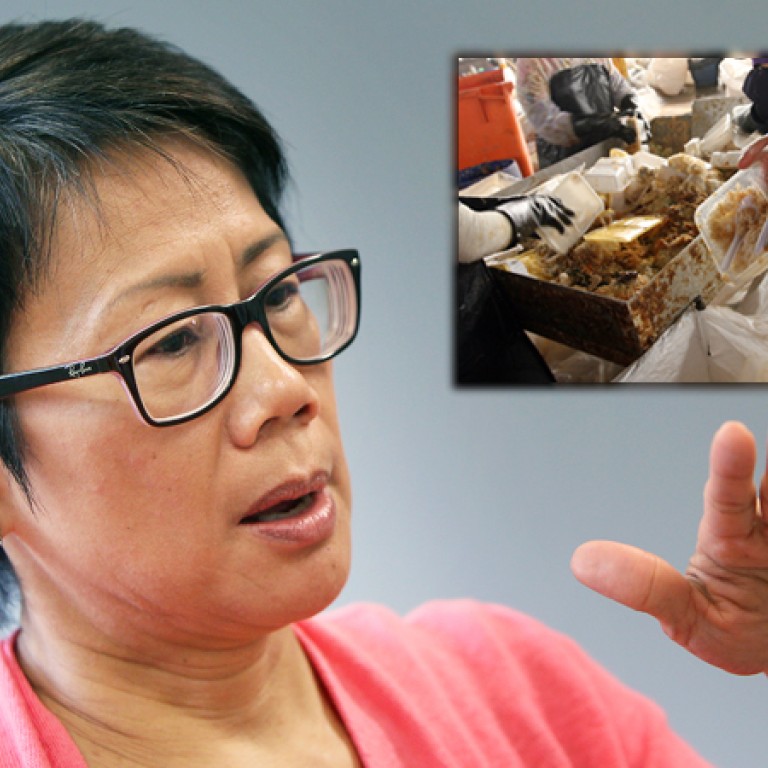 Christine Loh pledges targets on food waste recycling by end of the year
Environment deputy to tackle concern over waste disposal charges with plan to cut amount of food dumped in landfills by end of the year
A plan to handle food waste will be rolled out by the end of the year, with ambitious targets to cut the amount now being dumped in landfills, Undersecretary for the Environment Christine Loh Kung-wai said.
The move will go some way to tackling public concerns about whether there will be alternative ways to dispose of food when the Environment Bureau introduces charges for the disposal of household waste by 2016.
In an interview with the , Loh said food waste was an important aspect of the overall waste management strategy. "We hope to publish the plan at the end of the year so people can see a fuller description of what Hong Kong needs to do to reduce food waste, to get people to separate food waste, and how to collect and treat food waste," she said.
Earlier this year, the bureau issued a 10-year blueprint for sustainable use of resources. It aims to cut the amount of waste dumped by 40 per cent by 2020.
Food takes up the most space in landfills - about 40 per cent. Only a negligible amount is recycled as animal feed or compost.
Chief Executive Leung Chun-ying vowed to eliminate food waste in his election platform, but Loh said there was a limit to how much could be recycled.
"Even if we were very good at recycling food waste, there would still be a portion that would need to be dealt with in other ways," she said. Environment officials have proposed building more organic waste treatment centres, as well as two planned in Siu Ho Wan and in North District.
Green stations for waste separation will also be set up.
Loh said Hong Kong, unlike Taiwan or South Korea, did not have the agricultural capacity to recycle food waste on a large scale by turning it into pig feed.
Loh said her bureau was also considering what recycling policy the city could establish. These ideas would be put to a task force chaired by Chief Secretary Carrie Lam Cheng Yuet-ngor.
Loh said there had been confusion among the public over whether recycling should be introduced before landfills were extended or rubbish incinerated.
But Loh said all three methods were needed and her bureau was trying to get the message across. "The people clearly want us to do more, but they don't trust us to do it. So this is an interesting situation," she said.
In July the government tried to seek funding from the Legislative Council to expand the Tuen Mun, Tseung Kwan O and Ta Kwu Ling landfills. It withdrew the Tseung Kwan O plan amid strong opposition and lawmakers deferred scrutiny of the other two sites.
The government says the expansions are needed to stave off a waste management crisis until it completes the construction of a controversial incinerator in 2023.
Loh said the bureau would return to Legco for both landfill and incinerator funding early next year. She said the longer the city waited, the more costly such infrastructure would be due to rising construction costs.
"Time is squeezing us. People should understand that the community does need to make a decision … Let's take it in 2014, not 2017," she said.
"It is important we keep going, both the legislature and the administration, as one body. Without each other, we don't go forward on policy.'
This article appeared in the South China Morning Post print edition as: Targets to be issued for food recycling