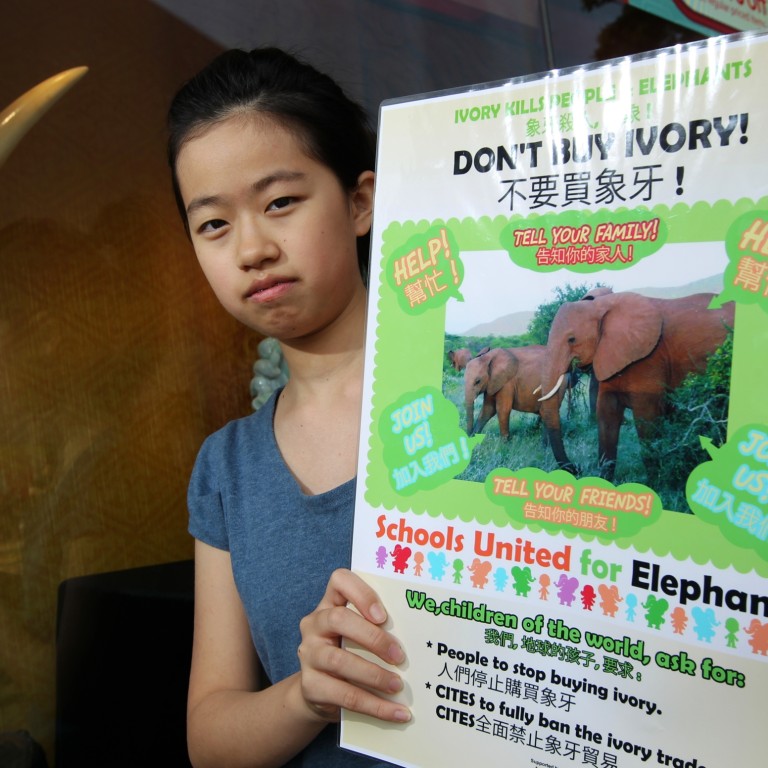 Young Hongkonger earns world-wide reputation campaigning for elephants
Celia Ho Yen-kei advocates widespread ban on sale of ivory tusks
Celia Ho Yen-kei shakes my hand and immediately passes me her business card. At the age of 14, she is professional and savvy. It's Saturday morning and she is already doing her second media interview for the day.
"The Elephant Girl" may seem like a strange moniker for an adolescent girl, a slight frame with a sweet smile and softly spoken voice. But it's a nickname by which she's known around the world, and one she's worked hard to get.
Celia is driven by a love of animals and nature. She is the face and brains behind the "Schools United for Elephants" campaign. She's also a form four student at True Light Girls' College, with a beautiful singing voice, and in her spare time she reads poetry and loves to draw. When does she find time to relax? "My campaign work is relaxing", she says.
In her small Kowloon apartment, where she lives with her parents, two pet cockatoos and two pet turtles, Celia maintains an organised home office. She pulls out a laminated copy of her poster; "IVORY KILLS PEOPLE & ELEPHANTS, DON'T BUY IVORY". A baby elephant and her mother are pictured crying "HELP" from speech bubbles in Chinese and English. The poster is signed by Jane Goodall, the world famous conservationist and animal welfare activist. Celia's campaign is supported by more than 70 environmental organisations and her poster is displayed in 40 schools around the world.
Celia's eyes light up as she describes Goodall, "I have learnt so much from her. She is a peaceful, nice and, at the same time, a very brave lady. She has devoted all her efforts to conservation work. Hearing her talk was very inspirational". Celia first learned about Goodall's work in her form one English textbook. She was delighted to have the chance to meet Goodall when she visited Hong Kong last year.
In October, last year, when Celia wrote a letter to the editor of the , she quoted Goodall, "If we are the most intellectual creature that has ever walked on the planet, how come we are destroying that planet?".
The letter caught the attention of Christian Pillard, the Founder and President of the Eco-Sys Action Foundation, who wrote in response, "one of the only hopes for elephants and many other species remains with a new generation of young people caring for their planet and taking action".
Since then, Celia has become a passionate campaigner. She aims to spread the message and understands the power of the internet and social media. She writes blogs, essays, and songs, and gives interviews and contributes to online forums. This year, she boldly sought the involvement of China's basketball superstar, Yao Ming. He has yet to write back.
According to Celia, China and Hong Kong have been the most difficult places to get schools to join her campaign, "most of them prioritise academic things other than conservation". It's not surprising in a city where children spend most of their out-of-school hours with private tutors or in training centres.
Celia appreciates the full support she receives from her family. She has edifying advice for her fellow citizens, "Hong Kong people are very busy. I think Hong Kong, as an international city, can try to strike a balance between business development and conversation.
I hope that Hongkongers can develop an interest in wildlife and nature because once you have fallen in love with the beautiful artwork of nature you will try your best to protect it. You will never want it to disappear."
Celia looks out from the window from her desk to the lush, dense greenery of Lion Rock Hill. Growing up here was part of what inspired her passion for nature, "I love the freedom of the wild, so when I look outside I feel so comfortable and refreshed and alive".