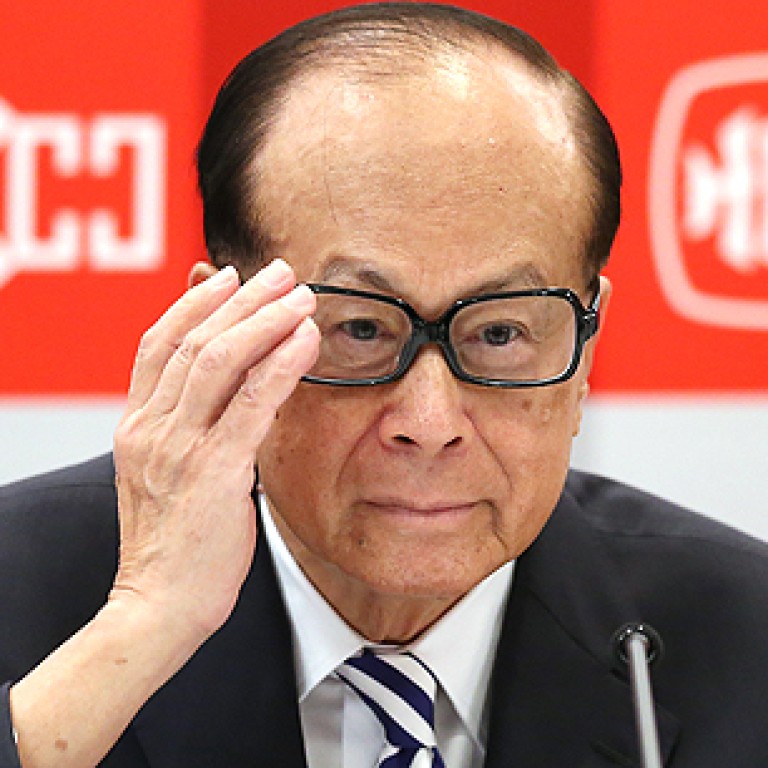 Shanghai free-trade zone will hit Hong Kong quicker than expected, says Li Ka-shing
Hong Kong needs to develop more quickly or risk being left behind, warns tycoon, as he urges people to unite to improve the city
Shanghai's new free-trade zone will have a bigger and quicker impact on Hong Kong than most people imagine, Asia's richest man, Li Ka-shing, said yesterday.
"[The free-trade zone] will have a big impact on Hong Kong," said Li, who chairs Cheung Kong (Holdings) and Hutchison Whampoa. "It has different aspects, including financial services. When the yuan becomes fully convertible, it will benefit the development of Shanghai."
Hong Kong would lag behind if it did not accelerate the pace of its development, he said.
The landmark project signals Beijing's determination to raise the competitiveness of the mainland economy. It plans to elevate Shanghai's role in economic reform by loosening controls on capital flows and expanding foreign investment in its free-trade zone, to officially open next week.
Asked if Shanghai would surpass Hong Kong in the next five to 10 years, Li replied: "I do not want to predict. But it will be faster than most people expect.
"It is just like you are running a 1,000-kilometre race. When you run one-third of the race, you see [your competitor] still behind you. But you are already surpassed [by your competitor] in the first half of the race. It is all about the speed."
The speed at which the Shanghai project has taken shape has caught market watchers by surprise. It has overshadowed similar plans for Qianhai in Shenzhen, Hengqin island in the Zhuhai special economic zone, and Nansha, in Guangzhou.
Li urged Hongkongers to unite to improve the city, and said his flagship companies would not pull their assets out of Hong Kong. "I will absolutely not move our domiciles from Hong Kong," he said. "After many years Cheung Kong and Hutchison will still be here."
His remarks followed widespread reports that Li was pulling assets out of Hong Kong and the mainland, with plans to offload HK$40 billion of assets, including the possible sale of the ParknShop supermarket chain.
Li said selling ParknShop was a commercial decision.
"If [this move] is interpreted as pulling out from Hong Kong, the amount may be too small," Li said, joking that "to me, if I sell this building [Cheung Kong Center], you should start to worry."
Li said Hong Kong's property market had become unpredictable because it was subject to government policies, but the impact of cooling measures on developers and other sectors would be reflected next year.
Property transactions in Hong Kong dropped to their lowest level in a decade in the first half of the year. There were 39,077 property transactions lodged with the government registry as a series of housing policy measures and the continued tightening of mortgage requirements weighed on the real estate industry. It was the lowest number of transactions since the 35,200 deals recorded in the first half of 2003, when the city was gripped by fears about Sars.
Separately, a member of the Friends of Hong Kong Association quoted Wang Guangya, director of the Hong Kong and Macau Affairs Office, as saying there were several economic hubs that needed support from the central government.
"Wang said the country had more than a son, referring to the several hubs, but it would reserve the best policies for Hong Kong," said Chan Wing-kee.
Commenting on the Occupy Central movement for greater democracy, Li said: "Personally I do not agree with occupying Central. It will adversely affect Hong Kong's image as a financial city and have a negative impact on the city's economy."
There were many ways to express an opinion, he said, and it was not necessary to choose such a method to fight for democracy.
This article appeared in the South China Morning Post print edition as: Shanghai free zone will hit HK, says Li