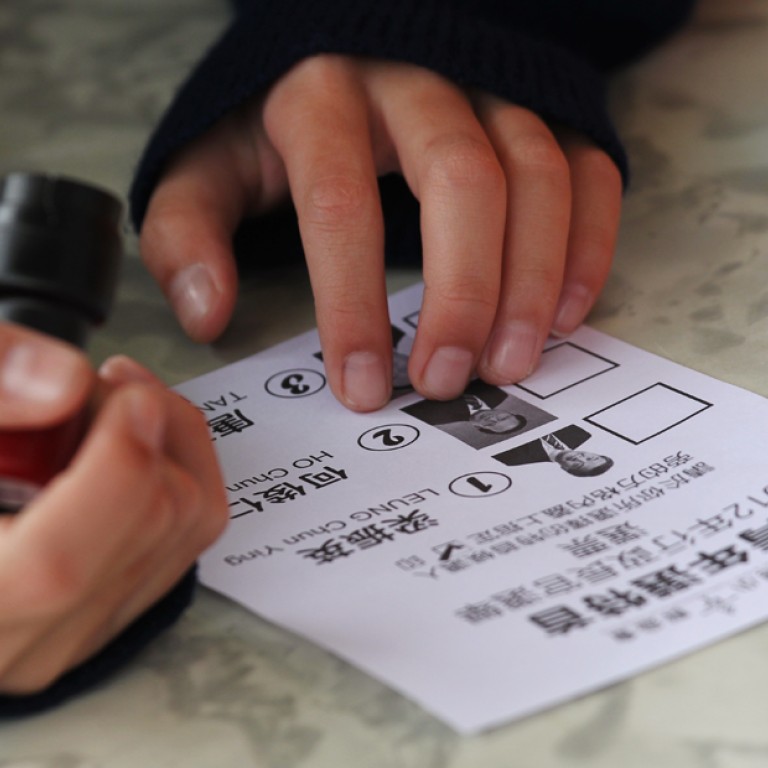 Public nomination shouldn't be the only way to elect CE: think tank
Allowing voters to put forward the names of chief executive candidates will be costly and hard to implement on its own, says think tank
Public nomination - allowing all voters to put forth names for the 2017 chief executive race - should not be the only nomination method, says a local think tank, after studying other democratic countries' electoral methods.
According to the Policy Research Institute, two of five countries in the Organisation for Economic Co-operation and Development that have a president and score higher than Hong Kong on the Economist Intelligence Unit's 2012 democracy index - France and Mexico - do not allow public nomination. The others - the United States, Chile and South Korea - run dual-track systems allowing party and public nomination.
Yesterday, the institute suggested that the public nomination method supplement party nomination, rather than for it to be the only way to put forward candidates for the city's top job.
"If public nomination is a universal value, why would other democratic countries not use it as the main way to nominate?" said honorary chief executive officer Andrew Fung Ho-keung.
The institute also found public nomination costly and difficult to implement, adding that no candidate nominated in this manner had so far won the race.
In Taiwan, presidential candidates can be nominated either by parties or by 1.5 per cent of voters.
People First Party politician James Soong Chu-yu entered the race by public nomination twice, but failed to win both times. He spent up to HK$3.5 million to secure almost 520,000 petitions last year, meaning each petition cost him more than HK$6.
"Public nomination might not be a fair mechanism - not in the sense of its structure, but in political reality. It is costly and might not favour small parties or individual candidates," said researcher Jacky Fung Chi-ching.
National Taiwan University political scientist Wang Yeh-lih said it was important to have public nomination to ensure small parties or people without party affiliations could also enter the race. But it was not easy for such people to be nominated due to the limitations of their financial resources, he added.
Student-led group Scholarism earlier called for parties to sign a charter which lists public nomination as a priority. But the Democratic Party, Labour Party and Association for Democracy and People's Livelihood have yet to sign it as they disagree that the form of nomination is the only way to put forward candidates.
Yesterday, Scholarism spokeswoman Agnes Chow Ting said that the group was standing firm on the issue of public nomination.
"The Legislative Council has not reached universal suffrage yet, which means party nomination would be based on an undemocratic system," she said.
Civic Party lawmaker Kenneth Chan Ka-lok, also a Baptist University international studies scholar, said small parties could form coalitions in order to win sufficient support for their candidates to be nominated.
Who gets a say?
Public nomination of presidential candidates
United States: Nominated by political parties or by a certain number of registered voters (nomination threshold varies among states)
Chile: Nominated by political parties or at least 0.5 per cent of voters who cast a ballot in the previous parliamentary election
South Korea: Nominated by political parties or at least 3,500 nominations from registered voters
No public nomination
France: Candidates need 500 nominations from elected officials/mayors
Mexico: Candidates can be nominated only by political parties
Source: Policy Research Institute
Countries selected: OECD member states that hold presidential elections and score higher than Hong Kong on the Economist Intelligence Unit's 2012 democracy index
This article appeared in the South China Morning Post print edition as: Open nomination 'should not be the only way'