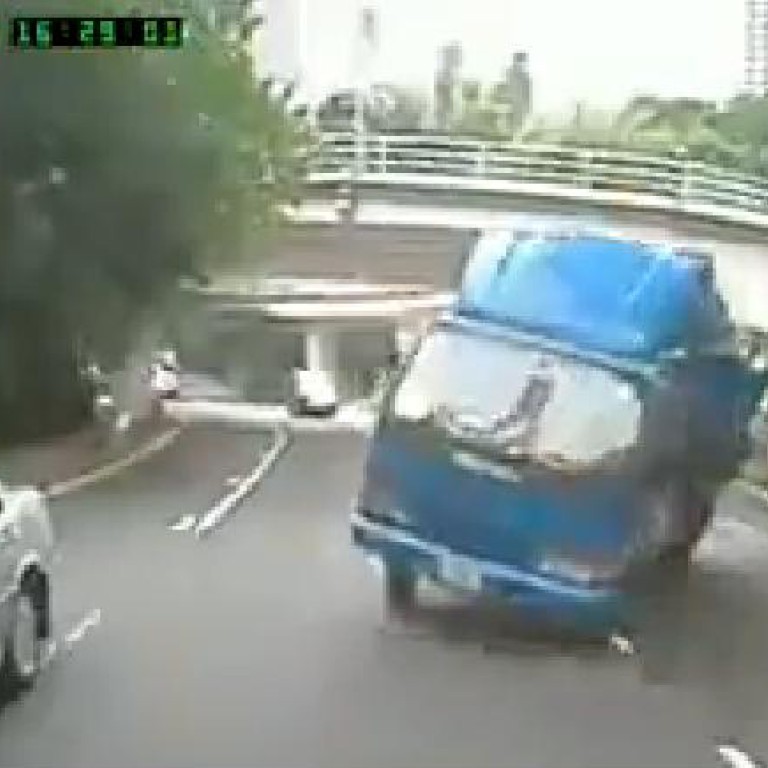 Video: Moment truck causes eight-car pile-up in Central Hong Kong
Dramatic video footage showing the moment a driver lost control of his truck causing an eight-vehicle pile-up in Central on Wednesday has emerged. 
The accident happened shortly before the evening rush hour and miraculously all involved escaped with minor injuries. The series of crashes on Garden Road that began with a truck ramming three cars after its brakes apparently failed, brought the area to a standstill. 
Two people were injured. Police said the truck, carrying construction waste, lost control on the slope near the United States consulate at about 4.30pm. 
Video: Eight-car pile-up in Central Hong Kong
The video, posted on YouTube, shows how the truck ran into a Mercedes-Benz, sending the car careering onto the pavement. Then it rammed a second Mercedes-Benz. The truck then careered into a third car, sending that car crashing into two other cars and a taxi. Finally, a seventh car was hit by concrete and dirt spilling from the lorry as it overturned.
A 64-year-old woman passenger in the truck and the 76-year-old driver of the first Mercedes were taken to Queen Mary Hospital, Pok Fu Lam, with slight injuries. On Friday they remained in a stable condition.
The driver of the second Mercedes said she heard the truck roaring down the road before it hit her car. "I saw glass flying … Luckily I was fine," she said.
The truck driver, aged 36, said his brakes had failed, and that he had tried in vain to stop it.
Police Inspector Lee Hing-yeung said an initial investigation showed no evidence that the truck was overloaded. He said investigators would look into whether it had been speeding or had any malfunctioning parts.
The section of the three-lane north-bound Garden Road was closed until about 7pm, when all the vehicles involved were removed.