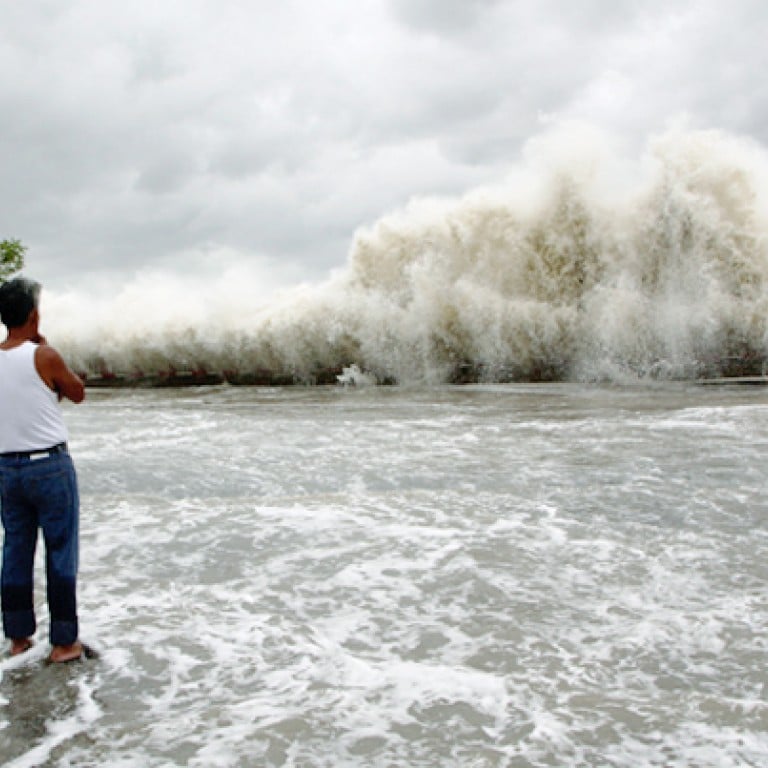 Update
25 dead in China and chaos at Hong Kong airport in wake of Typhoon Usagi
Airlines struggle to clear backlog while storm brings flood threat to some areas
Typhoon Usagi swept across Hong Kong and Guangdong last night, killing 25 people and injuring at least four others.
Air travellers faced another day of chaos today as airlines struggled to clear a backlog of passengers at Chek Lap Kok airport.
By yesterday evening, hundreds of passengers were stranded at the airport after flights were cancelled or delayed. Yesterday, at least 370 flights were cancelled and 76 delayed.
A woman was injured by a falling sign on Au Pui Wan Street in Sha Tin. She was taken to Prince of Wales Hospital with minor injuries and released.
Later, a car carrying a Now TV news team crashed near the Cross Harbour Tunnel entrance in Wan Chai. A male driver and a male passenger were  hurt. They were taken to Ruttonjee Hospital with minor injuries.
The deaths were reported by Chinese state media after Usagi - which meteorologists say was the world's most powerful storm this year - made landfall in Guangdong province northeast of Hong Kong on Sunday evening, prompting the highest level of alert from the National Meteorological Centre.
The reports by Xinhua news agency and CCTV did not say how the 25 people were killed but said all the deaths were in Guangdong after the typhoon brought down trees and damaged roads.
In Huilai county of Jieyang city in eastern Guangdong, a villager who was staying home to avoid the strong wind was killed by shattered window glass that pierced his heart, Xinhua reported.
Meanwhile, a couple's boat capsized in Huilai county yesterday afternoon. The husband was rescued but his wife remains missing.
In nearby Shantou city, two men were killed and another injured by falling trees.
Despite the damage and casualties, the storm could have affected Hong Kong worse, but the killer typhoon's path turned north and hit landfall at Shanwei at 7.40pm.
A Cathay Pacific spokesman yesterday said it would try its best to offer help to affected passengers, but would not comment on the possibility of providing free accommodation.
The airline urged passengers without confirmed bookings or whose flights had been cancelled not to go to the airport, saying "the chance of securing a seat on standby basis at the check-in counters is very low".
"The airline plans to gradually resume services  today when weather and safety conditions permit," the spokesman said.
However, the airline said passengers with flights scheduled for today should consider rearranging them.
The Observatory hoisted a No 8 typhoon signal at 6.40pm yesterday. 
Severe Typhoon Usagi made landfall near Shanwei, according to China's National Meteorological Centre. At 7am, Usagi was about 180 kilometres northwest of Hong Kong and was forecast to move across the western Guangdong and further weaken.
According to the present forecast track, the gales related to Usagi will depart from Pearl River Estuary later this morning. The Observatory will consider issue the Strong Wind Signal No 3 at or before 10am.
This article appeared in the South China Morning Post print edition as: Three dead as Severe Typhoon Usagi skirts city