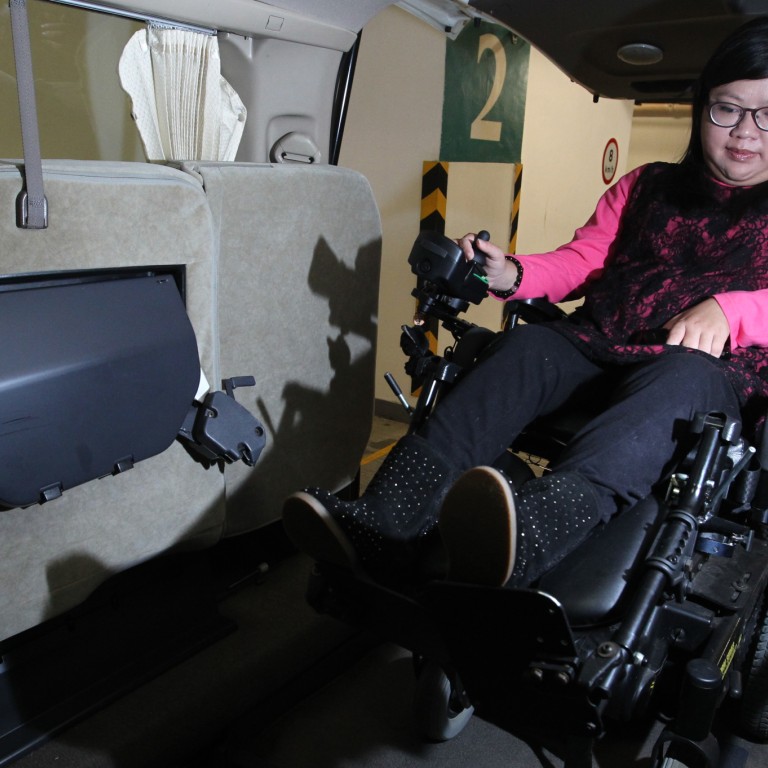 Carmen Yau: an amazing work in progress
Carmen Yau Ka-man counsels Spinal Muscular Atrophy patients like herself
Carmen Yau Ka-man has a kidney infection, for which she is taking antibiotics. The doctor wanted her to go to hospital, but she quietly refused, preferring to go to her office, where the work is absorbing and takes her mind off her aching back.
Eight years ago when she graduated she could still walk, albeit with a stick. Now she uses an electric wheelchair and sometimes needs two hands to lift up the phone when her hand muscles are weak.
Yau knows she has limited time to make the most of her working life and study so she can counsel other Spinal Muscular Atrophy (SMA) patients like herself when her movements become more restricted.
She works for the Families of SMA, based in North Point. The disease ages the body – so Yau, who is 32, says her body is "elderly".
"In China they call us 'the frozen people'," she says. The muscles seize up and eventually patients need a tracheotomy as the lungs stop working.
Yau is lucky in some ways. Children can start deteriorating as toddlers and be prone in a hospital bed after a tracheotomy by the time they are five. So despite her own health issues, Yau is making that her goal – to help those children feel positive and give them a purpose in their lives.
'Living independently, it's not easy," says Yau, who travels from her home in Yuen Long to North Point by bus every day. "The charity sponsored me to hire a domestic helper. I can speak good English, I can organise events for patients and counsel them, talk on the phone. It seems I'm very capable. But I can't change my own clothes, I can't take a bath. And at night I get numb. So my helper has to turn me in bed."
Yau says that sometimes when she's lying awake she wonders if she's torturing herself by going to work.
"Going to work every day is a difficult challenge, but it really is a big blessing," she says.
"The charity and its founder Fok Mei-ling have given me not only training but the willpower to get up at 6am and know that I have a goal. I need to meet patients, their families, donors and friends. So I try to make each day a happy day.
"I have the personality and freedom to make my own choices. It builds me up. Without the work I would think myself a burden, because I wouldn't have the chance to do anything."
Yau grew up in Kowloon City and attended school at the John F. Kennedy Centre. Yau praises the work of the teachers and people from other non-governmental organisations who used to come in and advise the children at the special needs school.
"It wasn't just about education," she says. "They would always tell me: 'If others can do this, you can do this'. This is what they taught me. That's how they groom disabled kids."
In addition to her job, Yau is studying for a postgraduate diploma in health counselling at Baptist University. "Keeping my fingers crossed, I'll probably graduate in November," she says. She hopes the course will help her help SMA children and motivate them.
Yau also talks with parents, who are terrified of bringing their children home from hospital because of the complications of having a ventilator after the tracheotomy. "But I tell them if they really want to do it, we can always come up with solutions," she says.
As well as studying, Yau admits to watching a lot of cartoons and children's movies.
"In my work I deal with a lot of children," she says, "So I need to keep up with their topics. I need to know more than them, so that they listen to me."