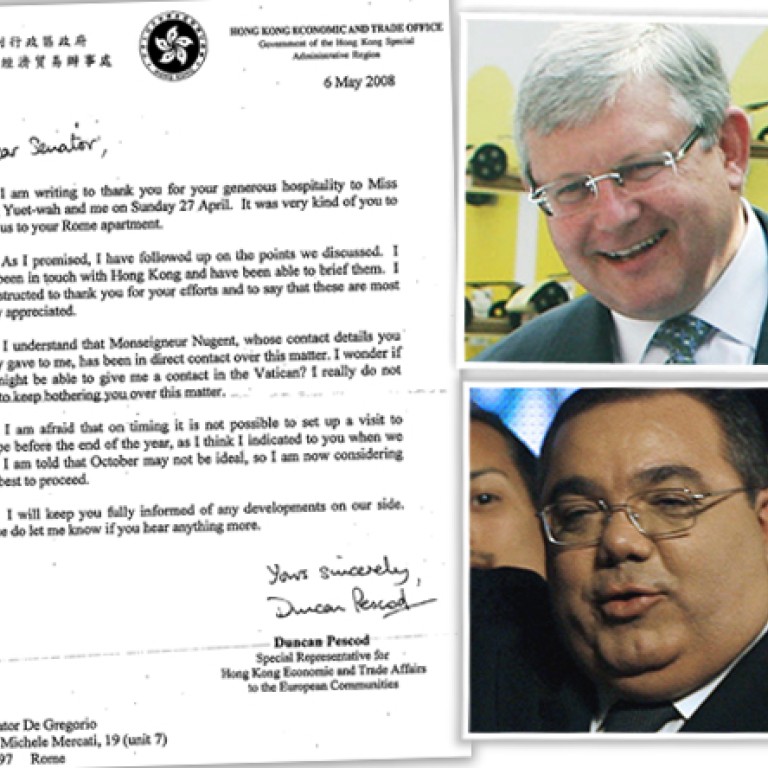 Envoy's letter to be key evidence in trial linked to Silvio Berlusconi
Response from HK's former envoy to Europe to ex-Italian premier's associate sheds more light on dealings over papal audience for Tsang
A letter from Hong Kong's former envoy to Europe to a close political associate of Silvio Berlusconi will be presented to a Milanese court as evidence in a money laundering and tax evasion trial linked to the ex-Italian premier.
The letter sent by special envoy Duncan Pescod to former Italian senator Sergio De Gregorio on May 6, 2008, sheds more light on a meeting between the two sides in April of that year.
The disgraced senator has claimed that during the meeting he tried to broker a deal to stop Hong Kong from transferring evidence to Italian prosecutors for investigations related to Berlusconi. This came as the Hong Kong side was said to have asked Rome to help arrange a private audience with Pope Benedict XVI for Donald Tsang Yam-kuen, the city's chief executive at the time and a devout Catholic.
Tsang denies any knowledge of the meeting. Pescod, now a permanent secretary for transport and housing, earlier admitted having met an Italian senator to discuss a possible meeting between Tsang and the Pope.
He has also confirmed that the former Italian senator - who is now being investigated for corruption himself - asked the Hong Kong government to interfere with the transfer of evidence to Italy. Pescod said he clearly told the Italian it was not possible. He reiterated last night that his contact with De Gregorio was routine and part of his envoy role.
The letter bears the Hong Kong Economic and Trade Office letterhead and Pescod's personal signature as the city's special representative. It was submitted to the court in Milan on Tuesday and will be used as evidence for a corruption trial resuming today involving Berlusconi's eldest son Pier Silvio, two Hong Kong women and eight others.
In the letter, Pescod told De Gregorio: "As I promised, I have followed up on the points we discussed. I have been in touch with Hong Kong and have been able to brief them. I am instructed to thank you for your efforts and to say that these are most highly appreciated."
Pescod then wrote that he understood that Monsignor Eugene Nugent, head of the Vatican's study mission in Hong Kong at the time, had been in direct contact "over the matter".
"I wonder if you might be able to give me a contact in the Vatican? I really do not want to keep bothering you over this matter," the letter reads, suggesting it was not the first time that Pescod raised the issue with De Gregorio.
He finished by promising that "I will keep you fully informed of any developments on our side."
In a voicemail left with the late last night, Pescod said: "All my contact with Mr De Gregorio was part of my routine contact with people through my function as head of the Brussels ETO. They were part of our normal contact with people that we need to talk to in places such as Rome. There seems to be a suggestion that we were acting on instructions from someone and I can assure you that was not the case."
A government source yesterday said the current administration "is confident that Hong Kong's judicial integrity was not compromised".
But the source also said the current government "will not comment on [the dealings] of the previous administration".
Civic Party legislator and barrister Ronny Tong Ka-wah said he would write to the justice secretary and file a question about the claims when the Legislative Council resumes next month.
"It is already clear that the public resources were abused to fulfil [Tsang's] private purpose," he said.
Tsang refused to comment further on the case.
Apart from the letter, documents seized from the homes of two Hong Kong women, Paddy Chan Mei-yiu and Katherine Hsu May-chun, and four Hong Kong companies will also be presented to the Italian court soon.
This article appeared in the South China Morning Post print edition as: Envoy's letter key evidence in Berlusconi case