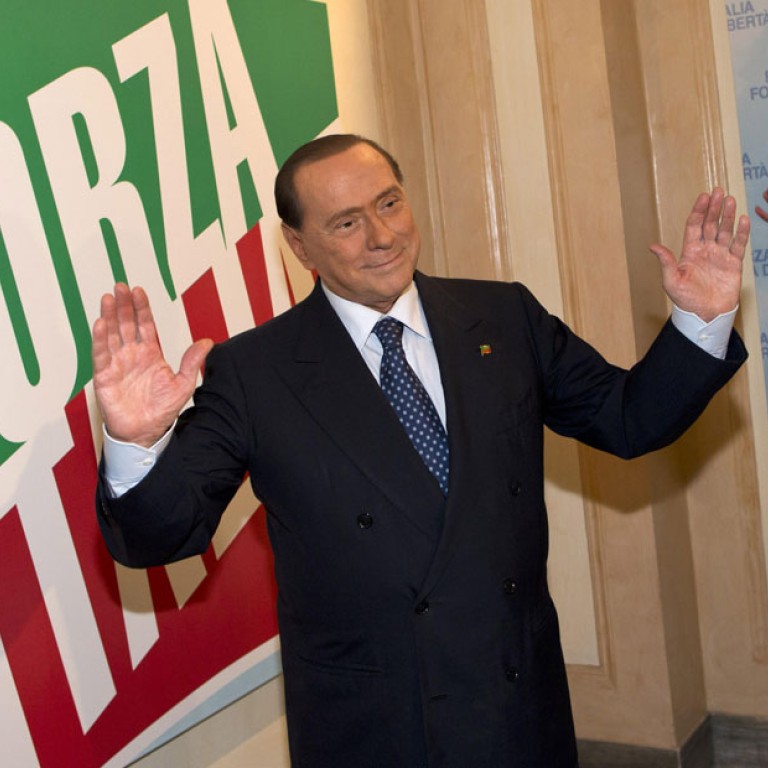 Hong Kong evidence may be key in linking Berlusconi to fraud case
Prosecutors will use 16,000 pages of documents from city to prove former Italian premier's guilt
A huge body of evidence from Hong Kong delivered to Italian prosecutors could plunge the country's former premier Silvio Berlusconi back into the legal quagmire.
Some 16,000 pages of evidence gathered in the city allegedly link Berlusconi - who turns 77 tomorrow - to a major fraud and money-laundering case. Prosecutors submitted the evidence, seized in Hong Kong in January 2007, to a Milan court on Tuesday, the has learned.
Lawyers for two Hong Kong businesswomen, Paddy Chan Mei-yiu and Katherine Hsu May-chun, who are accused of being linked to the scandal, lost their fight to prevent the transfer of the documents to Italy in August.
The Italian court is now hearing allegations that Berlusconi's son, Pier Silvio, the two Hong Kong women and eight others colluded in a multimillion-dollar scheme involving the fraudulent sale of television rights to the former premier's media conglomerate Mediaset.
On August 1, Berlusconi was found guilty of tax avoidance over the sale of TV-show rights and sentenced to four years' jail . This was commuted to a year under house arrest or in community service. The tycoon has appealed to the European Court of Human Rights in Strasbourg.
On Thursday, prosecutors asked that the case files leading to Berlusconi's conviction last month be included in evidence in the current trial. They also plan to submit further evidence to substantiate claims made by former senator Sergio De Gregorio, which have linked Berlusconi personally to the case.
De Gregorio claimed he had been informed of the details of the investigation into Berlusconi by Italy's consul general to Hong Kong in 2007. Police were handed documents from the Italian Ministry of Foreign Affairs on Tuesday to substantiate the claims.
Once informed by De Gregorio, Berlusconi had asked his political ally to lobby against the transfer of documents to Italy, the ex-senator testified on September 10. "Berlusconi … asked me 'what can we do'," De Gregorio told prosecutors. "I promised him I would take an interest, also because during my visits to Hong Kong I had woven personal ties which could … be useful."
De Gregorio said he raised the issue of the documents with Hong Kong's representatives to the European Union, Duncan Pescod and Mary Chow Shuk-ching, who have confirmed meeting the senator. He also met China's ambassador to Italy, Dong Jinyi.
De Gregorio first volunteered this information to prosecutors in Naples, who are investigating Berlusconi for bribing lawmakers, including De Gregorio.
The ex-senator has admitted accepting €3 million (HK$31.4 million) in bribes from a close associate of Berlusconi and is co-operating with the prosecution.
Berlusconi is widely expected to lose his seat in the Italian senate next week, which would trigger the caretaker government's collapse. All 97 lawmakers in his People of Freedom party in the lower house and 87 of 91 senators have signed a pledge to resign if Berlusconi loses his seat.
The senate's vote follows a law introduced last year, which bars people given jail sentences of more than two years from holding public office.
"Berlusconi's good fortune was that the judiciary is slow in Italy," said Duncan McDonnell, an expert in Italian politics at the European University Institute in Florence. "Although these trials will keep him out of the institutions, his power remains very strong and he controls his party absolutely. If he wants, he can still bring down the government."
This article appeared in the South China Morning Post print edition as: HK evidence may be key in linking Berlusconi to case