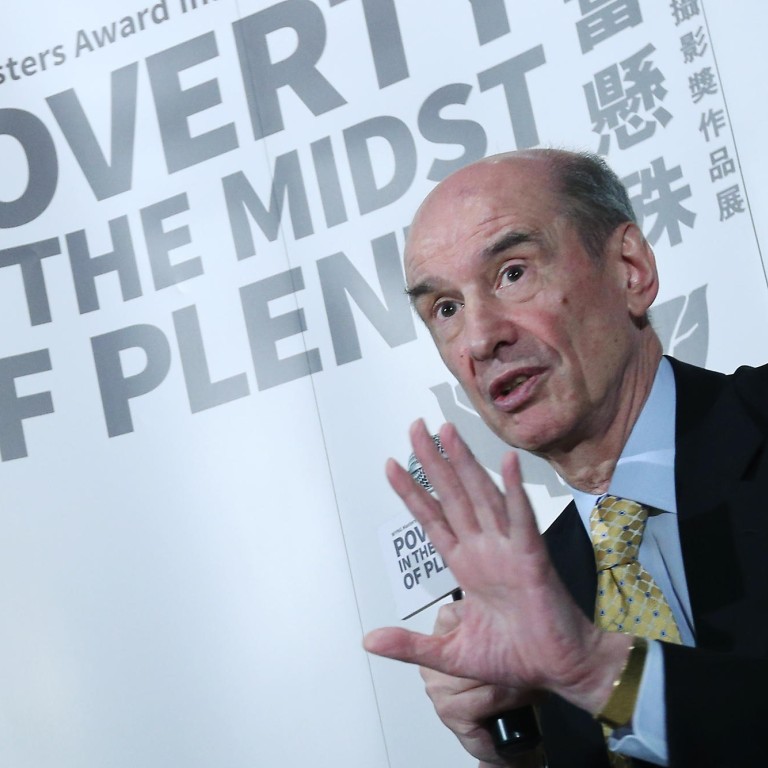 Bad government policy worsens poverty, says ex-adviser Goodstadt
New poverty has emerged in Hong Kong thanks to a decade and a half of bad government policies, says a former head of the Central Policy Unit.
Leo Goodstadt, head of the government's main advisory think tank from 1989 until 1997, said in a recent interview with the : "Hong Kong's poverty today is not caused by economic crises. Our economy [for the past 15 years] has been more robust than ever.
"Today's poverty is due to misuse of the city's prosperity and policies which favour businesses and the rich but are terrible for the poor."
In his new book , Goodstadt is critical of government administrations - from colonial to current times - for squandering the city's riches.
The book's publication is timely. The city will today set its first official poverty line - set at half the median household income. It is expected to show that 1.3 million people are living in poverty.
Goodstadt said the administration of the first chief executive, Tung Chee-hwa, was overwhelmed by the post-1997 political situation. As for his successor, Donald Tsang Yam-kuen, Goodstadt said: "Donald Tsang hates poor people."
He said a major problem was that the government had been structured since 1997 to run like a business, with close ties and an obvious leaning to the private sector. The current chief executive, Leung Chun-ying, had demonstrated little willingness to challenge these issues, he said.
"Unfortunately, the government is not a business. It should not be making decisions based on economic gain."
Goodstadt's book argues that Hong Kong escaped from poverty by the 1960s, but poverty had reappeared today "unexpectedly in one of the world's most stable and prosperous cities, and was allowed to intensify in the years that followed".
The mentality that "no one deserved welfare" and a fear that welfare would drain the state dry had driven government welfare policies since the colonial era, Goodstadt said.
While most advanced countries had in place by the 1950s five basic welfare programmes - workers' compensation, sickness and maternity benefits, old-age, invalidity and death support, family allowances and unemployment insurance - Hong Kong today only has workers' compensation and a retirement fund that started in 2000.
Hong Kong's new poor are not just categorised by low incomes, he writes, but are deprived in terms of housing, health, educational and welfare needs.
"Welfare has never been high on the political agenda," said Goodstadt, commenting on the government's reluctance to push long-term welfare policies.
Hong Kong's social security system is underdeveloped, he said, with Comprehensive Social Security Assistance - the catch-all net for the poor - being grossly inadequate and its recipients plagued with the stigma of being lazy and unworthy.
Another major issue was housing, with Goodstadt saying Hong Kong had inherited a "squatter heritage". In 2003, the government abandoned supplying new public housing under the Home Ownership Scheme.
By 2011, the annual supply of public housing output had shrunk to 17 per cent of the 2000 level. Prices in the private sector soared by 55 per cent between 2000 and 2011, while monthly household incomes remained below 1997 levels.
This article appeared in the South China Morning Post print edition as: Bad policy worsens poverty, says ex-adviser