Poverty
Get more with myNEWS
A personalised news feed of stories that matter to you
Learn more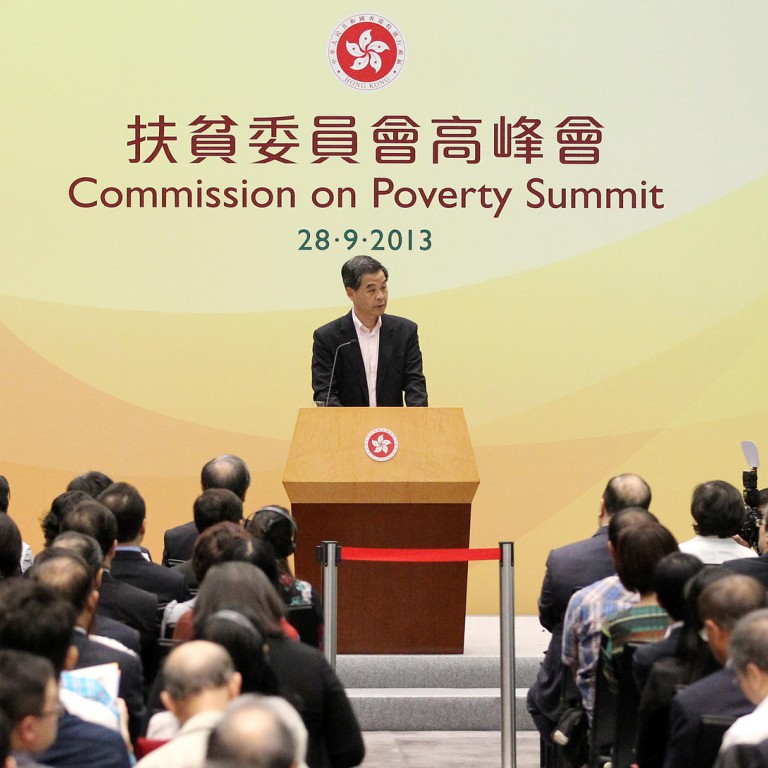 Update
1.3 million Hongkongers live in poverty, government says, but offers no solution
C.Y. 'not afraid to take tough decisions' after government recognises poverty levels for the first time, but no new initiatives announced
Hong Kong - one of the wealthiest places in the world - has acknowledged for the first time that it has a sizeable poverty problem by declaring that 1.31 million of its citizens are officially poor.
The number of people who fall below the new government-set poverty line falls to 1.01 million after welfare payments such as Comprehensive Social Security Assistance are factored in.
Speaking at a special summit on poverty yesterday, chief executive Leung Chun-ying said he would "not be afraid to take tough decisions'' to address the issue, as comprehensive statistics detailing the extent and nature of poverty in 21st century Hong Kong revealed for the first time that:
19.6 per cent of the city's population can now be classified as poor, or 15.2 per cent if regular cash welfare payments are included;
More than half of those who fall under the poverty line have one or more full-time worker in their households;
One in three elderly people - approximately 296,600 - are poor;
One in five children - 208,800 youngsters - are poor; and
235,600 people on CSSA welfare still fall below the poverty line.
A one-person household with less than HK$3,600 per month will be considered poor, under 2012 statistics. For two-person households, the amount is HK$7,700 and HK$14,300 for four-person households.
In line with the household income measurement used by the Organisation for Economic Cooperation and Development, assets and debts are not counted.
Compared to places such as Britain, the US, France and Korea, who use the same formula, before welfare payments are taken into account, the city ranks favourably, with 19.6 per cent of its population falling below the poverty line. Only in Korea is it lower, at 17.3 per cent.
However, Hong Kong does not rank so well after welfare payments come into the equation, with only the US (17.4 per cent) topping the 15.2 per cent of the city's population who remain under the poverty line.
Despite mapping out the extent of the problem, no new initiatives or policies to tackle it were announced yesterday, sparking criticism.
"These numbers are just the beginning," said Chief Secretary Carrie Lam Cheng Yuet-ngor, who also chairs the reinstated Commission on Poverty.
"The poverty line is a product of relatively wide consensus among [commission] members."
Lam said future efforts will target the most needy groups - the working poor and families with children, for whom a low income supplement will be considered.
Leung said he was ready to take tough decisions. "I'm sure our policies in the future will raise even more debate and controversy," he added.
However, critics decried the government's lack of commitment to tackle the problem.
"There was no target," said Blind Union president Chong Chan-yau. "[Leung] said poverty cannot be completely eliminated, and he named this as a principle in poverty alleviation. If this is the attitude, it's like waving a white flag before the war has even started." Poverty figures on the disabled community were also excluded, Chong said.
Shalini Mahtani, of ethnic minority advocacy non-profit group Unison, was disappointed there were no figures on poverty among ethnic minorities.
What now?
"I don't really have an opinion [on the poverty line]. It doesn't change the way we have to work," says Chen Shao-hong, the sole breadwinner for her family of four, who earns less than HK$13,000 a month.
The poverty threshold for a four-person household is HK$14,300, 2012 data indicates.
"We've always known that [we are] poor," she said. "We were poor before this anyway."
Chen has to work overtime and extra days at a Tseung Kwan O construction site to earn up to HK$13,000, as her husband cannot work full-time due to a skin problem. They have two sons who are still at school.
Chen said moving into public housing this month has helped. Before, they lived in a rooftop hut that cost HK$3,000, not including utilities. They now pay HK$2,500 for a public housing flat.
"So, does this mean the government will be handing out more money to us?" Chen asked after the city's official poverty line was announced yesterday. "I'm interested in what they will give us now."
This article appeared in the South China Morning Post print edition as: 1.3 m HongKongers below poverty line