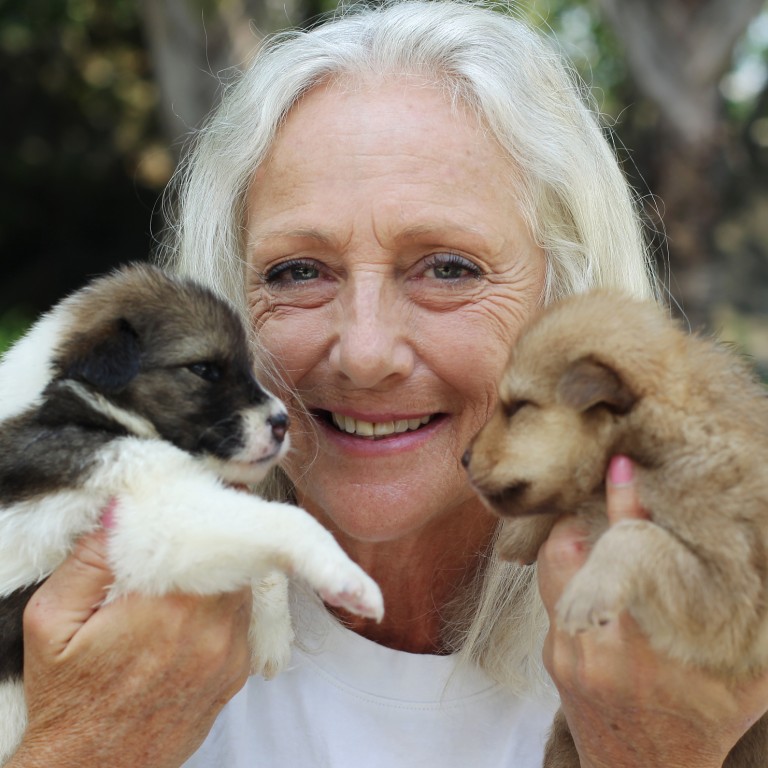 Canine carer Sally Andersen to the rescue
Sally Anderson has 500 dogs under her care as the founder of Hong Kong Dog Rescue
Most of Hong Kong's visitors arrive by plane or train, but Briton Sally Andersen came by yacht after sailing from Taiwan with a friend.
That was 1984. Andersen, like countless other expatriates who've come to these shores, was staying for six months before continuing her travels. Nearly 30 years later, and Andersen hasn't left Hong Kong since 2006. She has 500 dogs under her care as the founder of Hong Kong Dog Rescue (HKDR).
The organisation, launched in 2003, takes in rescued dogs and those that would be put down at Agriculture, Fisheries and Conservation Department pounds.
It's not an easy life for Andersen. There always seems to be a crisis and she's long since learned to take each day as it comes and not worry about what might happen tomorrow.
Andersen holds two puppies at the education centre in Ap Lei Chau. Soon after they are picked up by a young woman, their new owner.
Andersen briskly explains to the rather overwhelmed woman the instructions for the deworming formula, the food and general care for the first few weeks. Then she smiles and tells her just to get through the first week and then a volunteer will visit to check up on the pups.
"There are a couple of thousand volunteers," says Andersen, and the far fewer, but dedicated, hardcore helpers who come in several times a week to walk and play with the dogs.
The AFCD has four centres. Andersen goes to the Pok Fu Lam centre twice a week to pick up puppies and other adoptable dogs.
The dogs are taken to Hong Kong Dog Rescue facilities at Tai Po – which was meant to be a temporary site after the organisation lost its site in Pok Fu Lam. But the landowner has just said they can stay for two more years. "We're still looking for a permanent site," says Andersen.
While awareness of pet care is growing, she says there are still people who will think it's okay to hand back an adopted dog, particularly if they are leaving Hong Kong.
"There is more awareness but also unfortunately more dogs," Andersen says. "Also, the whole pet shop thing didn't start until the '90s", catering for Hong Kong's passion for pure breeds and disdain for mongrels.
Andersen spent her formative years in Germany, where he father was in British intelligence. "Because we moved around a lot we weren't allowed a dog, we just had budgies," she says. But when the family returned to England when Andersen was 10, they acquired a border collie.
Andersen lives at Luk Chau on Lamma near George's Island. It's only accessible by sampan and she frets at the ever smaller number of sampans still in business. Her life revolves around the dogs with very little free time for anything else. She laughs when asked about her hobbies, but says she and the dogs all enjoy a good DVD, although there's a bit of a tussle about who gets to sit on the sofa.
Workers from the fish farms still dump dogs on George's Island, where Andersen's work first started. She's also just collected 30 dogs from a breeder who has stopped business.
Andersen takes docile, friendly dogs into schools to show children the basics on how to behave around dogs. "Each child gets to come up and touch the dog and you can see that it's a big deal. They've grown up with a fear of dogs instilled in them by their parents."
While there's much stress in Andersen's life, there are also moments of pleasure, particularly when a long-term stayer at Tai Po is finally adopted.
"The dogs in Tai Po, sometimes they're there for years," she says. "They put on a protective shell so they can cope better. And then when they go into a home, they just blossom. It's like they unzip that jacket."