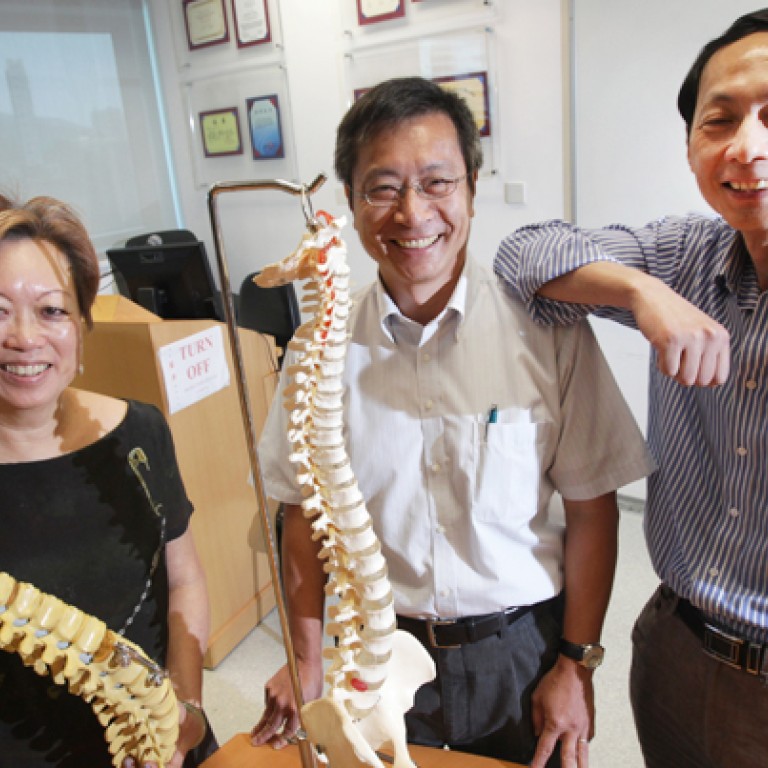 Mutated gene found to cause back problem in almost half of Hongkongers: HKU study
HKU study identifies mutated gene that causes increased risk of degeneration to disc in lower spine suffered by nearly half of people in city
Pioneering research at the University of Hong Kong has turned conventional thinking on its head by identifying a mutated gene that causes back pain.
It is generally considered that poor posture and old age are among the major contributory factors to a problem that afflicts nearly half of Hongkongers.
But a 10-year study by biochemists has found a genetic link to the degeneration of the lumbar disc in the lower spine.
One of the patients studied was just 11 years old.
Dr Danny Chan, the associate professor of biochemistry who led the research, told the : "Bearing the mutated gene can increase by 30 per cent the risk of developing lumbar disc degeneration.
"If your mother or father has the gene, there is 50 per cent chance you may get it, too."
The HKU study is the most extensive so far into the genetic risk factors behind lower disc degeneration.
The results were published in the yesterday. Researchers examined 4,043 subjects, of whom 3,500 were Hongkongers, including the immediate family members of a dozen households.
The rest were Japanese and Finnish patients.
Some were early onset cases of lumbar disc degeneration, defined as patients aged below 50.
Magnetic resonance imaging tests were carried out on their lower spine and all their genes analysed, the HKU team said. Chan said they found that a mutated gene - carbohydrate sulfotransferase 3 (CHST3) - was likely to be responsible for a higher risk of disc degeneration, affecting its hydration and tissue function.
Detection of the gene could allow people at risk to take precautions against further deterioration, although no drugs were known to cure it, Chan said.
"People who know they have the gene perhaps should not become weight-lifters and should minimise heavy exercise," he said.
"Maybe they should live a healthier lifestyle or quit smoking, which is a worsening factor."
Kathryn Cheah Song-eng, chair professor of biochemistry at HKU, hoped the findings could provide the basis for future research on targeted medication.
Overseas studies show about 60 per cent of people in urban populations have at some point suffered lower back pain, many without knowing the cause.
Obesity, smoking, stress, poor physical condition, bad posture and sleeping in awkward positions are all believed to contribute to lower back pain.
Senior orthopaedic doctor Peter Ko Put-shui said it was a significant study that confirmed the observations of many clinicians.
He said: "We have seen a lot of family members who suffer from back pain and seek treatment together. Some of them display very early degeneration.
"The study now provides the scientific evidence to explain a genetic link behind that."
This article appeared in the South China Morning Post print edition as: 'Bad gene' link to HK curse of back pain