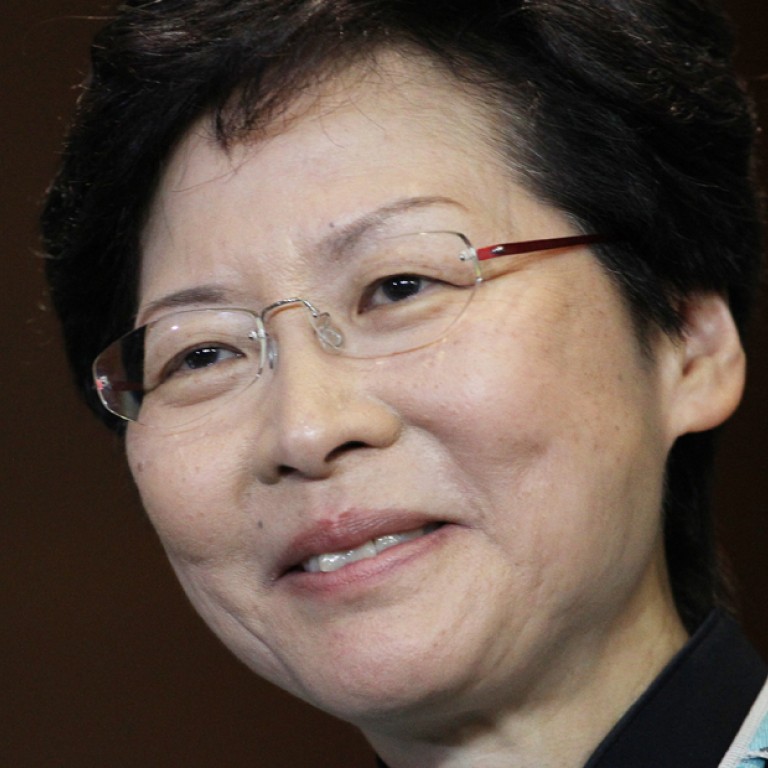 Carrie Lam: I need my husband to lean on
Chief secretary reveals her softer side and recounts tales from her school years
"Iron Lady" Carrie Lam Cheng Yuet-ngor showed her softer side yesterday, revealing that she had moments of weakness and had asked her UK-based husband to return to Hong Kong more often to give her some support.
"I have talked to my husband and asked him to come back and be with me more. Although I know he likes to stay in Britain and do what he likes to do, I have told him about it … so I can have a shoulder to lean on," Lam said.
The chief secretary, the second-highest official in the city, also recalled in the RTHK radio programme how she grew up in a poor family, in a flat so small she had to do her homework sitting on her bed.
And she revealed that she wept the one time in her 13 years of primary and secondary school when she did not come top of the class.
"I asked myself, why was I not number one?" she said.
She eventually received three As, five Bs and a D in the Certificate of Education Examination.
Lam has previously said that she considered leaving the government when her term as development chief expired last year, but she decided to become the government's No 2 official after her mathematician husband, Lam Siu-por, persuaded her to accept the job offer.
Yesterday, she said she developed her desire to serve people when she was studying at the St Francis' Canossian College, a Catholic girls' school in Kennedy Road, Wan Chai.
She added that when she became head prefect, she felt the weight of responsibility and turned to a teacher for advice on how to control students.
"[The teacher] told me: 'You don't control, you inspire'," Lam said.
The 56-year-old chief secretary also said that of all the government positions she has held, she enjoyed being head of the Social Welfare Department the most.
That was because she got the chance to get directly involved in helping single-parent families and mentally handicapped children.
This article appeared in the South China Morning Post print edition as: Carrie Lam: I need my husband to lean on