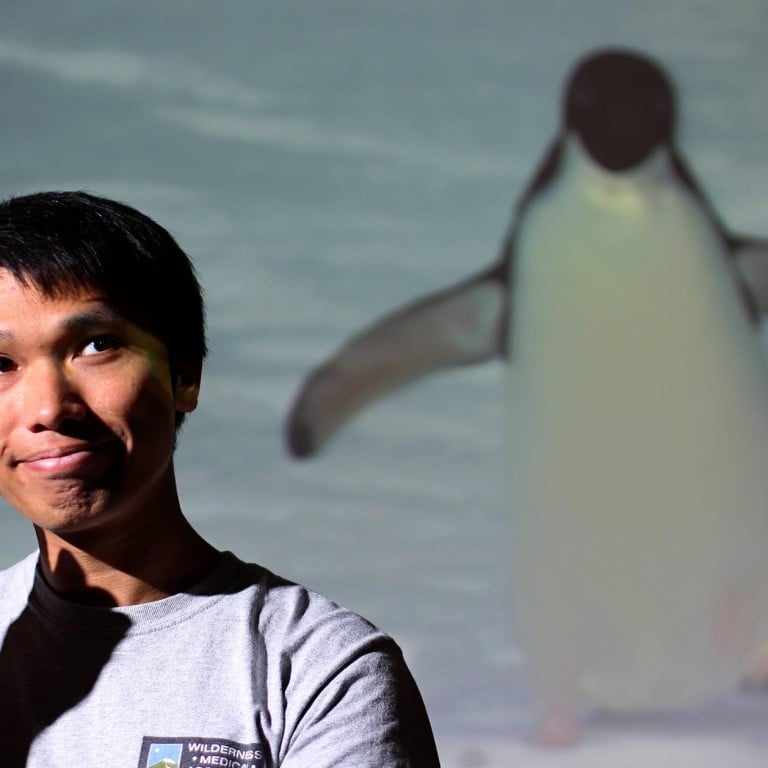 Intrepid expedition leader Wilson Cheung makes the world his home
Hongkonger leads tour groups through the frozen polar wilderness - but despite his adventures, he never forgets his friends and family in the city
Hongkonger Wilson Cheung Wai-yin has scaled some of the world's most perilous mountains and led expeditions to the planet's most desolate spots. But one thing scares him more than the very worst that nature can throw at him: human behaviour.
Cheung has spent the last two years travelling the world in a variety of jobs, including leading groups to the Arctic and Antarctic, and working as a climbing guide in Germany, Austria and Switzerland.
"I don't have a permanent home now," the Baptist University graduate says. "The earth is my home."
Cheung first went to Antarctica in 2007 as a student in an expedition organised by an American environmental group.
But after graduating with a degree in physical education and recreation management, Cheung struggled to find a job.
"I had been searching for one for six months," Cheung said. "But no one wanted to hire me. Some friends said my résumé might look too good."
A keen climber, he opted to take a cooking and cleaning job in Switzerland in the hope of finding something better there.
"There was a company next door hiring a climbing coach, so I took that job," he said.
"And then in the second year, a man asked if I could speak Putonghua and if I wanted to work in Antarctica. I said 'yes' immediately, and by the next day, I had the contract."
In the years since, he has safely led groups across treacherous landscapes and dodged deadly crevasses. But there was one moment - when he found himself stranded at a railway station in Austria as a snowstorm swept in - that he felt truly scared.
"A few men approached and asked for money. I had none, but they told me I must hand over cash," he said. "They went out and I took ice chisels with me. Then they were gone … Of all the risks I've seen in nature, humans are the most dangerous. They are unpredictable."
But not all of his experiences on the road were bad. In July, when hitchhiking, he received a lift from Pascal Couchepin, the former president of Switzerland.
"He took me home and we chatted for a few hours. I still didn't believe him after I left, so later I searched for him on Wikipedia. But it was true."
Cheung grew up in a squatter settlement in Fanling. His mother often took him into the countryside, which helped develop his interest in the environment.
Every time he heads to a mountain, he promises his family he will survive and return.
Cheung comes to Hong Kong once a year and hopes to settle down in about three years to find a girlfriend and spend more time working on Ecobus, an environmental education organisation he founded in 2009.
"The people I got to know in these two years are just acquaintances. We don't know whether we will see each other again. No one knows me fully," he says.
"So every time I am back in Hong Kong, I will see my secondary school friends to remind myself of who I am. In that way, I won't get lost in this big world."
This article appeared in the South China Morning Post print edition as: Intrepid Wilson makes whole world his home