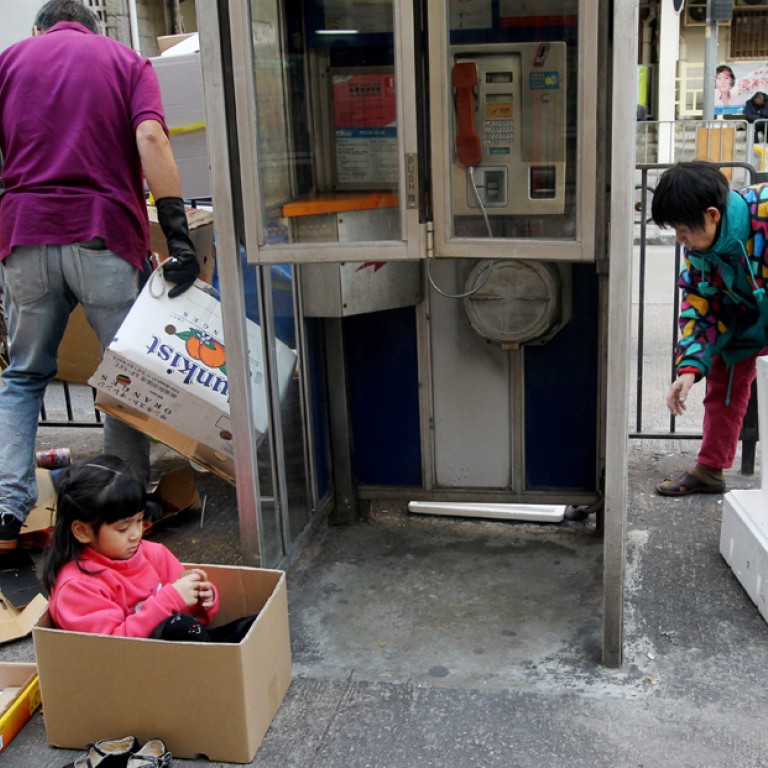 New study says 1.47 million 'poor and deprived' in Hong Kong
Independent study that factors in quality of life says there are 160,000 more needy people in HK than identified in recent government report
About one in five Hongkongers lives a poor and deprived life, struggling to afford three square meals a day and shut out of normal social interaction, a new study reveals.
Said to be more comprehensive than the government's poverty report released in September, the joint study by British and Hong Kong academics paints a bleaker picture of the city's poor.
It takes into account not just income but deprivation, and how some in the city are forced to forgo items and social activities that most people consider customary, said lead researcher Professor David Gordon of the University of Bristol.
Based on that definition, the number of needy people exceeds 1.47 million - about 160,000 more than the government's estimate of 1.31 million announced in September.
"This report tells us a lot more about the poor than the poverty line defined by the [government-appointed] Commission on Poverty," said Professor Nelson Chow Wing-sun of the University of Hong Kong, who did not take part in the study.
"I'm sure the findings will be related [to the government study] and benefit officials greatly when they make policies."
After 10 months of discussions by the commission, the government arrived at the figure of 1.31 million by drawing the poverty line at half the median household income.
But Gordon said poverty was defined as having insufficient resources over time, and the result of poverty was deprivation in which one became excluded from full participation in society.
"Poverty is a dynamic and not a static concept," he said. "To measure just income would be to ignore the dynamic changes."
The University of Bristol and City University of Hong Kong conducted the study, the first of three, on about 600 households comprising 1,900 Hongkongers from December to May.
Researchers listed 30 items and activities for adults and 22 for children as customary in Hong Kong society, apart from measuring their household incomes.
Examples were being able to afford fresh fruit or vegetables, taking part in celebrations such as for the Lunar New Year and, for children, joining at least one extracurricular activity in school.
They found 21 per cent of Hongkongers were poor, with another 20 per cent vulnerable, defined as being on the edge of poverty. Figures among children were worse, with 27 per cent deemed poor and 22 per cent considered vulnerable.
Revealing the official poverty statistics on September 28, Chief Secretary Carrie Lam Cheng Yuet-ngor said: "Complete eradication of poverty is impossible when the concept of relative poverty is adopted."
However, Gordon said: "To say that you can't eradicate poverty is abusing the relative poverty concept. That is not correct."
He cited Sweden, which has a poverty rate of 3 per cent.
"If the poverty line is not tied to poverty alleviation, it's then not of much use," he said.
This article appeared in the South China Morning Post print edition as: New study raises number living in poverty to 1.47m