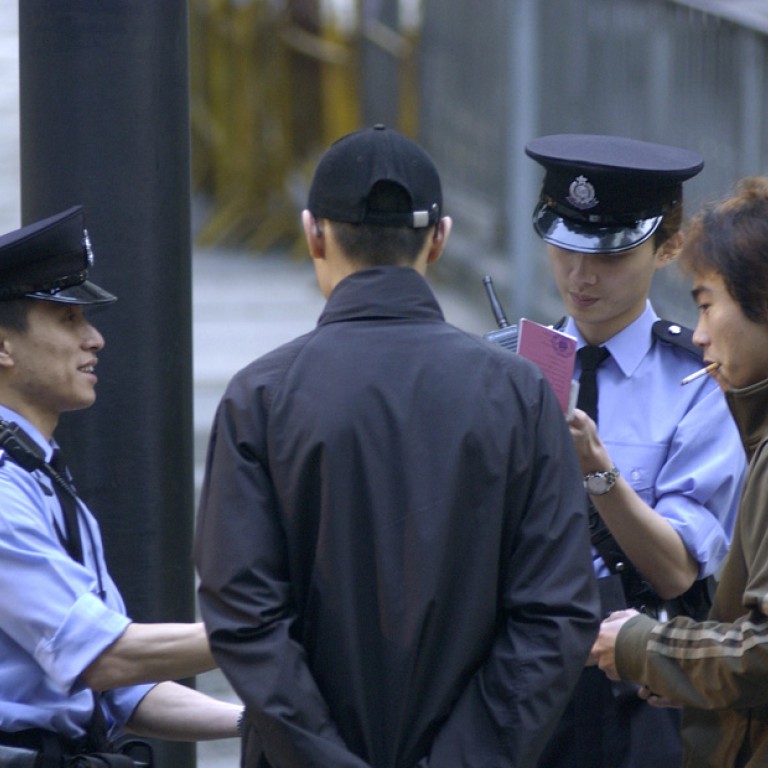 Hong Kong police stop-and-search tactics questioned after 1.6m spot checks last year
Hong Kong officers carry out four times as many stop-and-searches as forces in London, New York
Hong Kong police carry out four times as many identity checks and on-the-spot searches as their counterparts in New York and London, official figures show, even though the effectiveness of the procedure appears to be in sharp decline.
Police in the city carried out 1,637,334 stop-and-search checks on pedestrians last year, according to figures released by the force. A further 345,917 people were stopped and questioned.
Experts on criminal law say the frequent searches could lead those searched to doubt the credibility of the police, while activists said members of ethnic minorities, especially South Asians, were more likely to be stopped and searched.
David Weisburd, director of the Centre for Evidence-Based Crime Policy at George Mason University in Washington, who co-authored a study published earlier this year that analysed millions of individual checks, said such actions were likely to have contributed to a reduction in crime over the last decade, but that they had unintended negative consequences.
"Whatever the number, [stops and frisks] are a type of strategy that is likely to lead to long-term negative consequences in evaluations of police legitimacy," he said after studying the Hong Kong data. "And police legitimacy is a key issue for the police."
The searches were four times as common as in New York - which has twice the crime rate of Hong Kong - and London, where the crime rate is 10 times as high.
The population in these two cities is also about a million larger than in Hong Kong, which is generally considered to be one of Asia's safest cities.
The checks can include verification of the person's identity, a check on the contents of their pockets and a body pat-down.
Advocates of stop-and-search tactics point to Hong Kong's status as a free port and the inherent problem with illegal immigration that entails. They also insist it serves as a deterrent.
One recently retired senior police officer with more than 25 years' experience said: "You have to remember that Hong Kong is a very easy place to get into for many people, from many different places. Illegal immigration has been and will continue to be a problem."
The ex-officer, who declined to be named, said in some districts from time to time, a target culture develops around the number of stops and searches carried out. "It's amazing what a distorted view of a potential promotion can do," he said.
The police figures also indicate searches in Hong Kong are less likely to detect a crime than in New York and London.
In Hong Kong, only one in 113 searches resulted in the detection of a crime. By contrast, one in nine checks in New York led to the issuance of a summons, while one in 12 checks in London resulted in an arrest in 2011.
"My initial impression is that these numbers are very large," Weisburd said. "I thought 700,000 in New York with 37,000 police was a very large number … incredibly large. It seems that Hong Kong is doing more."
The Hong Kong figures also suggest that the city's stop-and-search strategy is becoming a less effective tool in the battle against crime.
Labour Party lawmaker and minority rights campaigner Cyd Ho Sau-lan said Hong Kong should be proud of its low crime rate, but must not become complacent about street crime.
"We must tackle the problems of the ethnic minorities through education. They lack educational opportunities, they lack job opportunities. Sooner or later, we will pay for this,'' said Ho, who is a member of the Legislative Council's security panel.
Under section 54 of the Police Ordinance, police have the power to stop, detain and search anyone who "acts in a suspicious manner" or who an officer "reasonably suspects of having committed or of being about to commit or of intending to commit any offence".
A police spokesman said there was "no legal definition of 'reasonable suspicion'".
The force rejected comparisons with the two other cities, where studies have pointed to racial profiling as the key factor in deciding who was searched.
Unlike London and New York, Hong Kong police do not record the ethnic background of people who are stopped and searched.
"Police conduct stop and question and stop and search in accordance with existing laws," Hong Kong police said in a statement. "We do not target any specific ethnic groups."
But Annie Li Man, of NGO Unison, said ethnic minorities from South Asia were much more likely to be searched.
In England and Wales, a 2010 study by the Equality and Human Rights Commission found that the police force used "stop and frisk" policies "in a way that is disproportionate and possibly discriminatory."
In Paris, where police also do not collect data, a study last year showed that the odds of being checked were 5.18 times higher for black people than whites, and 9.93 times higher for Arabs.
In New York, 91 per cent of all checks involved ethnic minorities last year, according to the New York Civil Liberties Union.
Identity Card Facts
All Hong Kong residents aged 11 or over are required to register for an identity card. A failure by any person aged 15 or above to produce proof of identity without reasonable excuse constitutes an offence.
A police officer can stop and detain any person for a reasonable period to check his or her identity and inquire whether the person is suspected of having committed an offence.
A police officer can search a person of the same sex if he or she "has anything that may present a danger to the police officer" or "for anything that is likely to be of value to the investigation of any offence that the person has committed, or is reasonably suspected of having committed or of being about to commit or of intending to commit".
Handwritten paper identity cards were introduced in 1949
IDs were laminated in 1960 and fingerprints and photos added.
Legislation introduced in 1980 required everyone above the age of 15 to carry a proof of identity
In June 2003, Smart Identity Card System begins rolling out
This article appeared in the South China Morning Post print edition as: Police tactics queried after 1.6 m spot checks last year