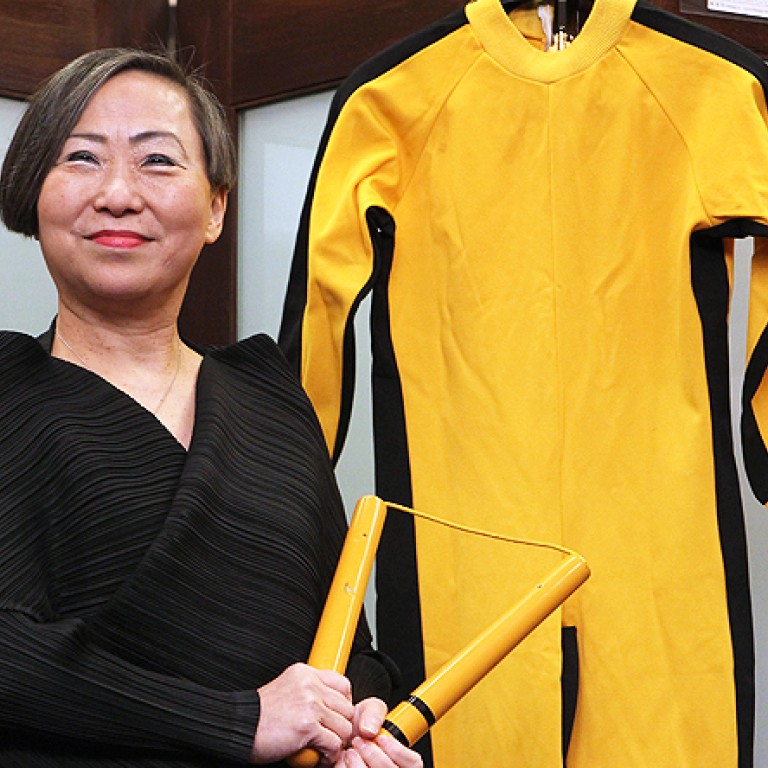 New

|
Bruce Lee 'Game of Death' jumpsuit fetches HK$780,000 at auction
Kung Fu legend Bruce Lee's iconic yellow and black jumpsuit fetches HK$780,000 – more than double the auction house estimate
Kung Fu legend Bruce Lee is still kicking up a storm 40 years after his death – his iconic yellow and black jumpsuit fetched HK$780,000 in an auction on Thursday, more than double the amount estimated by the auction house.
The tracksuit was one of 12 items that went under the hammer in a Spink China auction in Wan Chai. It was worn by the star in his celebrated fight sequence with Filipino-American martial artist Guru Dan Inosanto and Korean Hapkido master Ji Han Jae in (1972), Lee's last movie.
The bidding started at HK$260,000. After 13 bids, the item went to an Asian online buyer who purchased five other items at the same auction.
Also receiving a lot of attention was a pair of wooden lacquered nunchaku commissioned by Lee for the same movie. In yellow and black, the weapon was designed by Lee himself to match the tracksuit he wore.
The nunchaku went to George Philips, a Briton who has lived in Hong Kong for the past five years, for HK$540,000 after 15 bids.
Results were stronger than expected, with the auction fetching HK$2.19 million in total – double the auction house estimate of HK$1 million.
"There is support from all over the world," said Spink China's vice chairman Anna Lee. "The items are very representative of his life."
Lee was a Hong Kong-American martial artist renowned for his philosophy of Jeet Kune Do. He died in Hong Kong at the age of 32.
American filmmaker Quentin Tarantino paid tribute to the star, dressing the main character of in a yellow and black jumpsuit.
Video: Six minutes of butt-kicking Bruce Lee!