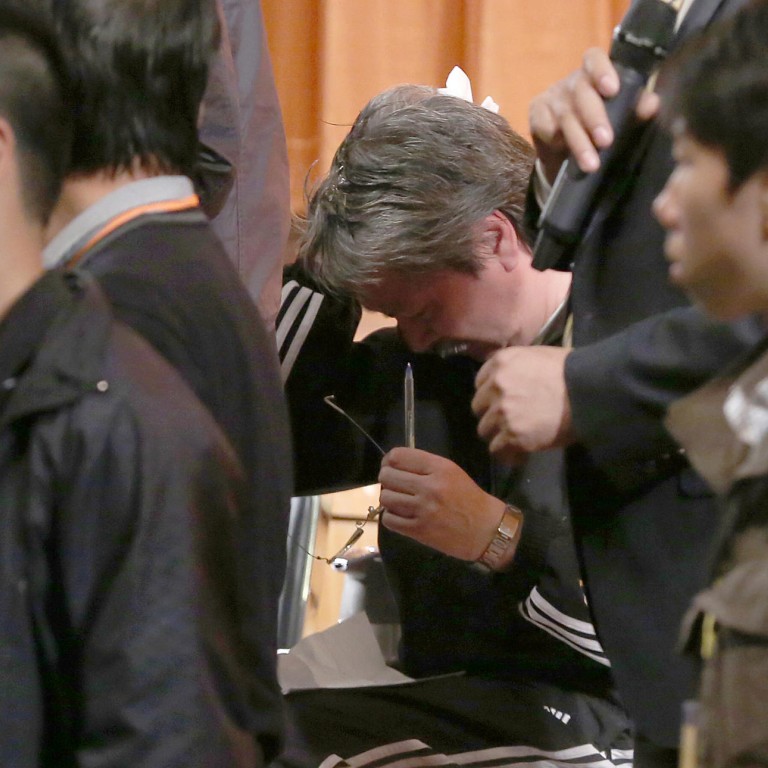 Financial Secretary John Tsang hit by egg at political forum in North Point
Two arrested after egg is thrown at financial secretary, hitting his head
Financial Secretary John Tsang Chun-wah was hit on the head by an egg thrown by a protester attending a government forum yesterday.
"Luckily I'm not wearing a good suit today," Tsang fired back at the audience at the forum in North Point. In fact, he was dressed in a tracksuit. He added that he appeared to have foreseen the incident.
Later, when he was asked by journalists whether he believed the real target had been someone else, a stern Chief Executive Leung Chun-ying, who was sitting next to Tsang, interrupted to advise him not to comment.
The incident came a couple of hours after Chief Secretary Carrie Lam Cheng Yuet-ngor said it was a fact that the narrow voter base that put Leung in the chief executive's chair had helped create problems in governance.
"In terms of governance, the current administration ... has met many challenges and difficulties," said Lam. "Making policies under such circumstances, according to my experience, requires the government to have strong legitimacy.
"The strongest legitimacy, of course, would come from electing the chief executive using 'one man, one vote'."
In an interview with Cable TV aired yesterday, Lam said she believed Beijing knows there would be a governance problem if the chief elected was not elected by universal suffrage in 2017.
But when asked about the public's right to nominate candidates, Lam warned against insistence on proposals that ran against the legal framework.
Rimsky Yuen Kwok-keung, the justice secretary, stressed that having candidates nominated by a committee was not the equivalent of adding an "illegal structure" onto the Basic Law.
At the North Point forum, held to gather views on the upcoming policy address and budget, Leung pledged to arrange for pan-democratic lawmakers to visit the mainland at an appropriate time and in an appropriate manner. Some of them have been refused entry permits.
He said he asked Tsang not to comment after he was hit by an egg, as police were dealing with the incident.
"We condemn the act ... and will pursue their legal liability," Leung said of the egg throwing.
The police arrested two men, aged 24 and 25, on suspicion of common assault and disorderly conduct.
One was believed to have thrown eggs and another a doll. Neither is thought to have thrown the egg that hit Tsang.
"Our one demand is that there should be public nomination in the chief executive election," one protester, surnamed Chan, told the media before being arrested.
It is understood that both Chan and the other man held are members of the League of Social Democrats. They were last night being held at North Point police station.
This article appeared in the South China Morning Post print edition as: John Tsang egged on at political forum