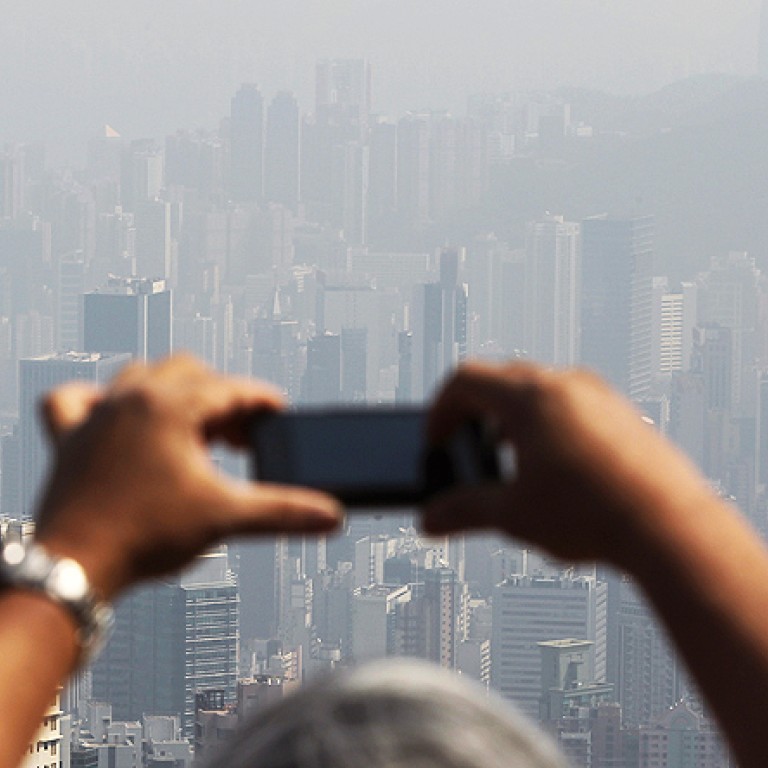 New
Tell us what we don't know: Hongkongers sceptical of new AQHI
Air Quality Health Index gets sceptical reception from Hongkongers as it records 'very high' levels of pollution on launch day
The government's new Air Quality Health Index (AQHI) launched yesterday to scepticism from the public - and immediately drew attention to terrible air quality for most of the city.
A free smartphone app which issues alerts on real-time air pollution levels and health risks was also launched by the Environmental Protection Department.
Some members of the public felt a new system or software application would not make much of an impact on air quality.
"The air quality in town is always bad," said Jack But, 28, who works in Causeway Bay. "I don't think the new index or app would be very helpful to me or in improving the air."
Student Joey Lam said she would consider downloading the app but questioned whether alerts would change anything.
"So people get alerts every morning, and then what? They'll probably just look at it and then forget about it," said Lam. "And what about elderly people who do not have smartphones?"
"Even if the air is visibly bad, the government always finds a way to say it's fine," schoolteacher Joe Butler said. "I live in Tung Chung so I can taste and see the bad air. I don't need an app to tell me how bad it is there."
The AQHI got up and running without a glitch yesterday morning - and it was bad news as usual in terms of overall air quality.
Pollution levels at all three roadside monitoring stations hit 10 by 6pm yesterday, meaning the risk to health was "very high".
The department officially replaced its 18-year-old Air Pollution Index (API) in hopes the new AQHI would "better communicate air pollution information to the public to alert them to take precautions as necessary".
The new index now analyses three-hour average concentrations of four major pollutants, namely ozone, nitrogen dioxide, sulphur dioxide and tiny particles (PM2.5 and PM10) using a scale from 1 to 10, and 10+.
The scale is divided into five health-risk categories - low, moderate, high, very high and serious. Daily forecasts are also issued.
At Causeway Bay yesterday, pollution reached a "very high" level of 10 at 6pm. Levels of PM10 - suspended particles that are harmful to health - hit 134 micrograms per cubic metre, more than double the highest level that the World Health Organisation considers safe.
Central and Mong Kok also hit 10 and a health alert was issued urging children, elderly people and those with heart or respiratory illnesses to "reduce to the minimum" physical exertion and activities outdoors, especially in areas of heavy traffic.
Most of the city's 12 general stations, including a new one at Tuen Mun, hovered at "moderate" health risk levels of 5 to 7 in the afternoon before deteriorating in the smoggy evening. Central/Western, Sham Shui Po, Kwai Chung, Yuen Long and Tuen Mun reached 9 by 6pm.
Professor Alexis Lau Kai-hon of the University of Science and Technology said the AQHI was an improvement, but needed to offer more detail on short-term health effects of air pollution.
This article appeared in the South China Morning Post print edition as: New index confirms our air is terrible