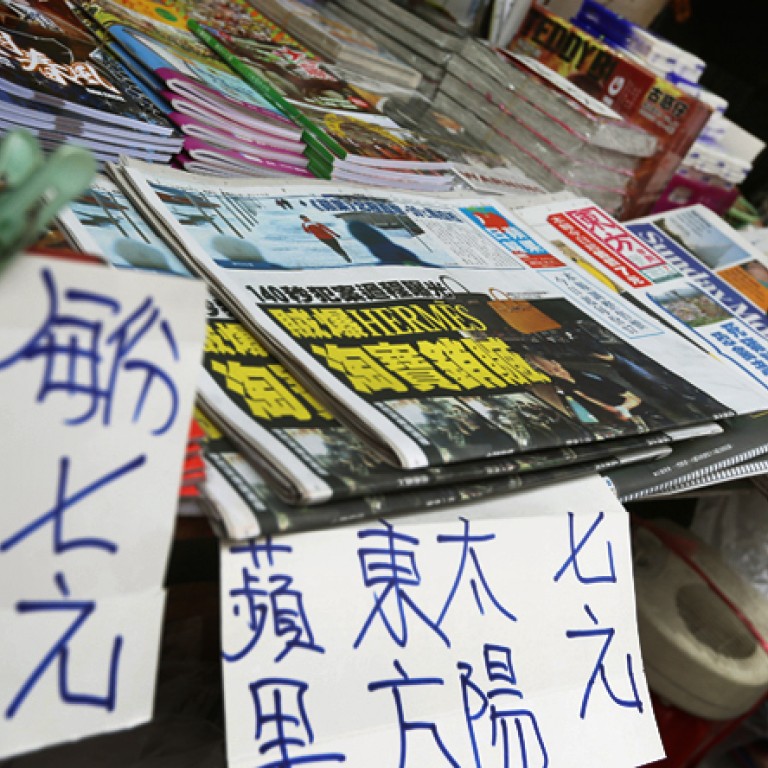 New

|
Post tops survey on newspaper credibility as trust in Hong Kong media sinks to all-time low
Chinese University study showing decline in trust for newspapers and broadcasters prompts journalists' chief to hit out at self-censorship
The remains Hong Kong's most trusted newspaper, according to a survey on media credibility by Chinese University.
The city's leading English-language daily scored 6.98 on a scale of one to 10 in the survey, which has been conducted six times since 1997 by the university's school of journalism and communication. The has been the best-rated print media in five of the six studies.
The overall crown went to RTHK, which received an average score of 6.99. The public broadcaster has retained top spot among broadcasters since the survey was first conducted.
The telephone survey of 970 people was conducted in November and early last month. The margin of error was 2.5 to 3 per cent and respondents could refuse to rank media sources with which they were not familiar.
Professor So York-kee, who led the study, said differences in the average beyond the first decimal point meant little.
The result comes after a memorable year in which the garnered international attention for a series of scoops, most notably an exclusive interview with US intelligence whistle-blower Edward Snowden, secured by reporter Lana Lam after Snowden fled to Hong Kong.
There was worse news for , which had advertised itself as the city's most credible Chinese-language newspaper after finishing second to the in previous surveys. It slipped to third out of the 22 newspapers studied with a score of 6.74, just behind the 6.78 for the , and will change its masthead slogan from today.
"The masthead is based on Chinese University's poll and also encapsulates the newspaper's belief and mission, and the goal we strive for every day," the newspaper said in a statement. "We will … continue to remind ourselves to be professional in our reporting."
Overall, trust in the media was at the lowest level ever recorded by the survey, prompting calls for a rethink from the leader of the city's journalists' union. The average credibility rating for all media was 6.18, down from 6.36 in the previous survey in 2010.
"The results ring warning bells [for the industry]," said Sham Yee-lan, chairwoman of the Hong Kong Journalists Association. "For news media, credibility is life, is everything."
Shum said economic strains and political pressure, especially from Beijing, had led to self-censorship - a problem most apparent at management level.
"To regain public trust, the media industry needs to draw a firm line - not to sensationalise and not to take sides, but to reveal things for the good of society," Shum said.
"It's important to let the public see that we aren't covering up things for the powerful."
Troubled broadcaster ATV ranked bottom among the eight broadcasters and electronic media after falsely reporting the death of former president Jiang Zemin in 2011.
- a free newspaper owned by boss Jimmy Lai Chee-ying - was the least credible outlet. The survey took place a month after the paper closed.
CREDIBILITY RANKINGS (2013):
Electronic Media 
| | | |
| --- | --- | --- |
| 1 | RTHK | 6.99 points |
| 2 | Commercial Radio | 6.48 |
| 3 | Cable News | 6.38 |
| 4 | TVB | 6.25 |
| 5 | Now TV | 6.14 |
| 6 | Metro Radio | 5.92 |
| 7 | HKBN bbTV | 5.74 |
| 8 | ATV | 4.74 |
Print Media
1
South China Morning Post
6.98
2
Hong Kong Economic Times
6.78
3
MingPao
6.74
4
The Standard
6.71
5
Hong Kong Economic Journal
6.46
6
Singtao Daily
6.42
7
Headline Daily
5.87
8
Oriental Daily
5.85
9
Am730
5.82
10
House News
5.76
11
SingPao
5.75
12
Metro Daily
5.71
13
Hong Kong Daily News
5.46
14
Sky Post
5.44
15
Hong Kong Commercial Daily
5.21
16
The Sun (Hong Kong)
5.15
17
Apple Daily
4.98
18
New Evening Post
4.94
19
Wen Wei Po
4.89
20
Ta Kung Pao
4.68
21
Sharp Daily
4.46
22
Tin Tin Daily News*
-
 
This article appeared in the South China Morning Post print edition as: Post tops survey on newspaper credibility