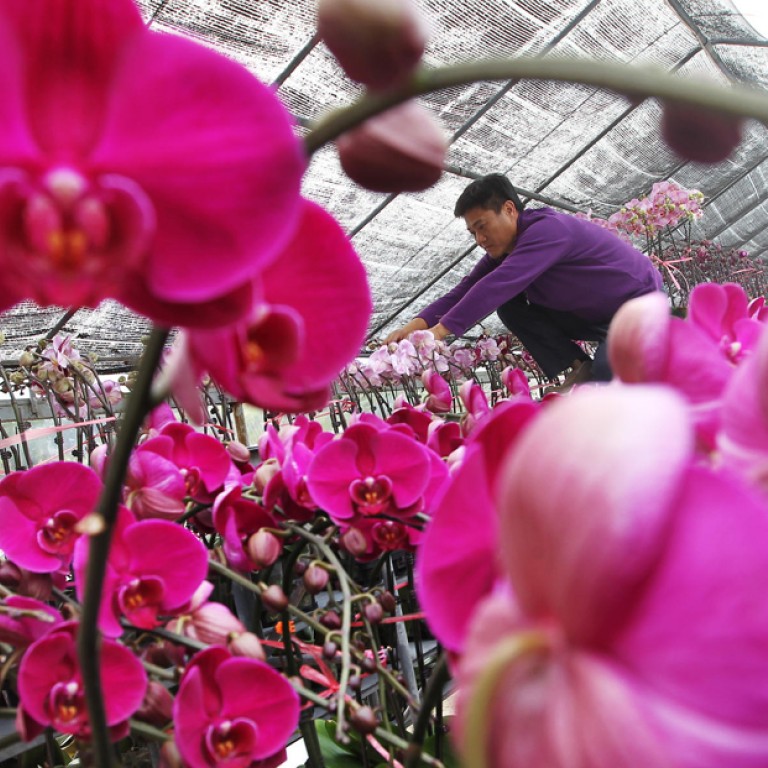 Prices of Lunar New Year flowers and fruit up on last year
Retailers blame a strong yuan, cold weather and growing costs for higher price of tangerines, peach blossoms and orchids
Prices of some festive flowers and fruit for the Lunar New Year have risen by as much as 20 per cent from last year, due to the growing value of the yuan and increasing cultivation costs.
Yau Yuk-sang, who has run a garden in Tai Po for more than 10 years, said his tangerines and peach blossoms will increase in price by a fifth due to costlier transportation, fertilizers and pesticides.
"A pot of tangerines with a price tag of HK$388 last year is HK$500 this year," he said.
The cost of transport from the mainland to Hong Kong has increased from HK$3,800 to HK$5,000, while a bottle of pesticide now costs HK$110, up from HK$70 last year.
Favourable weather conditions have led to a bumper crop, and Yau expected robust business despite the higher prices.
"I feel that the economy is better this year and people are willing to spend," he said. "Big companies are also willing to buy Lunar New Year flowers."
Besides mainland imports, some locally grown flowers are 10 per cent more expensive this year. Wages, rents and raw materials all went up last year, said Li Wing-keung, who grows peach blossoms and Chinese herbaceous peony in Tai Po.
Having invested a lot in equipment such as ultraviolet-light boxes and heaters, Li said he managed to maintain the quality of his flowers regardless of weather conditions.
Other florists are less optimistic about the market and will keep prices low despite their costs.
Heavy snow damaged one-fifth of all festive flowers grown in Kunming - a major source of lilies and gladioli for Hong Kong - three weeks ago, Sunny Lai Wing-chun, chairman of the Wholesale Florist Association, said. The reduced supply pushed up costs for local florists by 10 to 20 per cent, but retailers would try to keep prices unchanged, he said.
"We don't dare raise the prices due to economic uncertainties," Lai said. "Flowers are not durable goods, and sellers would rather sell more at lower prices than see them wilt in stores."
But he believed demand for flowers would persist. "Flowers are a special product. People will buy more when the economy is good, but they will still buy them if it turns for the worse, hoping the flowers will bring them better luck."
Yeung Siu-lung, who grows orchids in local greenhouses, blamed the recent cold weather for rising overheads. "In the past I turned on the heater for about a week to keep the flowers warm. This year it has already been two weeks … electricity bills are adding up," he said.
This article appeared in the South China Morning Post print edition as: Festive flower and fruit prices up