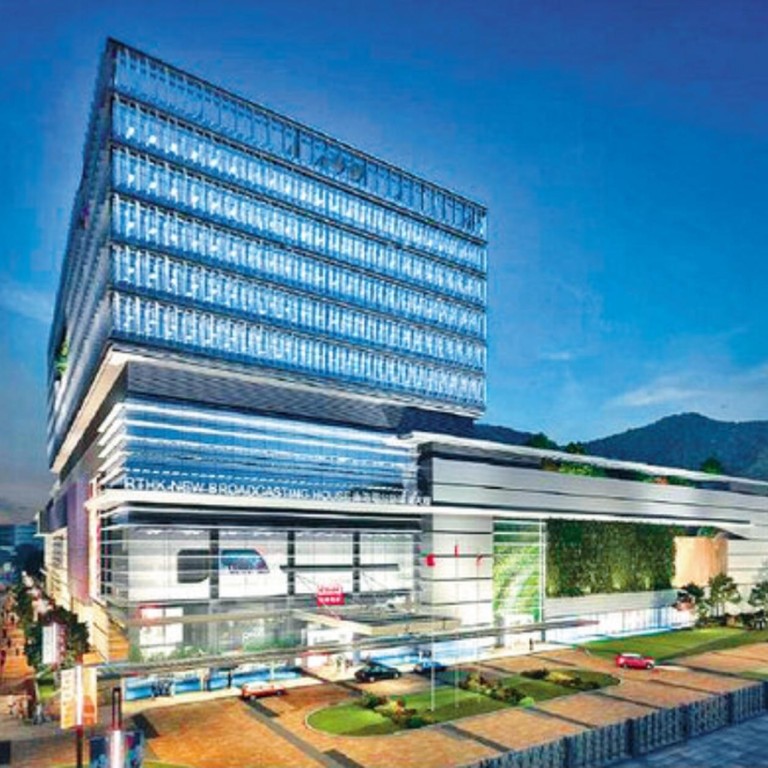 Lawmakers vote down HK$6b funding for new RTHK headquarters
Critics say new headquarters too costly; officials say broadcaster's development will be hindered
Plans to expand Radio Television Hong Kong suffered a setback yesterday when lawmakers rejected a HK$6.1 billion proposal to build a new headquarters for the public broadcaster, saying it was too costly.
Officials expressed disappointment and said the rejection could hinder RTHK's development of digital radio and TV broadcasting, which is already lagging.
Most pro-establishment lawmakers at a meeting of the Legislative Council's public works subcommittee opposed the budget request, which was nearly four times the previous estimate of HK$1.6 billion in 2009. It was voted down by 10 votes to 15.
One pan-democrat who supported the project suggested the government had put forward a seemingly unacceptable request in the hope it would be vetoed, since RTHK current affairs programmes had been highly critical of it.
The government can still put the proposal to the full Finance Committee at a later date. But unless the funding is approved by March 20, the present quotation will expire and another round of tendering will be needed, leading to further delay and higher costs because of inflation and rising construction labour wages.
At the centre of the dispute is a long-overdue plan to build a new headquarters for RTHK in Tseung Kwan O to expand its services as part of its promised mission to fulfil the role of a public service broadcaster. The services would include 24-hour television news, enhanced digital audio broadcasting and digital terrestrial television.
RTHK plans to launch digital terrestrial broadcasts in 2018 and trials are under way. Households already receiving digital TV should be able to receive the trial signal once they have tuned their televisions to show the RTHK channel.
The plan for the new headquarters dates back to 2000, when it was estimated it would cost HK$1.5 billion. This was revised to $1.6 billion in 2009.
At yesterday's meeting, Director of Broadcasting Roy Tang Yun-kwong argued that the previous estimates were very rough. "At that time, there was no detail of the design," he said.
He warned further delay would increase the cost, citing the new Liantang-Heung Yuen Wai border crossing, for which costs rose by more than 50 per cent, to HK$24.8 billion, in just 18 months.
Legislator Elizabeth Quat, of the pro-establishment Democratic Alliance for Betterment and Progress of Hong Kong, said: "The DAB is not against building a bigger headquarters for RTHK. But must it be for such an astronomical sum of money?"
Michael Tien Puk-sun, of the New People's Party, was the only pro-establishment member to vote for the funding. "RTHK deserves a better environment," he said.
Albert Chan Wai-yip of People Power, who voted for the proposal, was sceptical. "It is well known that one of the political missions of [Chief Executive] Leung Chun-ying is to 'fix' RTHK. Now the government actually wants us to vote down the project by putting forward such a lousy funding request."
Secretary for Commerce and Economic Development Greg So Kam-leung expressed disappointment with the result.
"When we lobbied the councillors, we heard of some concerns over the amount and whether the project was value for money. Politics was not mentioned," he said.
In the latest survey on media credibility by Chinese University, RTHK was ranked the most trusted medium in Hong kong.
This article appeared in the South China Morning Post print edition as: Budget-busting HK$6b HQ for RTHK opposed