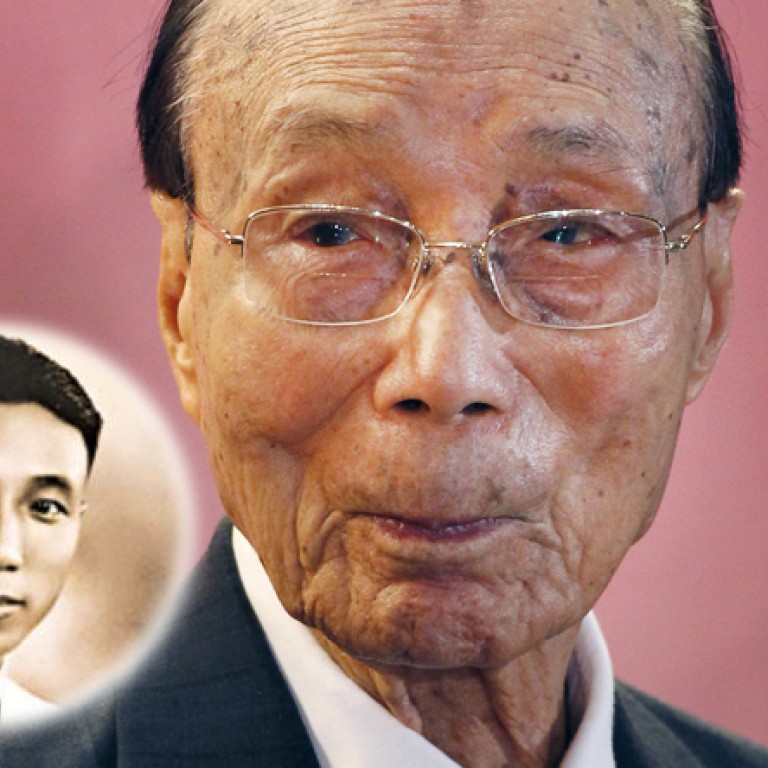 Update

|
Tributes as legendary movie mogul and philanthropist Run Run Shaw dies
Entertainment tycoon and philanthropist Sir Run Run Shaw passed away peacefully at home in the company of his family on Tuesday morning, his flagship broadcast firm said. 
A TVB statement said he died at 6.55am.
As news of his death spread, there was much confusion as to his real age. The studio he founded and his family gave Shaw's age as 107, but his age according to the Western counting method may have been 106 because Chinese traditionally consider a child to be a year old at birth. TVB said he was born in 1907, but would not provide his birth date. Different Shaw-related websites say he was born in 1906 or 1907
This evening, Hong Kong police said that according to their data, Shaw was 107.  
Shaw was instrumental in shaping Hong Kong media culture, co-founding the Shaw Brothers Studio, which produced more than 1,000 films since its establishment in 1958, and Television Broadcasts (TVB), Hong Kong's first free television, in 1967.
"With his vision and energy, he had built the company to become Hong Kong's premier television and a world leader in the Chinese-language television industry," TVB said on Tuesday.
"Although we knew this day would come, no words can adequately express our sorrow and lessen our sense of a profound loss. He will be sadly missed by al of us in TVB. Out thoughts are with his wife, Miss Mona Fong, and his family," it said.
Shaw attracted top talents to the station, the city's largest film studio and television broadcaster, ushering in what many call the golden age of TV entertainment in Hong Kong.
In the battle for talent, there was one he famously could not snare: Bruce Lee. Despite having made an appearance in TVB in 1969, Lee eventually signed a two-movie deal with Golden Harvest, co-founded by Shaw's former employee Raymond Chow.
According to Lee's descendants, Shaw's studio tried to "woo him away" repeatedly but Golden Harvest kept the kung fu star away from arm's reach by sending him to Thailand for filming rather bringing him back to Hong Kong.
 Liza Wang, a TVB veteran, on Tuesday praised Shaw for building Hong Kong into "Hollywood East" through his movies and TV productions.
Chief Executive Leung Chun-ying also expressed his condolences. "Sir Run Run had been sparing no efforts in promoting the development of entertainment business and made tremendous achievement," he said.
"He also contributed to the development of education, science and charity in Hong Kong and the mainland. He was a senior whom I very much respect."
Shaw was a well-known philanthropist who had a passion for education. Lawmaker James To recalled he once asked Shaw how many schools he had. "He then sank into deep thoughts for two minutes," To said in a radio show this morning. "Then he said he had more than 4,000 schools."
To said he had run into Shaw a few times on the MTR many years ago. "He was in his 80s. He said it was rush hour and he had to be on time," To said.
Former TVB general manager Stephen Chan agreed that the tycoon had placed high emphasis on education. "Don't think education is expenses. Education is investment," he quoted Shaw as saying to a government official.
Shaw was known to be a keen practitioner of qigong, an exercise aligning energy and the body. Former TVB general manager Ho Ting-kwan said Shaw began practising qigong in his 60s and he did it first thing in the morning. He said he ate very little each meal and went to bed early, which was his secrets to longevity.
Shaw was received Commander of the Order of the British Empire in 1974 and was knighted in 1977. In 1998, he received Grand Bauhinia Medal from the Hong Kong government.
He set up Shaw Prize in 2004 awarding scientists who have achievements in the areas of astronomy, mathematics and life and medical science.
Shaw, born on November 23, 1907, originally founded the Shaw Organisation with his brother in 1926 in Shanghai. Four years later, the firm became Shaw Studios.
He invested in many notable films, including Ridley Scott's cult classic
Blade Runner,
 according to the British Academy of Film and Television Arts, which gave him a Special Award just last month.
Back in its heyday, Shaw Brothers Studio made 40 films a year. The studio system was the largest of its kind in Asia. It also served as a cradle for some of the greatest filmmakers in the region and defined cinema in the 1960s.
King Hu's Come Drink with Me (1966) became a new classic in the wuxia film genre. Li Han-hsiang's historical drama Empress Wu Tse-Tien was invited to compete in Cannes Film Festival in 1963.
Kung fu master Lau Kar-leung, who passed away last year, directed a number of films under the studio, including The 36th Chamber of Shaolin, which inspired Hollywood director Quentin Tarantino's features such as Kill Bill.
After a 44-year career, Run Run Shaw stepped down from all his TVB posts in December 2011. In March that year, he sold his entire 26 per cent holding in TVB to a group of investors for HK$6.26 billion.
Watch: Hong Kong media mogul Run Run Shaw dies at 106
With additional reporting from Danny Mok