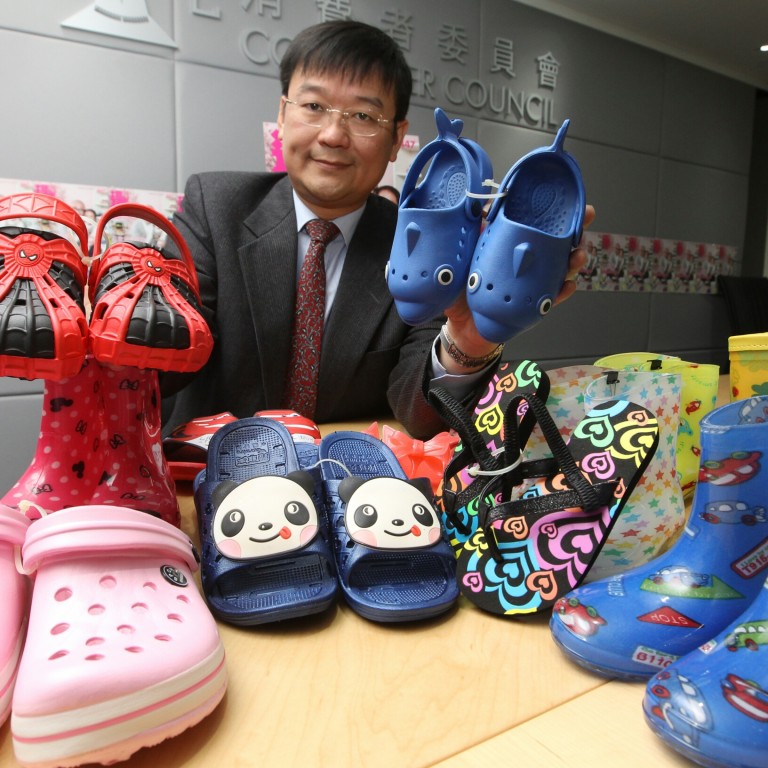 Update

|
Children's plastic shoes found to contain excessive levels of harmful chemicals
Consumer Council issues warning after majority of plastic footwear samples are found to contain high levels of harmful chemicals
More than half the samples of plastic footwear for children tested by the Consumer Council were found to contain high levels of harmful chemicals, while three pairs contained a cancer-causing toxin at levels that breached an overseas standard.
In a test of 28 pairs of casual footwear, a carcinogenic polycyclic aromatic hydrocarbon (PAH) called benzopyrene was found in three brands: Aeon Dolphins sandals, unnamed Spiderman-themed shoes and Gephifu slippers. Priced from HK$26 to HK$139, all three shoes were labelled as made in China.
Tests showed they contained 1.1 part per million (ppm) to 3.1 ppm of the toxin, which is higher than the German standard mark's upper limit of 1 ppm.
High levels of other PAHs, ranging from 15.3 ppm to 47.5 ppm - considerably above the German limit of 10 ppm - were also detected in the three items, and in another pair of shoes.
Fifteen samples, including all six pairs of rubber boots tested, contained plasticiser phthalates at many times higher than 0.1 per cent - a limit for phthalates in force in Turkey and California. In 12 samples, levels ranged from 15.2 per cent to 43.43 per cent.
Phthalates are not easily absorbed by the skin, but may be released into the air and inhaled. Exposure increases the risk of developing asthma and allergies and can disrupt hormonal balance which impairs reproduction and development.
"Dermatologists say PAHs can be absorbed through skin contact, causing irritation and even skin cancer with prolonged exposure," Professor Ron Hui Shu-yuen, a member of the Consumer Council's publicity and community relations committee, said yesterday. "We recommend children wear socks to reduce contact [with the shoes]."
According to the United States Environmental Protection Agency, the most common way for PAHs to enter the body is through breathing contaminated air. But absorption can also occur by eating grilled meat - the chemical is formed when it is cooked at high temperatures - or having skin contact with polluted soil, oils or coal tar. In the body, PAHs can target the kidneys and liver.
Leung Ka-sing, an associate professor at Polytechnic University's applied biology and chemical technology department, said any carcinogen should be avoided if possible. There is no limit on phthalates and PAHs in footwear under Hong Kong laws.
"The government should expand the coverage of the Toys and Children's Products Safety Regulation to include footwear," the council's chief executive Gilly Wong Fung-han said.
The safety of children's footwear comes under the Consumer Goods Safety Ordinance, a customs spokesman said. Overseas standards are considered in determining if a product is safe.
This article appeared in the South China Morning Post print edition as: Tests find toxins in children's shoes