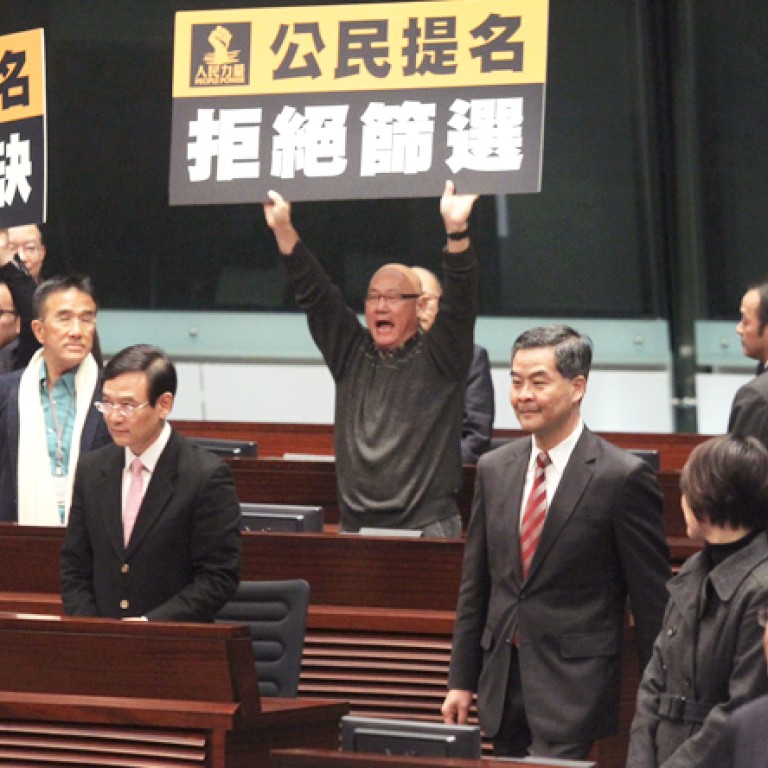 Live
Live: CY Leung undergoes grilling by lawmakers on policy address
Lawmakers are currently grilling Chief Executive Leung Chun-ying on his latest policy address, with some of his usual allies attacking him for failing to realise his election pledges.
At a Legislative Council on Thursday, Leung was cornered by an ally over his determination to abolish the offsetting mechanism for the Mandatory Provident Fund.
The pro-government Federation of Trade Unions lawmaker Tang Ka-piu said the federation could not approve of Leung's policy address as he had failed to make good on his election promise to abolish the much-criticised mechanism.
"We cannot applaud your policy address as it pays no concern [to] labour issues," said Tang as Leung was questioned by lawmakers on Thursday morning.
"Are you still going to abolish the MPF offsetting mechanism, as you promised during [the] election?"
Leung said the absence of labour initiatives did not mean he was not concerned. 
"I will handle the issue within this term," the chief executive said in reference to the system where employers can offset part of a dismissal compensation settlement with MPF contributions.
"We have to forge a consensus on the details of implementing the change."
Wong Yuk-man's protest
Pan-democrats also slammed Leung for what they called a fake pledge to launch a genuine democratic election for the next chief executive.
Independent Wong Yuk-man shouted at Leung and said the Hong Kong leader was trying to fool the public by allowing a nomination committee to select candidates for the 2017 chief executive election.
The Labour Party's Cyd Ho Sau-lan echoed Wong's views and said that Hongkongers had been "deceived" and "betrayed" by the central government and that they must fight for their rights this time.
Radical pan-democrat Wong was removed from the Legislative Council chamber by security after he questioned the legitimacy of "organisational nomination" in the issue of electoral reform.
"Where was organisational nomination mentioned in the Basic Law? It was only endorsed by Beijing officials!" shouted Wong, an independent, as he questioned Leung's sincerity in handling the constitutional issue, as shown by "only 126 Chinese characters" in his second policy address.
The Basic Law states that chief executive candidates in 2017 have to be nominated by a "broadly representative" nominating committee. Various Beijing officials, including legal expert Li Fei, have said the nomination has to be made on an organisational basis, while the pan-democrats want nominations to be made by voters – a concept dubbed 'public nomination'.
While Leung replied by trying to reassure legislators that the three top officials in charge of electoral reform -- led by Chief Secretary Carrie Lam Cheng Yuet-ngor -- would take all opinions into account during the ongoing consultation, Wong displayed his anger and discontent by yelling: "Leung Chun-ying, go to hell!"
Legco President Jasper Tsang Yok-sing ruled Wong's behaviour inappropriate and ordered he be ousted from the chamber.
University Education
Two pan-democratic lawmakers questioned Leung's newly-proposed scheme to subsidise young Hongkongers who wish to study at mainland universities.
Civic Party lawmaker Claudia Mo asked: "Shouldn't you encourage young people to stay and endeavor in Hong Kong? Why would you instead splash money in subsidising young people to read [at] universities in the mainland?"
Mo was referring to the mainland university study subsidy scheme announced by Leung on Wednesday, where students in need who plan to study in China can apply to receive a means-tested grant of up to HK$15,000 per year.
Leung directed his answer towards Mo's well-known scepticism over integration between Hong Kong and the mainland.
"I understand there are strong and unique sentiments in Mo regarding the city's relations with the mainland," said Leung, adding he believed local youths are interested in pursuing further education on the mainland.
Lawmaker Helena Wong Pik-wan, of the Democratic Party, also questioned the purpose of the scheme.
"You send the students, who may be unable to get a local university place, away by paying HK$15,000 to each of them," said Wong. "Why don't you increase the admission rate of local universities instead?"
Leung pointed out in his answer that the government puts great emphasis on higher education, as reflected by its spending on the sector, which accounts for one-fifth of the government's budget.
Occupy Central
Financial lawmaker Ng Leung-sing took the opportunity to express his concern over the potential for civil disobedience by the Occupy Central movement.
He asked Leung if the government would conduct a "pressure test" on the potential economic cost of the protest by the pro-democracy movement, which plans to paralyse Central as a method of putting pressue on the government to insitute genuine universal suffrage.
Leung would not say if there is any official estimation of the cost, but he did emphasise that any legal infringement would be tackled by the the police.
"Some economists have already estimated the cost ... the government has no further view in this regard," said Leung. "But any abuse of the law would be tackled by the enforcement bodies."
Initiatives to help the middle class
Pro-government lawmaker Paul Tse Wai-chun then asked for Leung for more economic development plans and policies to help the middle class.
"The middle class and the grassroots have very different needs," Leung responded. "The middle class is concerned about property prices and children's education needs … for the grassroots it may be about more fundamental living needs."
The middle class was "very disappointed," Tse said.
"Will you offer more initiatives to help the middle class in the upcoming budget?" he asked. "The middle class is very disappointed … we also want more blueprints, like [in] Singapore, regarding the city's economic development."