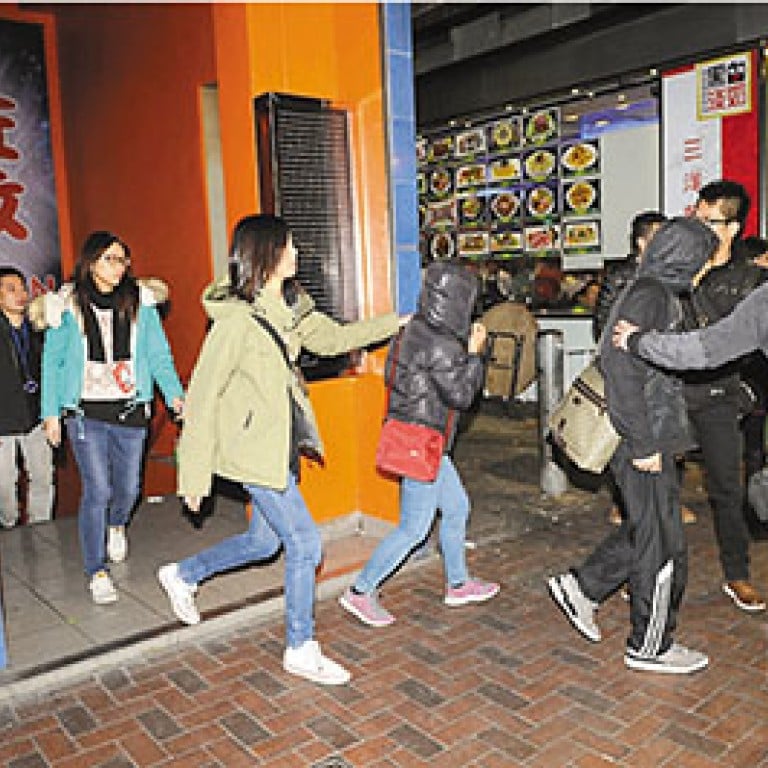 Police arrest 40 in raid on Yau Ma Tei gambling den in games arcade
Games arcade in Yau Ma Tei suspected of morphing into a betting haven after midnight
Forty people were arrested yesterday after police raided a games arcade that was allegedly transformed into a gambling den after midnight, with typical arcade machines, including fishing games, transformed into betting games.
Chief Inspector Yu Hoi-kwan said the group was very organised. "At midnight, the game centre closed and the gamblers entered from the back door.
"They used walkie-talkies to communicate with the people inside, and those who were unfamiliar with the operators could not get in."
Gamblers were required to buy cards to record their scores before playing the machines. The points could be exchanged for cash, with the operators taking 10 per cent as commission.
Yu said the gambling den had operated for half a year and that its daily revenue could be more than HK$100,000.
Police seized HK$15,000 in cash, six gaming machines and other items from the centre on Woosung Street, Yau Ma Tei.
Two women were arrested for operating a gambling place and three people were alleged to have assisted them. Others were arrested for gambling offences, the police said. Among those held were 23 men, aged between 19 and 60.
Police said they had acted on tip-offs and had never before encountered an arcade that doubled as a gambling venue.
Separately, 44 people aged between 14 and 65 were arrested in an anti-triad operation. The police said the group was active in the New Territories.
They were arrested in internet cafes, bars, parks and homes. Air rifles, knives and batons were seized. Included in the 44 were students.
This article appeared in the South China Morning Post print edition as: 40 arrested after raid on alleged gambling den