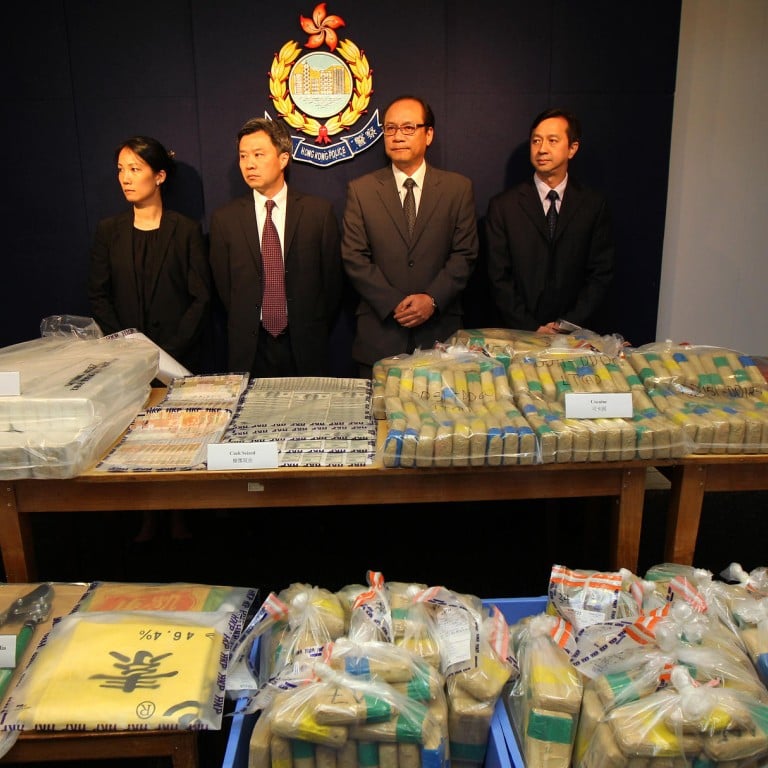 Mexican cartel smuggling cocaine into Hong Kong amid booming demand for drugs
Fears of 'unholy alliance' between notorious Sinaloa cartel and local triads to take advantage of booming demand for cocaine and 'Ice'
One of the world's largest and most notorious drug cartels is targeting Hong Kong as it seeks to expand its operations into lucrative new markets, the has learned.
Already a key supplier of illicit narcotics to many Western countries, Mexico's Sinaloa cartel is diversifying its business by taking advantage of the booming demand for cocaine and methamphetamines in the Asia-Pacific region.
Details of the syndicate's push emerged after the revealed last month how Hong Kong triad gangs are supplying the cartel with precursor chemicals - such as ephedrine and pseudoephedrine - that are needed to produce methamphetamine, known here as "Ice".
Following that report, the Customs and Excise Department last week announced it was setting up a dedicated team to crack down on the illegal trade of the controlled chemicals.
Named after the state on Mexico's Pacific coast where it was formed, the Sinaloa is considered one of the world's most sophisticated and dangerous drug-trafficking groups and is a powerful player in Mexico's drug wars, which have claimed 60,000 lives since 2006.
Describing the group as the "most notorious", a local law enforcement source confirmed that the cartel was smuggling cocaine into Hong Kong, but declined to give more details because it could compromise an investigation.
The source's comments echo a 2012 study in the US Defence Department's journal, which highlighted Sinaloa's push into Asia and its efforts to enter the Hong Kong market.
Access to such markets would not only diversify the syndicate's consumer base, but would also secure its global narcotics supply chain.
A number of recent arrests across the region have also heightened fears about the cartel's presence.
On Christmas Day a special task force of the Philippine National Police detained three known Sinaloa affiliates during a raid on a meth lab south of Manila. The bust was followed three weeks later by the capture of four Canadian gangsters thought to have links to the Mexican cartel.
Hong Kong's triads have long been key players in the Philippine drug trade and police there now fear an "unholy alliance" between the Mexican and Chinese drug syndicates.
"We have to move fast to nip this partnership in the bud," said Senior Superintendent Bartolome Tobias, head of the Philippine National Police anti-illegal- drugs task force.
In Hong Kong, five Mexicans were sentenced last year to up to 27 years in prison for smuggling 538kg of cocaine into the city in 2011.
Police and customs officials have declined to say whether the five were Sinaloa traffickers and Mexican consul-general Alicia Buenrostro Massieu said "respect for due process" meant she could not say.
However, the ringleader of the group came from Sinaloa territory and operated out of a Mexican port controlled by the cartel.
In sentencing the group, Deputy Judge Mr Justice Gareth Lugar-Mawson said that the individuals - with the exception of the ringleader - were drug mules "driven to participate because of debt problems".
Leveraging unpaid debts is a common method that such syndicates use to recruit otherwise innocent mules, experts say.
With surging demand for methamphetamine and cocaine, an increasingly affluent Asia presents an enticing market for drug traffickers.
Cocaine seizures by Hong Kong Customs soared from 30kg in 2011 to 600kg in 2012, a rise of nearly 2,000 per cent.
The figure fell to 170kg last year, yet the drug has been classed a "growing threat" in Asia by the UN.
According to customs, most of the seizures were destined for neighbouring countries.
"There is much more cocaine on the market now than in the last 20 years," said Professor Karen Laidler, an expert in drugs trends at the University of Hong Kong. "Previously it was considered a rich person's drug, but since the market opened up the price has come down. It is now more accessible. People also learned how to make crack [cocaine] which is more addictive."
A gram of cocaine in Hong Kong today costs about HK$1,200, down from HK$1,700 five years ago, according to Caritas social worker Debby Wong.
"Ice" is also increasingly popular, with seizures soaring.
Last year, Hong Kong authorities seized 165kg of the substance - a 125 per cent rise from the 73kg captured in 2012.
Similarly, seizures of meth pills in mainland China have risen dramatically, increasing 1,500 per cent from six million in 2008 to 100 million in 2012, according to the UN Office on Drugs and Crime (UNODC).
With an average purity of between 90 per cent and 99 per cent, the "Ice" seized in Hong Kong and mainland China is of significantly higher quality than that in the rest of Asia, a fact that experts attribute to the prevalence of skilled chemists in Chinese drug-trafficking groups.
"It's really a perfect storm for meth use in Asia," said the UNODC's Jeremy Douglas.
"Asia has the raw materials, the market demand and the organised crime."
This article appeared in the South China Morning Post print edition as: Mexican drug gang targets Hong Kong